Rare protests in multiple cities across Iran, especially in the country's second largest city of Mashhad, gained momentum on Thursday and Western media and pundits are beginning to take note. Though it appears the main protest locations have been consistently described as being in the hundreds and not yet reaching mass numbers, observers say they are likely to grow in size and in intensity as economic grievances over high prices, corruption, and mismanagement have reached a boiling point.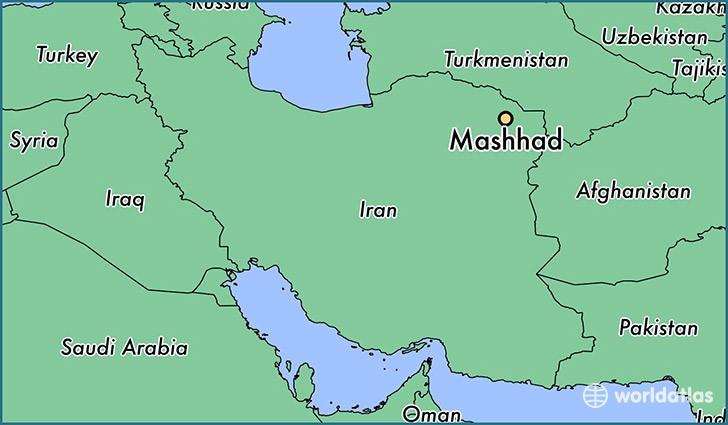 The largest and most covered protests were held in Mashhad on Thursday. Map via World Atlas
Notably, dozens of videos were uploaded to social media channels Thursday showing demonstrators primarily in Mashhad in northwest Iran chanting "death to [President] Rouhani" and "death to the dictator". Mashhad is considered one of the holiest and most conservative places in Shia Islam, causing some pundits to conclude that if such aggressive anti-government demonstrations can take place there, they could take place anywhere throughout Iran. Other places named by the semi-official ILNA news agency and social media reports where demonstrations have occurred are in Razavi Khorasan Province, including Neyshabour and Kashmar.
And there are some indications that authorities in Tehran are preparing for a broader crackdown to prevent protests from spreading. Though unconfirmed, Carl Bildt, the co-chair for the European Council on Foreign Relations cited on Thursday afternoon  "Reports of signals of international satellite TV networks jammed in large cities of Iran. Would be sign of regime fear of today's protests spreading." And well-known opposition outlets further reported that over 100 protesters were arrested in Mashhad.
این ویدئو را یکی از مخاطبان از تجمع اعتراضی امروز مردم در #مشهد فرستاده. فرماندار مشهد تظاهرات و تجمع اعتراضی امروز در این شهر را غیرقانونی خوانده و گفته است که نیروی انتظامی با تجمع‌کنندگان "بسیار با مدارا" برخورد کرده است. pic.twitter.com/xQPMOolyA0

— BBC Persian (@bbcpersian) December 28, 2017
Ground footage of Thursday's protests in Mashad, northeast Iran.
Incredible! Huge anti-regime protest in #Mashad #Iran https://t.co/8uH8Of0gM8 via @youtube

— Frances Townsend (@FranTownsend) December 28, 2017
Mass protest in #Mashad #Iran calling for the death of the dictator Rouhani https://t.co/ytInVxpEU9 via @youtube

— Frances Townsend (@FranTownsend) December 28, 2017
Though Iranian president Rouhani's signature achievement - the 2015 nuclear deal brokered with the United States and other world powers - resulted in the lifting of most international sanctions in early 2016, this has yet to bring the broad economic benefits the government had promised was coming.
A Reuters summary of the dire economic situation nationwide is as follows:
Unemployment stood at 12.4 percent in this fiscal year, according to the Statistical Centre of Iran, up 1.4 percent from the previous year. About 3.2 million Iranians are jobless, out of a total population of 80 million. Mashad governor Mohammad Rahim Norouzian was quoted by the semi-official ISNA news agency as saying that "the demonstration was illegal but the police dealt with people with tolerance".

He said a number of protesters were arrested for "trying to damage public property". Videos posted on social media showed riot police used water cannon and tear gas to disperse crowds.

Norouzian was quoted as saying by state news agency IRNA that the protests were organized by "enemies of the Islamic Republic" and "counter-revolutionaries".
Also interesting is that demonstrators are reportedly criticizing Tehran for being so heavily invested in Syria at a time when Iran is squeezed domestically, while chanting "leave Syria, think about us."
Various reports over the last couple years of the war have put estimates of Iran's military expenditure in Syria at ranges from $6 billion a year to $15-$20 billion a year (which includes financing Hezbollah and other regional militias) - a considerable sacrifice considering Iran's mounting debt and massive unpaid bills.
#Iran protests: this might be #Rouhani's chance to force the economic reform he's been long clamoring for, @MeirJa tells @talexander_i24 pic.twitter.com/Pog57xkKKU

— i24NEWS English (@i24NEWS_EN) December 28, 2017
Israeli as well as Iranian opposition commentators have generally appeared giddy with excitement at the prospect that protests could spread inside Iran.
Protesters took to the streets of Iran's city of Mashhad and other towns to voice their anger over high prices and unemployment. Police used tear gas to disperse the crowds. VIDEO pic.twitter.com/uwkEWeopxW

— RFE/RL (@RFERL) December 28, 2017
US government funded broadcasts and media outlets like Radio Free Europe also closely covered the unrest Thursday.
On Wednesday Iran's Supreme Leader Ayatollah Ali Khamenei acknowledged that the nation was going through a period of difficulty with "high prices, inflation and recession", and rallied officials to resolve the problems quickly.
Protests in various locations have been sporadic since October, and before that the most significant mass demonstrations took place in 2011, concurrent with the so-called Arab Spring movement, and throughout 2009 as part of the widely covered "Green Movement" in response to the presidential election.