While much has been written on these pages about the perplexing - and record - plunge in volatility across most asset classes, and especially stocks, over the past year, a time of unprecedented political and social uncertainty, which has left most market professionals scratching their heads, there is another even more vexing question that has stumped most traders: while the cumulative return of the S&P over the past three years, or since 2015, has been an impressive 34%, equity flows over the same period have been consistently negative.
In fact, as the chart below shows using data from the Investment Company Institute, or ICI, as the market continued to levitate over the past the years, over $200 billion in funds have flown out of US equities.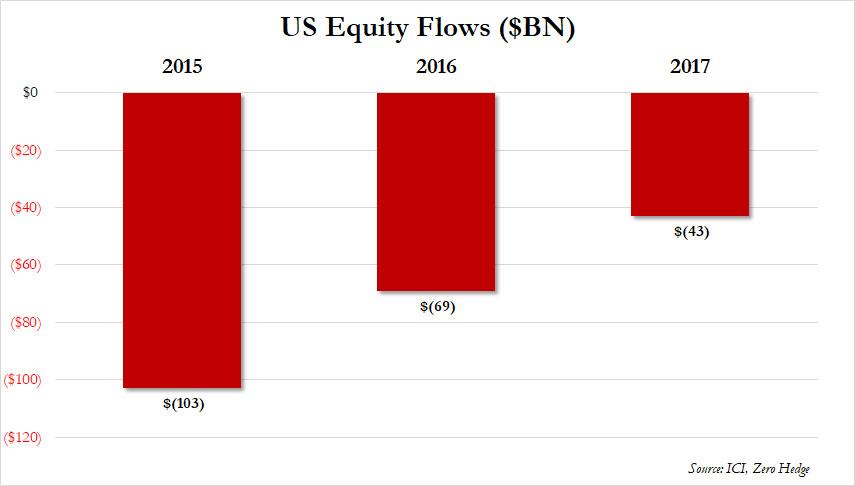 How is this possible?
There is still no satisfactory answer, but to DataTrek's Nicholas Colas this bizarre juxtaposition of ongoing outflows from mutual funds and ETFs with a market at all time highs, is why this remains "the most hated rally in history."  It is also why what until years ago was financial anathema, namely the suggestion that central banks manipulate stocks, is now widely accepted as a daily feature of the global capital markets. Because after all, if everyone is selling, someone else surely has to be buying? 
To be sure, there is a chance this may soon reverse: as Colas writes in one of his last year-end notes, "the first few months of 2018 could see that trend reverse, even if temporarily." Unless, of course, the outflows persist, even as the S&P rises to even higher highs, prompting even more confusion among the professional trading community which has largely given up hope that the market will ever make sense again.
Meanwhile, for those who still harbor hope that logic will eventually prevail, here is an attempt by Nick Colas to explain what may be the biggest market conundrum of all.
* * *
The most hated rally in US stock market history lives on, but why does this moniker even apply? A quick look at some fund flow data from the Investment Company Institute, which includes mutual and exchange traded funds, tells the story:
2015 US equity flows: negative $103 billion
2016: negative $69 billion
2017 through 12/20: negative $43 billion
Cumulative price return on the S&P 500 from 2015 to present: 34%
Old timers (present company included) will understand why this dichotomy is so anomalous. Not so long ago when equities showed positive returns the money always flowed into mutual funds and ETFs. Now, not so much…
Flows are so bad that even seasonally strong periods no longer show positive inflows. January to April used to bring 401(k) and IRA money into US stocks as investors started a new year of contributions. No longer: the last 3 years show an average of negative $21 billion in outflows.
As for what this means for how we start 2018 in terms of US equities, two points:
#1 If January shows some early positive returns, recent history shows a ray of hope. Remember that recession scare at the start of 2016, when the S&P 500 fell by 9% in the first 6 weeks of the year? Investors noticed, and pulled $28 billion out of US equities in January of that year.
Conversely, 2017 started better, with the index up 1% in January. And inflows were modestly positive, adding $5 billion.
Bottom line: if 2018 starts off well, it may encourage investors to allocate fresh capital and help the US equity market move higher. But if we spook the horses in the first days/weeks, they have no problem running for the door. Or smashing through it.
#2 There are tentative signs that US equity outflows may be turning a corner. Note the stats we quoted at the top; the numbers are getting "less bad". Moreover, the January to April flows into US stocks this year were positive $23 billion. Yes, the rest of the year saw more than enough redemptions to push us back into the red. But every trend has to start somewhere, and Q1 (401(k) and IRA contributions) are where you would expect it to crop up first.
Now, the key question: "Is this good news, or bad, since retail investors always buy at the top?" At this point it is hard to say; the money hasn't shown up yet. Still, be prepared to hear "the dumb money is coming back" if 2018 starts off well.
As far as where investors are positioning with US equities as we end the year, a few data points from our friends at www.xtf.com  on ETF money flows. Yes, these are only a portion of overall flows but the ETF ecosystem does provide some useful granular information.
ETF Flow Point #1: It's all about large caps right now. Of the $41.8 billion of US equity ETF inflows in the last month, $28.8 billion (69%) went into large cap products. The outsized winner: the SPYs, with $21.9 billion of inflows.
ETF Flows Point #2: Anything but Tech. Money flows into US Tech stock ETFs, is still OK, at $659 million over the last month. But check out these 30-day inflows:
Financials: $2.0 billion of inflows
Energy: $1.6 billion
Consumer Non Cyclical: $1.2 billion
Industrials: $1.2 billion
You can draw a straight line from the political headlines to Financials (deregulation) and Industrials (infrastructure). Energy inflows clearly show the hope that commodity prices have bottomed. As for Consumer Non Cyclicals - a group we don't like very much – one must assume this is some year-end rotation into an underperforming group. This sector has an unfortunate combination of high valuations and low expected growth; its one merit is a higher-than-market dividend yield (2.7%).
ETF Flow Point #3: Volatility funds – those that key off measures like the CBOE VIX Index – saw $111 million of outflows in the last month. We track this group because the smart money tells us we should. The most telling thing from this month's flows: SVXY (a short VIX product, up 165% YTD) saw $287 million in outflows this month. Whether that is profit taking or a sign of higher expected volatility in January is hard to say. We would guess it is the latter. December tends to be a low vol month, and January is often the high point on the VIX for the entire year