The US Defense Advanced Research Projects Agency – more commonly known as DARPA – is moving ahead with a project to create a flying aircraft carrier. According to the Navy Times, the so-called "Gremlins" program involves building a transport and bomber-style aircraft capable of launching swarms of fighter drones mid-flight.
Here's the Navy Times:
The Defense Advanced Research Project Agency plans to demonstrate the ability to launch and recover swarms of drones from a C-130 sometime in 2019, according to statements by the agency and by General Atomics Aeronautical Systems, one of two companies contracted to design prototype of the drones. The other is Dynetics.

The test would serve as a major leap into the next phase of testing for DARPA's Gremlins program.
Since drone warfare is such an important component of contemporary US foreign policy, DARPA is expected to begin testing the program next year. The initiative – which DARPA says is named after the imaginary, mischievous imps that became good luck charms for British pilots in WWII - is intended to give the military "improved operational flexibility at a much lower cost than is possible with today's expensive, all-in-one platforms," according to a DARPA statement.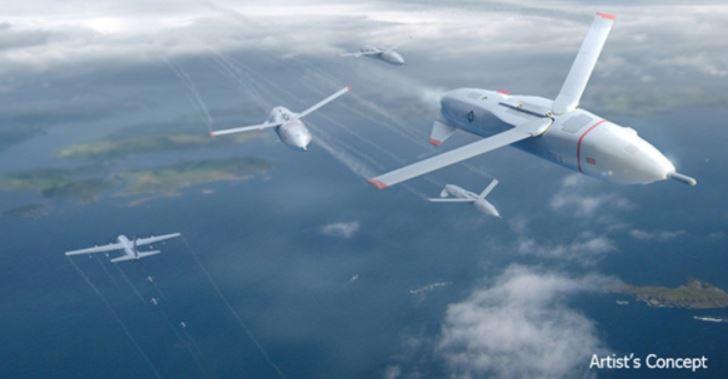 Once dispatched, the drones would be outfitted with different payloads in order to accomplish an assortment of missions, to include ISR, electronic warfare, signals intelligence and even kinetic effects.
"When the gremlins complete their mission, a C-130 transport aircraft would retrieve them in the air and carry them home, where ground crews would prepare them for their next use within 24 hours," the DARPA statement reads.
The program seeks to one day launch the drones from smaller fixed-wing fighter aircraft while still keeping those manned platforms out of the range of enemy air defenses. The program's first phase concluded in March, and showed the program was not just feasible, but "would require minimal modification to the host aircraft," said Scott Wierzbanowski, the DARPA program manager, in a statement.
During the second phase, DARPA hopes to have a preliminary design completed, which would enable it to finish preliminary designs for full-scale technology demonstrations, Wierzbanowski said.
Each drone would have a range of 300 nautical miles while carrying a 60-pound payload.
DARPA is incorporating commercial technology to drive down the cost of the gremlins. The goal is for each drone to cost less than $500,000.
So far, there are two options for recovery systems. The first can be mounted on the wings of an aircraft, while the second is loaded in the cargo bay. DARPA wouldn't say how many drones would fit on the aircraft's wings.
The hope is that the gremlins could be reused up to about 20 times. In the end, the goal is for the drones to provide a cheaper alternative to larger aircraft platforms with heavier payloads and higher maintenance costs over their lifetimes.