Tehran's iron fist has been unleashed. On Monday, the Wall Street Journal's Farnaz Fassihi - a well-known Iran watcher who has been following protests inside the country closely, reported  that Iran's elite Revolutionary Guard Corps (IRGC) has announced it is taking charge of security in Tehran after nationwide protests entered their fifth day, and as new reports of gunmen amidst the crowds of demonstrators have emerged.
The IRGC announcement was first reported by Iranian media outlets on Monday - a day after the IRGC reportedly warned that anti-government protesters will face the nation's "iron fist" if the unrest continues. Though demonstrations did not initially center on the country's capital, instead popping up last Thursday mostly in a handful of cities across the ultra-conservative northwest Khorasan Province, fresh videos purporting to show angry crowds confronting security forces in Tehran have emerged, and state-run media also reports that a police officer was shot and killed Monday.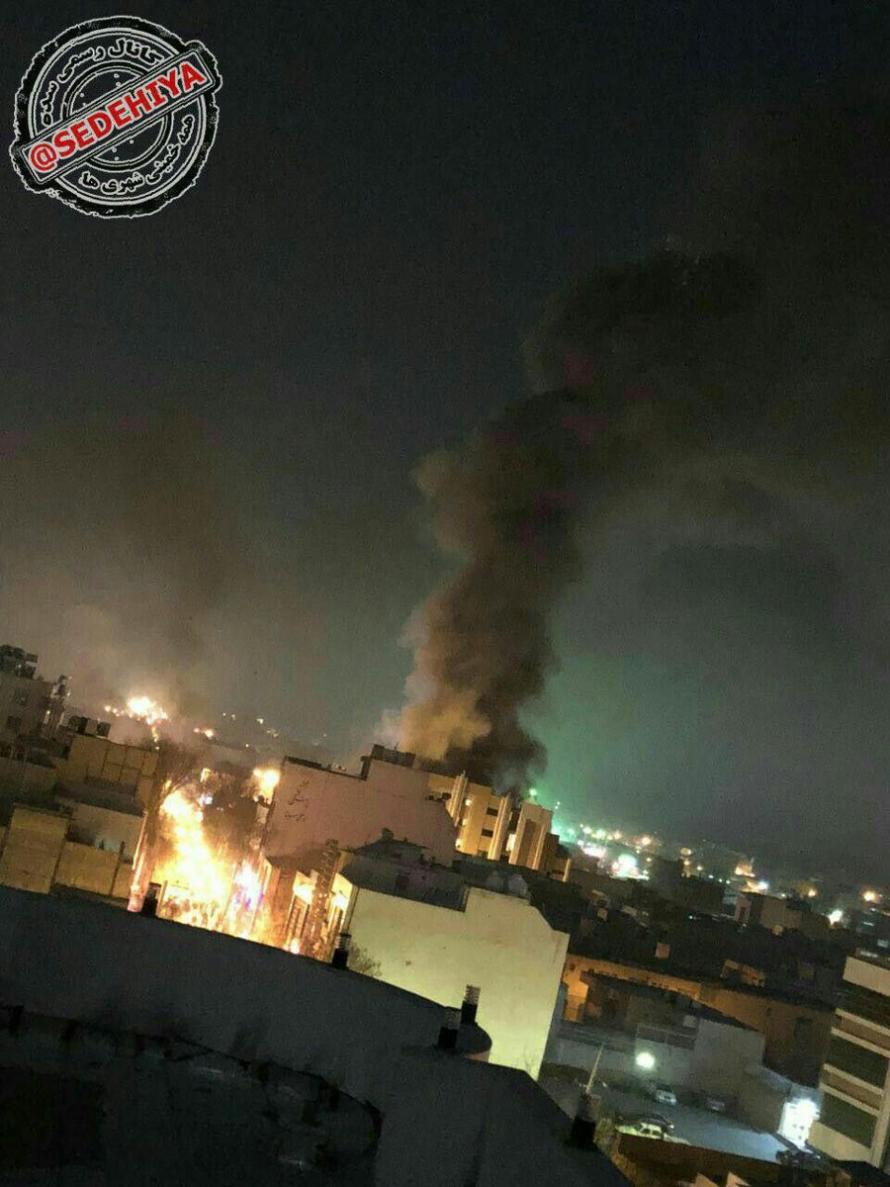 Image via "Iran Freedom" - a media account associated with the controversial opposition in exile group, People's Mujahedin of Iran (MEK). via Twitter
According to Reuters at least three other policemen were wounded after a man opened fire with a rifle in the midst of demonstrations:
The killing of the police officer happened when a demonstrator opened fire with a hunting rifle in the central city of Najafabad, police spokesman Saeed Montazer al-Mahdi was quoted as saying by state TV. Three policemen were wounded. It was not clear when the incident took place.

State TV said armed demonstrators on Sunday had tried to seize police and military bases but were stopped by "strong resistance from security forces." It gave no further details and there was no independent confirmation.
This comes after at least 13 people have been reported killed across the country - mostly demonstrators either reported shot or in a couple of instances accidentally killed by other rioters. But new reports of government buildings and vehicles being burned, along with today's death of a police officer, as well as claims of armed rioters among the opposition certainly indicates dramatic escalation of what many analysts say are protests driven fundamentally by widespread anger over economic mismanagement and corruption.
Over the weekend, Brigadier-General Esmail Kowsari, the IRGC's deputy security chief in Tehran, told the ISNA news agency: "If people came into the streets over high prices, they should not have chanted those slogans and burned public property and cars." Iran's Revolutionary Guards Corps has long been the country's most elite military group, and reports directly to the Supreme Leader of Iran, Ali Khamenei - with a mission of "safeguarding the revolution" which first brought the Ayatollahs to power in 1979.
Thus these latest reports of the paramilitary group taking charge in Tehran indicates the government is increasingly choosing to view the demonstrators as unlawful rioters and potential armed criminals engaged in destruction and aggressive acts targeting authorities.
It was also previously reported  that Iran had imposed "temporary" restrictions on social networks Telegram and Instagram in order "to maintain tranquility and security of society", according to a government source quoted in state run IRIB. Videos have since emerged of Tehran demonstrators attacking what are said to be IRGC militiamen engaged in suppressing protests.
Demonstrators in Iran stopped an Islamic Revolutionary Guard van carrying arrested protesters.
City: Tehran
Cameraman yells: "Topple it!"#IranProtests pic.twitter.com/Ra1MUhZTff

— Armin Navabi (@ArminNavabi) January 1, 2018
In one widely reported video, protesters claimed to detain an IRGC member after he attempted to use an electric shock baton. They are shown stripping the guard's clothes off in an act of defiance and public humiliation.
Ten people killed in night of Iran protests violence, state TV reports https://t.co/yXdQbdGRWX

— The Telegraph (@Telegraph) January 1, 2018
Meanwhile, unconfirmed videos purporting to show Iranian security forces firing on demonstrators have increased on social media:
#IranProtests: Direct shots at protesters by regime's repressive forces in the city of Tuyserkan Western #Iran. Monday January 1, 2017. People courageously and under fire are trying to evacuate the injured and killed, this is Tuyserkan in the Western province of #Hamedan. pic.twitter.com/vDonDPtK4N

— NCRI-FAC (@iran_policy) January 1, 2018
#IRGC announced it is taking charge of #Tehran security. Iron fist is out. #IranProtests #Iran #تظاهرات_سراسری‌ https://t.co/NWXu99aWdr

— Farnaz Fassihi (@farnazfassihi) January 1, 2018
And late Monday the head of a prominent Iranian opposition group in exile which has close ties to Washington and runs its own paramilitary organization issued a call for the UN Security Council to act: "I urge the UN Security Council, the US and the EU to undertake urgent actions to prevent the Iranian regime's slaughter of protesters. The clerical regime has killed and wounded dozens of demonstrators in cities across Iran over the past five days," tweeted Maryam Rajavi of People's Mujahedin of Iran (Mujahedin-e Khalq), an organization which has for decades devoted itself to the violent overthrow of the Iranian government.
Rajavi had previously in the day condemned western and UN "inaction" over the situation in Iran.
I urge the UN Security Council, the US and the EU to undertake urgent actions to prevent the Iranian regime's slaughter of protesters. The clerical regime has killed and wounded dozens of demonstrators in cities across #Iran over the past five days#IranProtests

— Maryam Rajavi (@Maryam_Rajavi) January 1, 2018
Also on Monday, Israeli Prime Minister Benjamin Netanyahu delivered a televised message directed at Iran via YouTube wishing "the Iranian people success in their noble quest for freedom" - something which is likely to have an adverse effect on protests, considering that authorities in Tehran have accused protest leaders of serving the interests of and being in league with foreign "enemies" like Saudi Arabia and Israel.
For this reason Netanyahu expressly denied that Israel was responsible for the unrest, as previously suggested  by Iranian President Hassan Rouhani in a speech given earlier in the day.
"I heard today Iran's President Rouhani's claim that Israel is behind the protests in Iran," said Netanyahu in the video. "It's not only false. It's laughable - unlike Rouhani, I will not insult the Iranian people. Brave Iranians are pouring into the streets. They seek freedom. They seek justice. The seek the basic liberties that have been denied to them for decades."
Netanyahu further accused the Islamic Republic of mistreating its people and wasting its money to "spread hate" abroad instead of taking care of its people. The unexpected speech came after Israeli ministers were previously told to "minimize" their comments on the situation in Iran - though in an irony not lost on many commentators, Israel has long lobbied the US and UN to enact crippling economic sanctions which have served to make the plight of the common Iranian citizenry worse.
Netanyahu's speech also came the same day that a viral Times of Israel story claimed  the United States has quietly given Israel the green light to assassinate Iran's top military officer, Iranian Revolutionary Guards al-Quds Force commander Maj. Gen. Qassem Soleimani.