Content originally published at iBankCoin.com
Two weeks after ZeroHedge reported that a former Chris Matthews staffer was paid $40,000 to settle claims of sexual harassment, the MSNBC host has been accused by five women of running an "openly derisive and brazenly sexist news operation," with several staffers describing themselves as victims of "battered wives syndrome," according to three of his show's guests and two former producers who spoke with The Daily Caller's Amber Athey.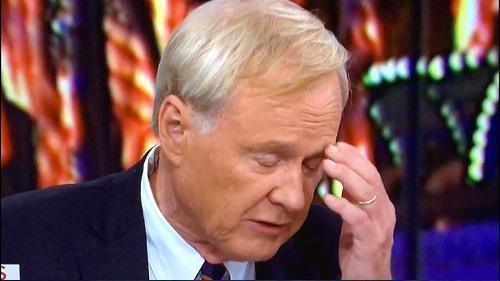 Two former NBC producers independently alleged Matthews would rate the looks of his female guests on a scale and said Matthews was so abusive that staff joked about being battered women. The interviews in total paint Matthews as a tyrant liable to fly off the handle at the slightest mistake, who was eager to objectify women and made inappropriate sexual comments appear to be a matter of course for someone in his position. -Daily Caller
One former producer said "He [Matthews] would eye down a woman who walked on set or comment on their features or what they were wearing," adding "He would objectify them and interrupt them in a way that he would never do with his male guests. He has a very outdated view of women." 
The other former producer said Matthews was like a "teenage boy," rating his female guests on a numerical scale and deciding which one was the "hottest of the week," while constantly talking about how "hot" various women were at the MSNBC studios - including the Daily Caller's source. 
One host on a CNBC show was allegedly on the receiving end of many of his comments and tried to avoid being around Matthews in the office.

"She didn't want to be in the same room as him," the former NBC producer claimed. "She wouldn't want to get her makeup done if he was in there too."

The former producer said that while Matthews made comments about her appearance, she never felt like she was being harassed. She described the comments as "unprofessional" and "inappropriate" and said his remarks made multiple women uncomfortable. -Daily Caller
There are apparently more accusers who have yet to come forward. "Sadly, I know other women who won't even be an anonymous source regarding Chris [Matthews] because they're concerned about the door closing on career opportunities in media," said one of the former producers. 
Two weeks ago, ZeroHedge reported that a former Matthews staffer received a payment from the network in relation to her departure after complaining of sexual harassment in 1999, according to the Daily Caller. Sources familiar with the situation told The Daily Caller that Matthews paid $40,000 to settle with an assistant producer on his show, Hardball with Chris Matthews, in 1999 after she accused him of harassment. An MSNBC spokesperson contested that claim to the Caller, saying the company instead paid significantly less as part of a severance package.
The woman complained to CNBC executives about Matthews making inappropriate comments and jokes about her while in the company of others.

The MSNBC spokesman said that they thoroughly reviewed the situation at the time and that Matthews received a formal reprimand. Based on people who were involved in matter, the network concluded that the comments were inappropriate and juvenile but were not intended to be taken as propositions.
MSNBC disputed the claims - telling the Daily Caller that while the woman was compensated, it was "significantly less" than $40,000 and in relation to a severance package.
Matthews, who has hosted "Hardball" on MSNBC since 1997 and stared down Melania Trump in a hot-mic moment during the election, is the latest in a growing list of influential media figures to be accused of sexual misconduct, and the third high-profile case for NBC. 
NBC has had a rough run of sexual assault accusations. On November 29, "Today" star Matt Lauer - the highest paid personality in TV news, was fired after a "detailed complaint from a colleague about inappropriate sexual behavior in the workplace. Several other women also came forward at the time, telling Variety that their complaints to NBC executives about Lauer's behavior were ignored. In addition to sex toys found in his office, Lauer reportedly had a button under his desk that allowed him to lock his door from the inside.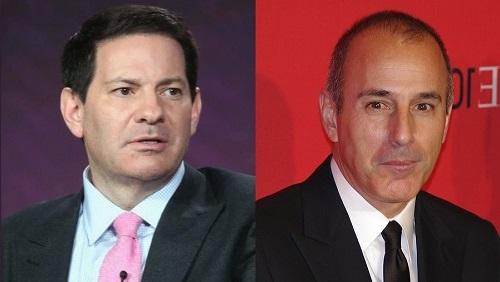 The network also cut ties with veteran political journalist and "Game Change" author Mark Halperin, who was accused groping, sexual assault and other forms of sexual harassment by a dozen women he worked with during his time with ABC news. "We find the story and the allegations very troubling," MSNBC said in a statement to CNN, which broke the story, adding "Mark Halperin is leaving his role as a contributor until the questions around his past conduct are fully understood."
Finally, NBC also cut ties with senior vice president Matt Zimmerman for failing to report relationships he had with women who worked for him. 
Follow on Twitter @ZeroPointNow § Subscribe to our YouTube channel