We kick off the new year with a busy week on the data front.
The main focus this holiday-shortened week will be on the employment report, the FOMC meeting minutes and the manufacturing ISM.
First, nonfarm payrolls likely expanded by 185k in December, implying a modest deceleration from an increase of 228k in November. The economy seems to have ended the year with good momentum: consumer demand appears to have been strong during the holiday season and there are signs that capex is steadily picking up. These developments should support our call for solid hiring activity in December. As a result, the unemployment rate is expected to hold steady at 4.1%. Due to the low level of the unemployment rate and further job gains, consensus expects wage growth to accelerate to 0.3% mom, leaving the yoy rate unchanged at 2.5%.
Second, Wednesday's release of the FOMC minutes will likely reflect increased confidence about short-term, but not necessarily long-term, growth prospects. The minutes will reveal a debate about the ability of tax cuts to stimulate investment and productivity growth, which can alter the potential growth rate of the economy. Also likely is a discussion of the relevance of unemployment slack in determining the trend in inflation.
Third, the manufacturing ISM is expected to post another solid reading but with little acceleration. This is supported by the ISM-adjusted Empire State and Philadelphia Fed measures, which remained strong but were relatively flat. Note, however, that the Chicago PMI was extremely elevated.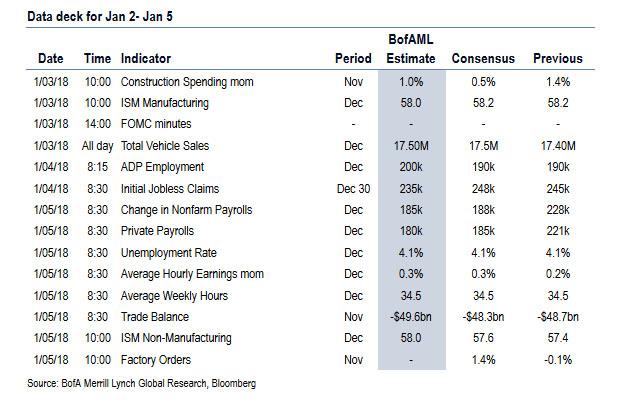 Looking at the week ahead for global events, we start the year with the final reading of the December manufacturing PMI for the Eurozone, Germany, France and US, as well as the flash readings for the UK and Italy.
Wednesday: Germany's December CPI and unemployment rate will be out. Over in the US, we have the December ISM manufacturing reading and total vehicle sale stats. Away from the data, the FOMC minutes for the December meeting will also be due.
Thursday: In early morning, China's December Caixin composite PMI and Japan's Nikkei manufacturing PMI will be out. Then we have the final readings for the December services and composite PMIs across Europe and the US. In the UK, the December Nationwide House price index, November mortgage approvals and net consumer credit data will be due. Over in the US, there is the December ADP employment change print along with the weekly initial jobless and continuing claims. Away from the data, the Fed's Bullard will speak at an economic convention.
Friday: In early morning, Japan's Nikkei services and composite PMI will be out. Then a bigger day in Europe with the December CPI for the Eurozone, France and Italy due. Elsewhere, there is the Eurozone November PPI and Germany's retail sales data. In the US, there is the December nonfarm payrolls, ISM nonmfg composite, unemployment rate and average hourly earnings data. Elsewhere, the November trade balance, factory orders along with the final readings for   the durable and capital goods orders are also due. Onto other events, the Fed's Harker and Mester are both scheduled to speak.
Finally, here is Goldman's preview of the weekly events focusing on the US alone, in which the key economic releases next week are ISM manufacturing on Wednesday and the employment report on Friday. There are several scheduled speaking engagements by Fed officials this week. Additionally, the minutes from the December FOMC meeting will be released on Wednesday.
Tuesday, January 2
09:45 AM Markit US Manufacturing PMI, December (consensus 55.0, last 55.0)

Wednesday, January 3
10:00 AM ISM manufacturing index, December (GS 58.0, consensus 58.2, last 58.2); Regional manufacturing surveys have been mixed in December, though most headline indices remain at levels consistent with a firm pace of expansion in activity. Overall, our manufacturing survey tracker edged higher by 0.2pt to 59.8 in December. We expect the ISM manufacturing index to decline 0.2pt to 58.0.
10:00 AM Construction spending, November (GS +0.9%, consensus +0.5%, last +1.4%); We expect construction spending to climb 0.9% in November following a 1.4% gain in October, reflecting strength in single-family and private nonresidential construction.
02:00 PM Minutes from the December 12- 13 FOMC meeting; At its December meeting the FOMC made a large upgrade to its growth projections, recognizing both stronger recent momentum and the impact of the tax cuts. However, it made more limited changes to its unemployment rate projections beyond accounting for the decline to date, and the median dot was unchanged in 2018 and 2019, rising only in 2020 to show a higher terminal rate. We will look for indications of the degree to which participants took the tax cuts on board in their economic and monetary policy projections, as well as any signs of pent-up pressure to further adjust the interest rate projections at upcoming SEP meetings. We will also look for any discussion of alternative monetary policy frameworks such as price level targeting, which made an appearance in the November minutes.
05:00 PM Total vehicle sales, December (GS 17.8mn, consensus 17.5mn, last 17.4mn): Domestic vehicle sales, December (consensus 13.3mn, last 13.46mn)

Thursday, January 4
08:15 AM ADP employment report, December (GS +205k, consensus +190k, last +190k): We expect a 205k increase in ADP payroll employment in December, reflecting a boost from the stronger headline payrolls growth in November utilized in the ADP model. While we believe the ADP employment report holds limited value for forecasting the BLS's nonfarm payrolls report, we find that large ADP surprises vs. consensus forecasts are directionally correlated with nonfarm payroll surprises.
08:30 AM Initial jobless claims, week ended December 30 (GS 240k, consensus 248k, last 245k): Continuing jobless claims, week ended December 23 (last 1,943k); We estimate initial jobless claims fell by 5k to 240k in the week ended December 30, following a flat reading in the prior week. The level of claims filings looks elevated in a few states, suggesting the possibility of a modest retrenchment. Continuing claims – the number of persons receiving benefits through standard programs – rose by more than expected in the previous week.
09:45 AM Markit US Services PMI, December (consensus 52.4, last 52.4): Markit US Composite PMI, December (last 53.0)
01:30 PM St. Louis Fed President Bullard (FOMC non-voter) speaks: St. Louis Federal Reserve President Bullard will give the keynote speech at a seminar on "Allan Meltzer's Contributions to Monetary Economics and Public Policy" hosted by George Mason University in Philadelphia.

Friday, January 5
08:30 AM Nonfarm payroll employment, December (GS +175k, consensus +188k, last +228k); Private payroll employment, December (GS +170k, consensus +185k, last +221k); Average hourly earnings (mom), December (GS +0.3%, consensus +0.3%, last +0.2%); Average hourly earnings (yoy), December (GS +2.5%, consensus +2.5%, last +2.5%);  Unemployment rate, December (GS 4.0%, consensus 4.1%, last 4.1%): We estimate nonfarm payrolls rose 175k in December, compared to a consensus forecast of +188k. Our forecast reflects some normalization to trend following hurricane-related strength in October and November, as well as an additional drag from winter storms around the December survey period. We forecast a one-tenth decline in the unemployment rate to 4.0%, reflecting an expected reversal of the November spike in youth unemployment. For average hourly earnings, we estimate a +0.3% month-over-month gain or +2.5% from a year ago, reflecting favorable calendar effects and a boost from the unwind of hurricane-related distortions.
08:30 AM Trade balance, November (GS -$50.4bn, consensus -$48.3bn, last -$48.7bn): we expect the trade balance to widen by $1.7bn to -$50.4bn in November. The Advance Economic Indicators report last week showed a much wider goods trade deficit, and we expect a pause in services export growth following solid gains in recent months.
10:00 AM ISM non-manufacturing index, December (GS 57.4, consensus 57.6, last 57.4): Service sector surveys were a touch softer on net in December. Overall, our non-manufacturing survey tracker moved down 0.4pt to 57.0 in December. We expect the ISM non-manufacturing index to remain unchanged at 57.4.
10:00 AM Factory orders, November (GS +1.3%, consensus +1.4%, last -0.1%); Durable goods orders, November final (last +1.3%); Durable goods orders ex-transportation, November final (last -0.1%); Core capital goods orders, November final (last -0.1%); Core capital goods shipments, November final (last +0.3%); We expect factory orders to climb 1.3% in November following a 0.1% decline in the prior month. Core measures for durable goods were mixed in November, with a small pullback in core capital goods orders and an increase in core capital goods shipments.
10:15 AM Philadelphia Fed President Harker (FOMC non-voter) speaks: Philadelphia Federal Reserve President Harker will take part in a panel focused on the economic outlook at the American Economics Association's (AEA) annual meeting in Philadelphia. Audience and media Q&A is expected.
Source: Goldman, Deutsche, BofA