Russia quietly doubled its crude oil export capacity to China in the new year when it launched a new pipeline, cementing its position as the number one supplier of crude to its Asian neighbor.
The extension of the East Siberia-Pacific Ocean, or ESPO, oil pipeline between Russia and China started operating on January 1, doubling the export volumes from 15 to 30 million tons annually, or almost 220 million barrels, Xinhua reported. The agency noted that the extension, which was agreed in 2013, would serve China's Belt and Road initiative for expanding China's regional influence in Asia.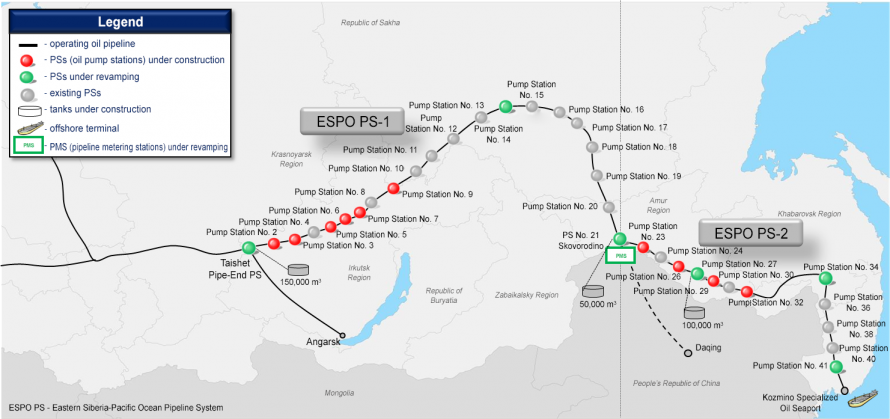 The new section of the Eastern Siberia–Pacific Ocean pipeline began operations Monday, Xinhua added. The venture is expected to "deepen energy co-operation between Moscow and Beijing" and serve the Belt and Road Initiative, a major Chinese-led development project across Asia.
Rosneft is the supplier of the crude via the ESPO pipeline, while PetroChina is the buyer. The oil will be processed at three refineries in the Northeast of China. Back in September, Reuters reported, citing refinery sources, that one of these was undergoing a capacity expansion upgrade that cost US$880 million. The upgrade should increase its capacity to 400,000 bpd by the end of this year.
Originating in Skovorodino, Russia, the pipeline stretches to Mohe, the northernmost province of China, before passing through the Inner Mongolia Autonomous Region all the way to Daqing in the northeastern Heilongjiang province. As a result of the second line, Russia's crude export capacity to China has now doubled from 15 million to 30 million tons, or about 600,000 barrels a day. This significantly boosts Russia's lead over Angola and Saudi Arabia as Beijing's's biggest supplier of crude oil. China is currently considered the number one importer of raw petroleum in the world.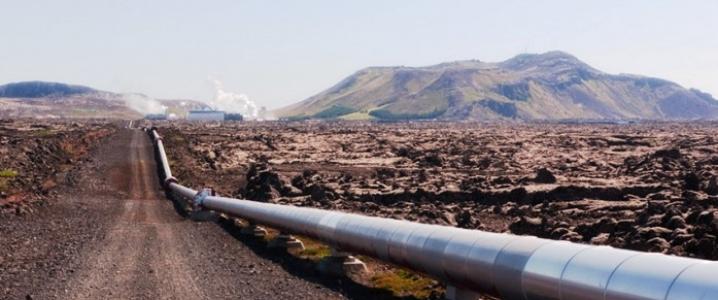 Construction on the second line began in August 2016. According to RT, the first pipeline from Mohe to Daqing began operating on January 1, 2011. Some 110 million tons of oil have passed through the first line so far. Another section of the pipeline snakes around China to Russia's Far East, serving the specialized oil seaport of Kozmino.
Almost exactly one year ago, we reported that Russia overtook Saudi Arabia  to become China's biggest oil supplier for 2016.  Since then Russia has held the crown of China's biggest supplier for nine consecutive months based on the latest data, released in the last week of December.
In November, Russian crude exports to China totaled 5.12 million tons, or about 1.25 million barrels daily. That was 11% more than in November 2016. At the same time, Saudi imports fell by 7.8% in November, to 1.056 million bpd.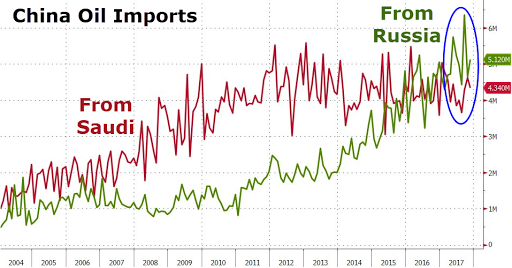 Higher imports have been necessitated not just by growing energy demand in China but also by falling production from mature field, many of them in northeastern China. But Russia is not the only one eating Saudi Arabia's market share in the world's top importer: the U.S. has been exporting crude at unprecedented rates. Last year, the average U.S. oil shipments to China stood at 180,000 bpd for January to September alone.