Apparently the combination of a massive flood of excess supply in the form of new luxury developments and a Trump tax plan that penalizes people living in expensive cities by capping SALT, mortgage interest and property tax deductions was simply too much for the Manhattan real estate market to ignore in 4Q 2017.  As Douglas Elliman points out in their new Q4 2017 Manhattan Market Report, both prices (-9.4%) and volumes (-25.4%) of New York City apartments collapsed sequentially in Q4 as potential buyers took a pause amid the growing uncertainty.
Sales activity for the Manhattan housing market was at the lowest fourth quarter total in six years. The pace of the fall market noticeably cooled as market participants awaited the housing-related terms of the new federal tax bill. This translated into a decline in year over year closings for the final quarter of the year, although contract volume showed an uptick.

There were 2,514 sales to close in the final quarter of the year, down 12.3% from the prior-year quarter. The decline in sales allowed listing inventory to rise after declining year over year for the past few quarters. There were 5,451 listings at the end of the quarter, up 1.1% from the same period a year ago. As a result, the absorption rate, the number of months to sell all inventory at the current rate of sales slowed, rising to 6.5 months from 5.6 months in the year-ago quarter.

Listing discount, the percentage difference between the list price at the date of sale and the sales price, was 5.4% up nominally from 5.3% in the prior year quarter as sellers continued to travel farther to meet the buyer on price. Buyers continued to hold firm, forcing sellers to meet them on price.

Days on market, the average number of days to sell all apartments that closed during the quarter rose 3.2% to 97 days from 94 days in than the same period last year.

New development active listings and resale listings were up 0.7% and 1.2% respectively over the same period. With the nominal rise in supply, there was also a nominal decline in bidding wars, still accounting for 11.7% of all sales in the quarter, down 0.9% from the same period last year.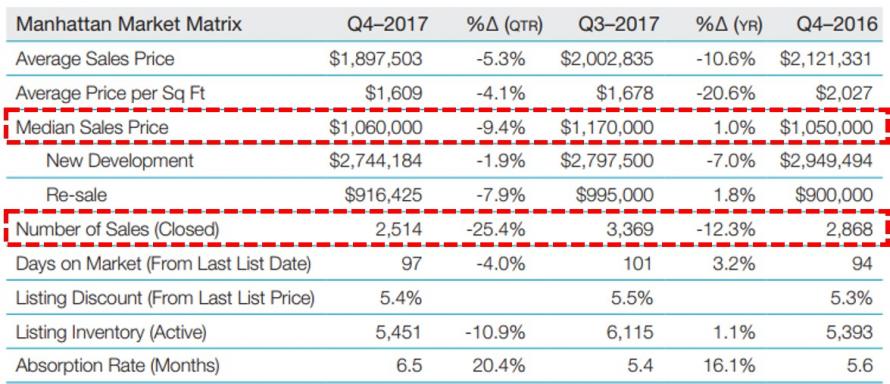 Per the chart below, 4Q closings in Manhattan fell to the lowest level recorded since early 2012/2013.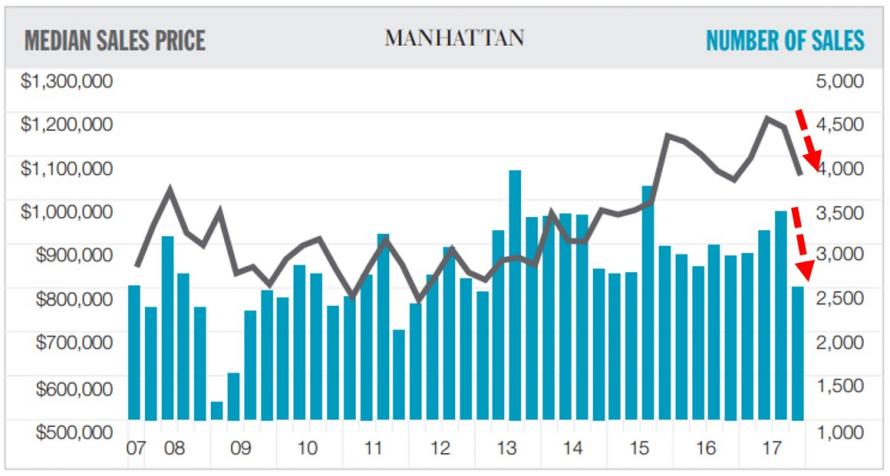 Meanwhile, re-sale volumes, down 26.9%...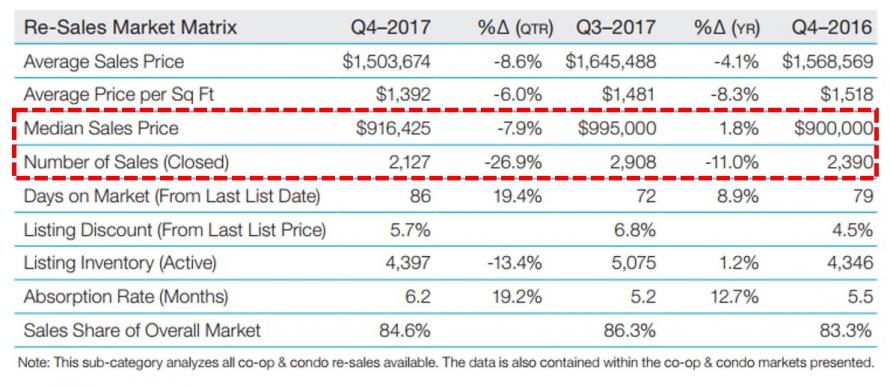 ...were actually hit harder than new developments which were only down 16.1%.

Finally, the "Luxury Market" was absolutely obliterated in Q4 with average prices down 21% year-over-year, or roughly $2 million, as closings fell back to levels last recorded in 2011.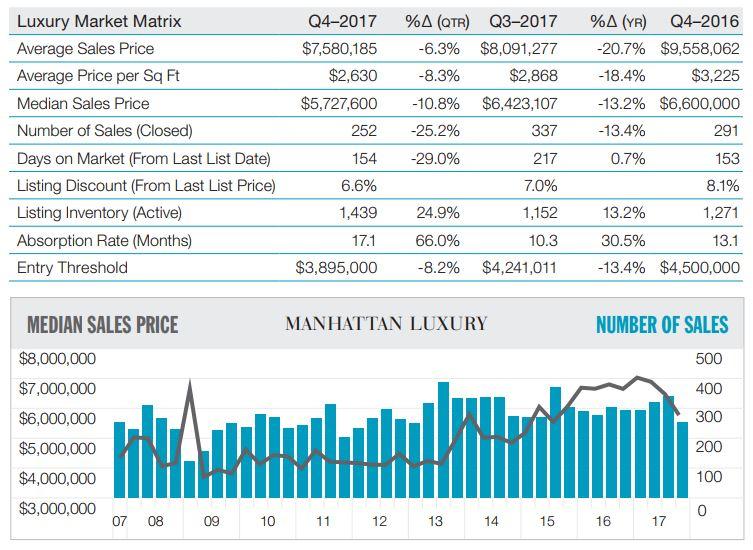 Not surprisingly, Pamela Liebman, the president of New York real estate broker The Corcoran Group, attributed  the pause by Manhattan buyers to the tax bill and said that folks are increasingly convinced that prices peaked in 2017 and may continue to be under pressure.
"We lost a lot of deals in the fourth quarter, while people waited to see the outcome of the tax bill," she said. "Now that the uncertainty is gone they will be able to make a decision."

She said buyers were active but "focused on value and reasonable pricing."

"The good news is there are a lot of buyers who are ready to purchase next year," Ms. Liebman said. "Sellers who don't overshoot the mark should do well."
Of course, the fact that Manhattan real estate prices are coming under pressure should come as little surprise as we noted the following interactive map from ATTOM Data Solutions last week which perfectly illustrated just how concentrated mortgages over $750,000 are in a handful of expensive cities like New York and San Francisco.
Among 2,022 counties included in this analysis and at least 50 home purchase loans so far in 2017, those with the highest share of loan originations above $750,000 were New York County (Manhattan), New York (63.8 percent); San Francisco County, California (58.0 percent); Nantucket County, Massachusetts (57.3 percent); San Mateo County, California (55.2 percent); and Marin County, California (50.o percent). Among those same 2,022 counties, those with the highest number of purchase home loan originations above $750,000 so far in 2017 were Los Angeles County, California (9,197); Santa Clara County, California (5,543); Orange County, California (4,450); Maricopa County, Arizona (3,723); and King County, Washington (3,715).
Conclusion: Low-tax, cheap cost of living states (i.e. "Red States") are suddenly starting to look a lot more attractive to liberal "millionaire, billionaire, private jet owners" in New York who aren't so keen on "spreading their wealth around" as their rhetoric would have you believe.