After gaining over 36,000% in 2017 - the best-performing crytocurrency, Ripple is soaring again today (after a brief dip yesterday) to $100 billion in market cap and up 30% year-to-date for 2018.
While Bitcoin grabbed many headlines - testing $20,000 - in percentage terms it never came close last year...Ripple, the centralized bank-focused digital currency, claimed the gold medal with a staggering 36,018% return over the past year.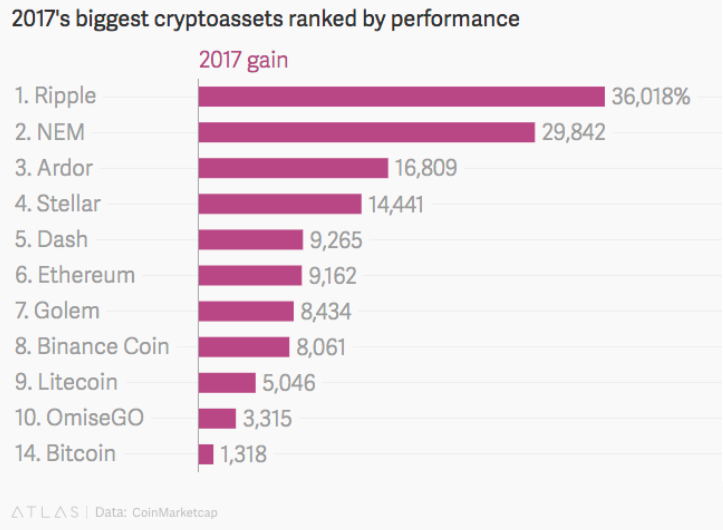 And despite a very modest drop yesterday - after Peter Thiel Bitcoin headlines - Ripple is now up 30% for 2018...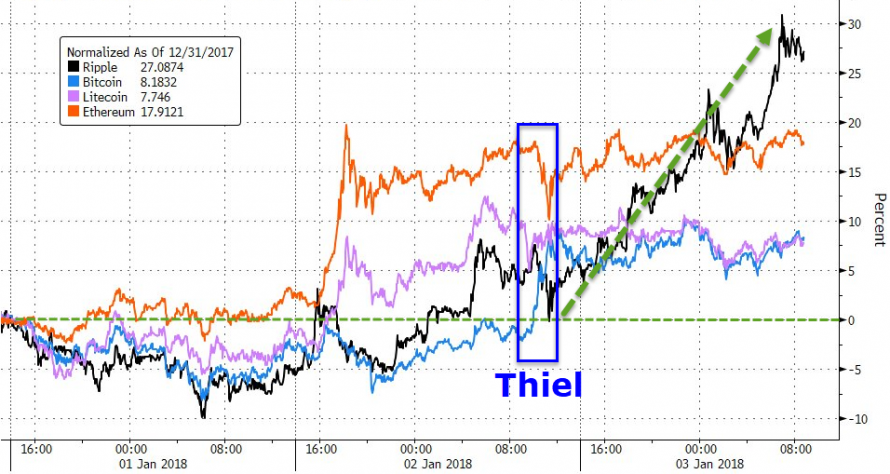 And as Bloomberg notes, Bitcoin alternatives are closing the gap with the market leader after names like stellar and cardano became red hot as 2017 was closing.
The biggest cryptocurrency's share of market value has fallen to a record 36 percent from 56 percent a month ago, according to CoinMarketCap prices for coins and tokens.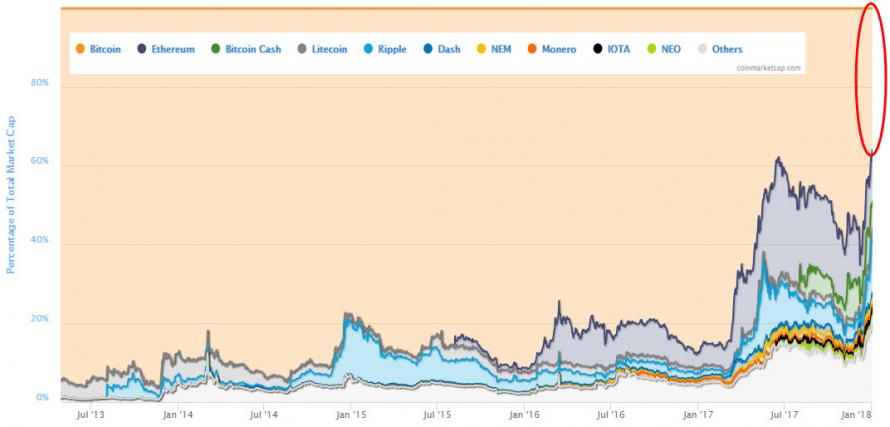 "The altcoins today, in large part, are not trying to be bitcoin competitors," said Lex Sokolin, global director of fintech strategy at Autonomous Research LLP in London. "They are doing something else entirely -- ethereum as a smart-contracts platform, iota as a machine-economy token, ripple for interbank payments, and so on." How each is used "should become increasingly relevant as the novelty of crypto wears off."
Mike McGlone, a commodity strategist at Bloomberg Industries, warned "when the frenzy subsides, 2Gs should continue to gain on bitcoin, which has flaws and where futures can be shorted," in a note last week. "Ethereum appears prime to assume benchmark status, though bitcoin forks ripple and litecoin are the primary up-and-coming contenders."