Bay Area residents were jolted awake early Thursday morning when a 4.4 magnitude earthquake centered on the Hayward fault near the UC-Berkeley struck, according to the U.S. Geological Survey.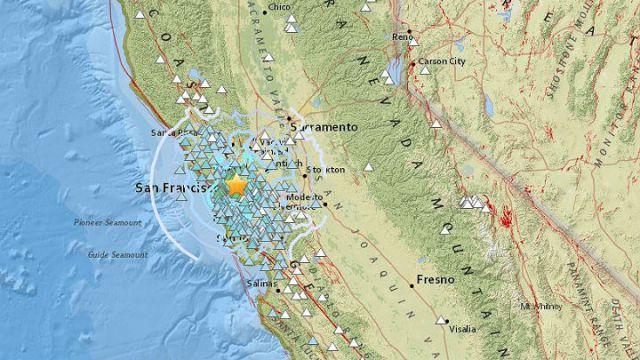 The USGS initially registered it as a 4.7 magnitude quake, downgraded it quickly to a 4.5 and then at 3:28 a.m. downgraded it again to a 4.4
The quake struck at struck at 2:39 a.m. and was felt throughout the East Bay, North Bay and San Francisco. The USGS website said people reported feeling the quake 40 miles (64 kilometers) south in San Jose.
While many were jolted out of their beds, there was no preliminary reports of damage. Predictably, residents immediately took to social media to describe their emotional state:
Holy shit was that an Earthquake?

— Adam Singer (@AdamSinger) January 4, 2018
Everyone calm down- that was just Berkeley collapsing under the weight of its own self-importance. #earthquake

— ❌uertespin (@Deaderspin) January 4, 2018
The NorCal quake drew some attention away from the winter cyclone bearing down on the east coast that was supposed to bring up to a foot of snow and record low temperatures in some areas.
The local CBS affiliate collected responses from locals who were jostled awake by the tremors.
Gina Solis posted on the KPIX 5 Facebook page that it rocked her home in San Rafael. "I felt it in San Rafael," she posted. "It shook our house and shook the bed big time!!!"
Pamela Jones posted: "Felt stronger than 4.5, in Concord." In the South Bay, Chris Defayette said it was "a quick jolt."
"Yes in Campbell was a quick jolt and rocking," DeFayette posted.