"The strong storm system off the east coast continues to rapidly strengthen, bringing strong winds, heavy snow, and bitter wind chills to the I-95 corridor. As of 11 AM EST Thursday, the system had strengthened to 951mb, which is a drop of 59mb in 24 hours – more than double the criteria for bombogenesis (24mb/24hours). This storm will continue to produce winds in excess of 50mph from New York City into New England along with heavy snowfall and blizzard conditions. This will continue to lead to airport closures and delays along with other infrastructural damages. The combination of wind and snowfall may also lead to localized power outages," said Ed Vallee, a meteorologist at Vallee Weather Consulting LLC.
He further warned, "Behind the storm, brutally cold air will invade the Northeast, with wind chills dipping well below zero. Numerous record low temperatures are expected this weekend across the Northeast Couple this with power outages, and this turns into a life-threatening situation quickly."
High winds and heavy snow have contributed to whiteout conditions from coastal Delaware to New England, shutting airports, government offices, and schools, leaving much of the East Coast paralyzed.
On Thursday, New York Gov. Andrew Cuomo declared an official weather emergency in New York City, Long Island and Westchester County. Nearly all flights out of La Guardia, New York City's other major airport have been canceled. The airline-tracking site FlightAware is reporting more than 3,200 flights have been canceled as of late Thursday morning.
Blizzard and winter storm warnings are in place along the coast from North Carolina to Maine, with the Weather Channel forecasting "snowfall rates of 1 to 3 inches per hour" and "wind gusts over 70 mph."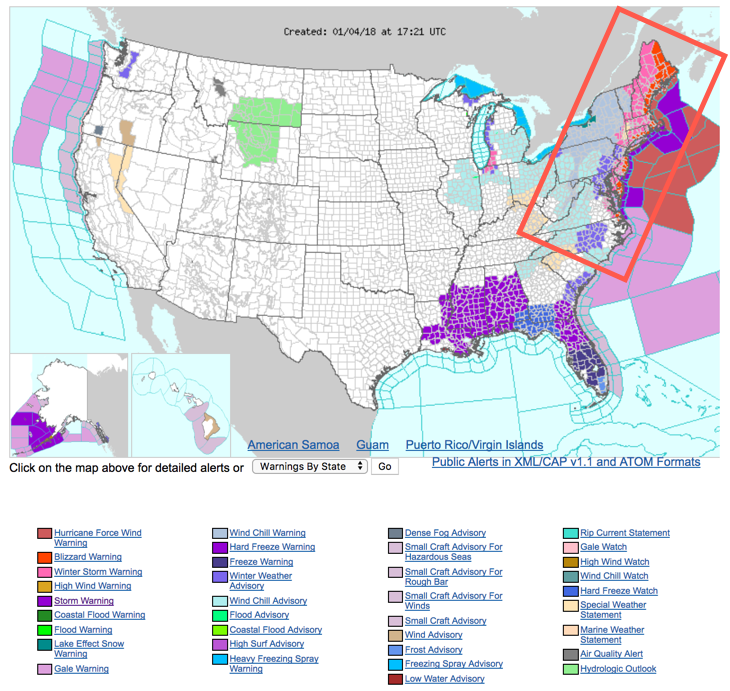 According to stormhamster.com (11:45 am est.), the latest "heavy band setting up from the NJ coast up into New England will cap forecasts into or exceeding the high ranges as long as it holds true."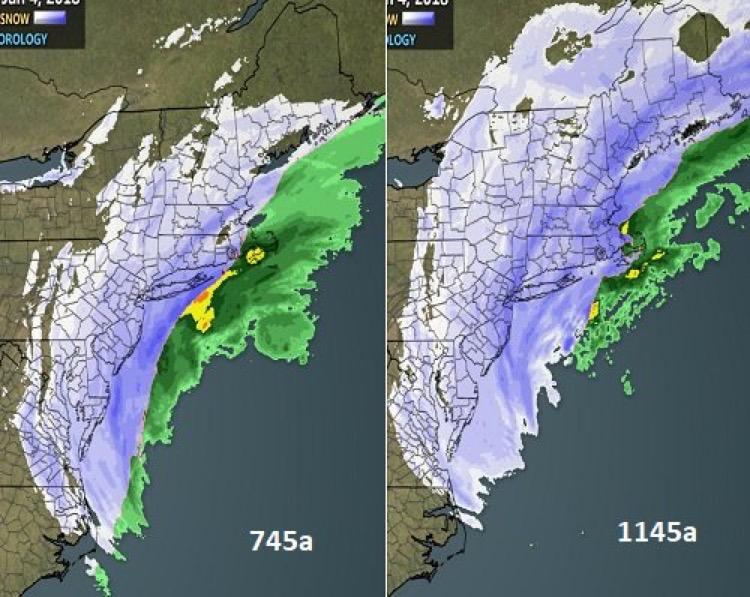 The snowfall rate will remain the heaviest on coastal regions.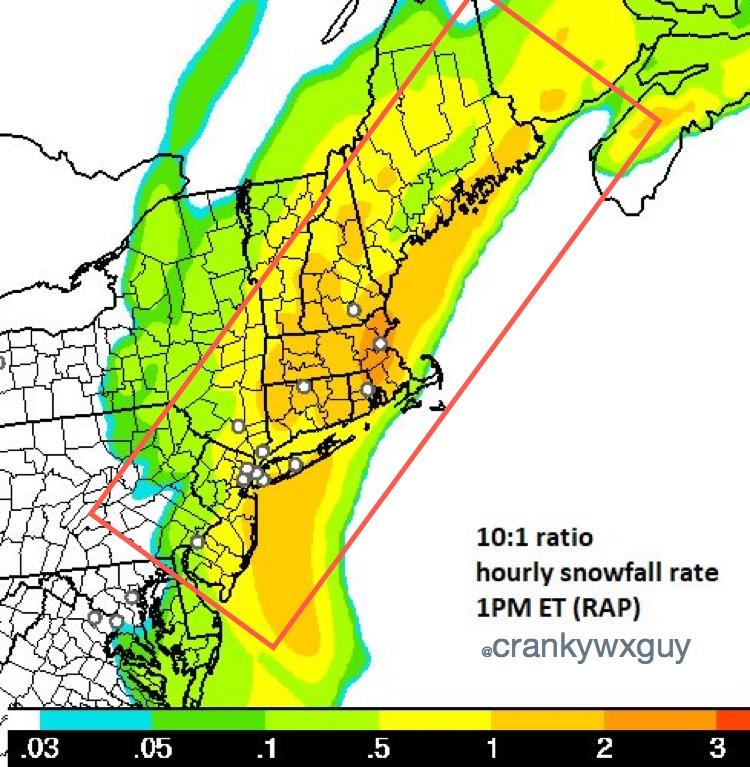 Whiteout conditions are expected in Deleware all the way through Maine. Heavy snow and wind gusts from 45 to 60mph could be devastating for coastal communities.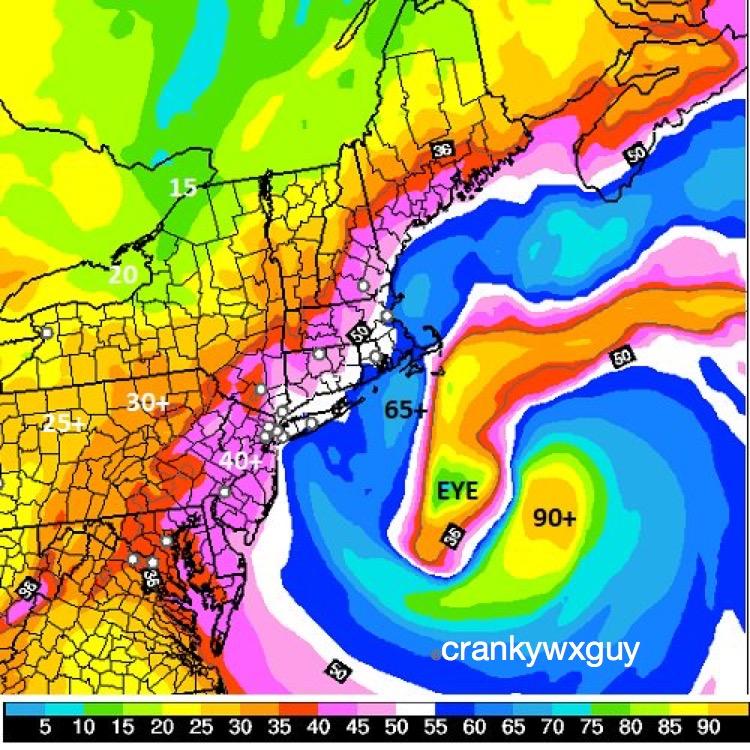 According to @crankywxguy, "RAP modeled snowfall, retroactive to 8AM ET – through 4AM Friday. 10:1 ratio."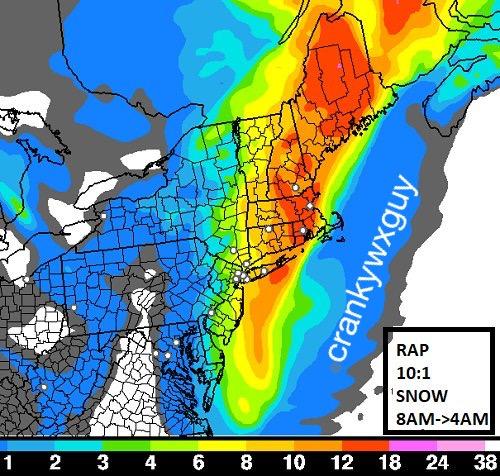 "15z Analysis (official) put it at 951mb, a 6mb drop since 12z. Still bombing," said @crankywxguy. What he means is that storm is strengthening as it moves up the coast. For reference, Hurricane Sandy which slammed into onto the East Coast in 2012 registered 946 mb.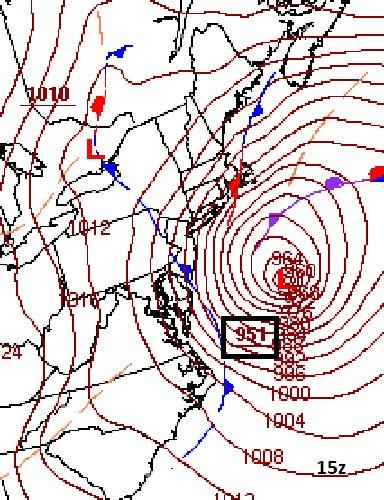 The sheer size of the storm is stunning, which according to some has been likened to a "winter hurricane."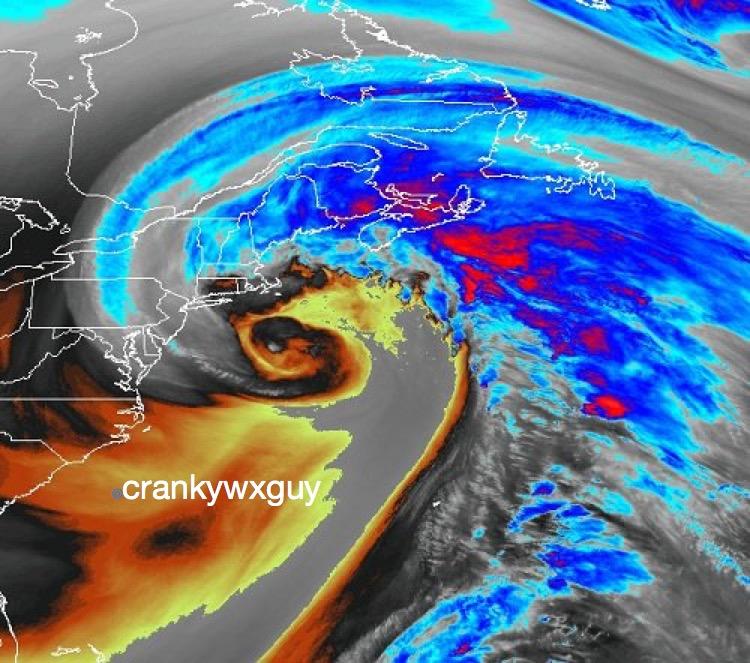 The Weather Channel outlines the forecast timing of the storm on Thursday through Thursday night,
The still-intensifying low will move from off the mid-Atlantic seaboard to southeast of Nantucket Island by midday, then into Nova Scotia Thursday night.
Any snow along the I-95 corridor south of Philadelphia should end by midday and in the New York City Tri-State area by late afternoon or early evening.
Snow will intensify quickly during the day in New England, especially in eastern New England, tapering off from south to north Thursday night.
Winds will also intensify quickly in New England, potentially becoming damaging in eastern New England by afternoon.
Some strong wind gusts will also buffet other parts of the Northeast from western New England to the mid-Atlantic states through at least Thursday night, if not into Friday.
New models are hinting the storm could strengthen to 942mb over the next 12-hours.
UKMET analysis 952 mb at 12z ... continues down to 942 mb over next 12-hours. This model forecast has been impressive for central pressure. GFS was trash. #blizzard2018 pic.twitter.com/cuINvlkQ63

— Ryan Maue | weather.us (@RyanMaue) January 4, 2018
What follows the storm will be even colder cold temperatures that could produce dangerous conditions on the East Coast through Sunday.
Once the major winter storm heads into coastal Canada, brutally cold air bottled up in Ontario and Quebec spills across New England.
RECORD cold daytime highs on Saturday lead to record LOWS on Sunday morning. Extremely dangerous wind chills 🌡️ pic.twitter.com/Cpvx2tjq6L

— Ryan Maue | weather.us (@RyanMaue) January 4, 2018
The Weather Channel also warns about the post-storm cold and the threat of power outages.
Reinforcing bitterly cold air will descend into the East behind Winter Storm Grayson.
Lows will plunge into the single-digits or teens Friday morning, then into at least the single-digits below zero this weekend in New England.
Daytime highs Friday won't rise out of the teens, and Saturday may struggle to rise above the single-digits.
Those suffering a loss of power will have to find an alternate means of heating or face a life-threatening risk.
Finally, the storm is causing a dramatic impact on prices, with spot natgas on Transco Zone 6 for NYC for delivery on Friday averaging an all-time high of $140/mmbtu on the ICE Exchange, after jumping as high as $175 in trading Thursday, said John Borruso, director of natural gas trading at Con Edison Energy in Valhalla, New York.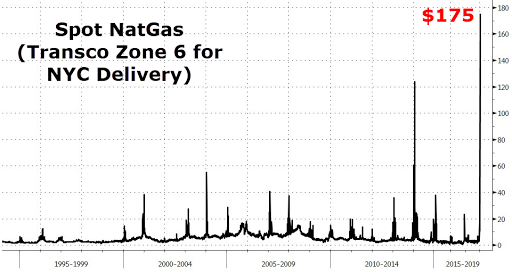 "This string of cold has stressed the market just as much as the polar vortex of 2014", Borruso told Bloomberg "You are seeing pipeline restrictions and flow restrictions pop up."