Russia has joined China in calling for a policy of non-interference in Iran's domestic affairs after a week of unrest has gripped multiple major cities and towns across the country in what started as protests over economic grievances, but which have since increasingly turned to riots and calls for President Rouhani and the clerical regime to step down, resulting in the deaths of at least 22 people, including at least one police officer who was shot dead.
In remarks given to Russia's TASS news agency Russian Deputy Foreign Minister Sergey Ryabkov expressly warned the US "against attempts to interfere in the internal affairs of the Islamic Republic of Iran," while stressing, "What is happening there is an internal affair, which attracts the attention of the international community." Russia's stance is similar to that of China's voiced previously on Tuesday. When asked about the Iran protests at a regularly scheduled press conference, China's foreign ministry spokesperson Geng Shuang simply gave a one-sentence answer, saying, "China hopes that Iran can maintain stability and achieve development."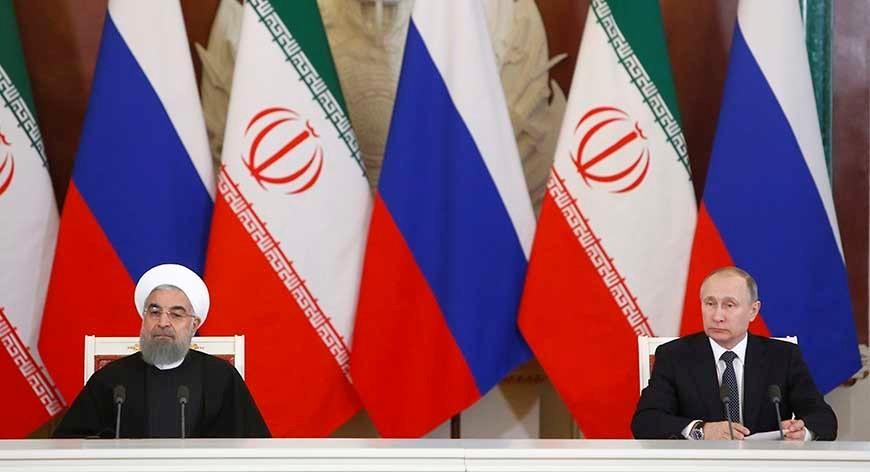 Image source: Reuters via al Monitor
Both Russia and China - permanent members of the UN Security Council - have already signed deals worth billions to develop sectors related to travel, energy, and infrastructure, soon after international sanctions were lifted in January 2016 as part of the 2015 nuclear deal brokered by the United Kingdom, United States, France, Russia, China, and Germany. Last August Russia and Iran signed a $2.5 billion deal to jump start the rebuilding of Iran's ailing rail lines. Forbes described Iran as poised for an "infrastructure building bonanza" at a moment when trade with Russia doubled over the course of 2016, which has included the sale of military equipment such as helicopters and various rocket systems, and has also seen Russian oil and gas giants such as Gazprom quickly move into Iran. Both countries have also cooperated militarily in Syria since Russia's entry into the war at the invitation of the Assad government in 2015. 
As we've previously noted, Western firms have been reluctant to invest heavily in Iran with the ever looming possibility of new US sanctions under the Trump administration - a concern now greatly compounded after a week of internal protests in the country considered a longtime enemy especially of both the US and Israel.
In mentioning the overblown and premature attraction of "the attention of the international community" Ryabkov appears to be referencing recent statements issued by Israeli Prime Minister Benjamin Netanyahu and President Trump, among others. On Wednesday Trump tweeted an ambiguously threatening message, stating, "Such respect for the people of Iran as they try to take back their corrupt government. You will see great support from the United States at the appropriate time!" This came after the State Department issued an official statement at the end of last week which explicitly mentioned "transition of government in Iran." The statement expressed US support for protesters, and further referenced "those elements inside of Iran that would lead to a peaceful transition of government. Those elements are there, certainly as we know." 
Such respect for the people of Iran as they try to take back their corrupt government. You will see great support from the United States at the appropriate time!

— Donald J. Trump (@realDonaldTrump) January 3, 2018
Though Trump didn't explain what was meant by "great support" this could mean any one or more scenarios involving new sanctions, lobbying the UN to condemn Tehran authorities, threatening military action, or giving official or covert support to opposition factions both in exile and on the ground. Trump's most recent Iran tweet followed an equally inflammatory declaration that, "Iran is failing at every level despite the terrible deal made with them by the Obama Administration. The great Iranian people have been repressed for many years. They are hungry for food & for freedom. Along with human rights, the wealth of Iran is being looted. TIME FOR CHANGE!" Vice President Pence has also weighed in. He stated Wednesday after penning a Washington Post op-ed pledging support to the people of Iran, "Today, the Iranian people are once again rising up to demand freedom and opportunity, and under President Trump, the United States is standing with them. This time, we will not be silent." 
Russian Deputy FM Ryabkov's response touched on the Iran deal in relation to the heightened international rhetoric. He stated, "However, despite numerous attempts to distort the essence of what is going on, I am certain that our neighbor, the country that is friendly to us, will be able to overcome the current difficulties and emerge from the current period as a stronger country and a reliable partner in solving various problems, including those related to the further implementation of the Joint Comprehensive Plan of Action (JCPOA)."
"All the terms, timeframes and frameworks that were set in the JCPOA were the result of very difficult and very lengthy negotiations," the senior diplomat further explained, recalling what Russia sees as recent US maneuvers to undermine the deal. "Therefore, taking out of the package arbitrarily only what suits the Americans and demanding amending those provisions, which, for some reasons that are unknown to us, do not suit the Americans is a destructive approach. It can undermine the agreement reached with difficulty."
Ryabkov also accused the US of intentionally using the current Iran unrest to try to undermine the sustainability of the JCPOA, charging, "The current situation when Washington yields to temptation to take advantage of the moment to bring up new questions with regard to the JCPOA testifies to a deliberate attempt to undermine the global community's commitment to the JCPOA. That does no credit to our American counterparts."
On Monday, Israeli PM Netanyahu delivered a televised message directed at Iran via YouTube wishing "the Iranian people success in their noble quest for freedom" - this after authorities in Tehran accused protest leaders of serving the interests of and being in league with foreign "enemies" like Saudi Arabia and Israel.
"I heard today Iran's President Rouhani's claim that Israel is behind the protests in Iran," said Netanyahu in the video. "It's not only false. It's laughable - unlike Rouhani, I will not insult the Iranian people. Brave Iranians are pouring into the streets. They seek freedom. They seek justice. The seek the basic liberties that have been denied to them for decades." Both Trump and Netanyahu's statements have possibly given Iran greater reason to fear that internal unrest could gain momentum through being supported by outside forces - though new reports suggest that popular protests could be dying down. 
* * *
Meanwhile Iran responded to US statements in a formal letter to the United Nations, slamming Trump's "absurd tweets" and complaining that Washington is intervening "in a grotesque way in Iran's internal affairs" while accusing Trump and Pence of personally stirring up trouble and inciting "Iranians to engage in disruptive acts." The letter to UN officials by Iranian Ambassador Gholamali Khoshroo further charged that the US leaders have "crossed every limit in flouting rules and principles of international law governing the civilized conduct of international relations."
And it appears that Iran has at least one Western voice of support to its argument that rhetoric from the US and its allies is unnecessarily and dangerously ratcheting up the situation. On Wednesday's France's President Emmanuel Macron blasted statements from Washington and Israel, telling reporters, "The official line pursued by the United States, Israel and Saudi Arabia, who are our allies in many ways, is almost one that would lead us to war." He charged that some countries seemed to be engaged in a "deliberate strategy" to undermine the JCPOA. 
"Otherwise, we end up surreptitiously rebuilding an 'axis of evil'," Macron said in reference to an infamous phrase by former President George W. Bush, who used the phrase to describe countries including Iran, Iraq and North Korea. Macron further warned of going down a path of a "conflict of extreme brutality" should US pressures on Iran continue.