After Manufacturing's surge, Services PMI failed to inspire... as business confidence tumbles to 15-month lows, and employment drops to its weakest since June.
December data signalled a solid, but softer expansion in business activity across the US service sector. Moreover, the latest upturn eased to a seven-month low.  The overall rate of activity growth was the weakest since May and below the series trend, an workforce numbers rose at the softest pace since June.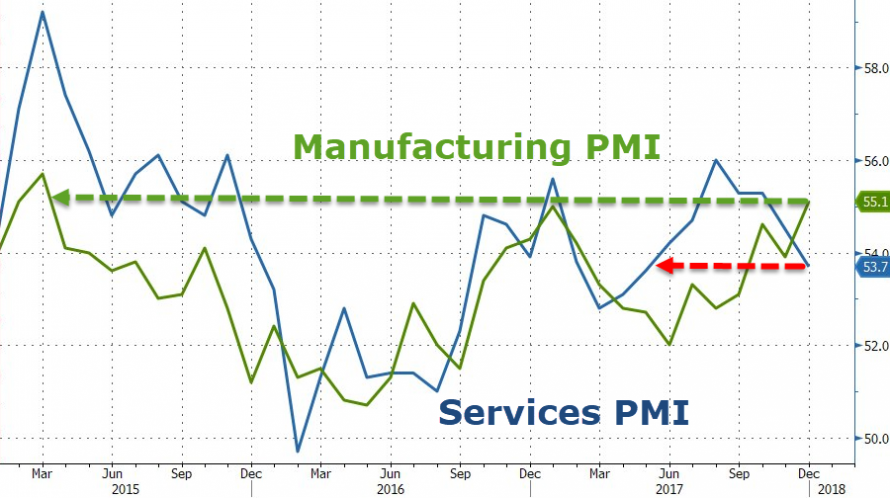 The final seasonally adjusted IHS Markit U.S. Composite PMI™ Output Index fell to 54.1 in December, down from 54.5 in November. Despite an accelerated upturn in manufacturing output, the composite index signalled softer growth following a slower expansion in service sector business activity.
Commenting on the Composite PMI data, Chris Williamson, Chief Business Economist at IHS Markit said:
"The final services and manufacturing PMI surveys collectively signalled faster business activity growth than the earlier flash readings, though still indicated a moderation in the pace of expansion to the weakest since June. A welcome improvement in manufacturing output growth was countered by a slowdown in the comparatively larger services economy.

"However, while moderating, the overall rate of expansion remains relatively robust, with the PMIs running at levels consistent with the economy growing at a solid 2-2.5% annualised rate in the fourth quarter.

"Similarly, hiring, while also slowing slightly at the end of the year, continued to run at a pace indicative of non-farm payrolls up by around 195,000 in December as firms boosted capacity in line with rising demand. Price pressures meanwhile moderated but remained elevated by standards seen over the past three years.

"The US economy therefore ends 2017 with an encouraging scoresheet of steady economic growth, solid hiring and firmer inflationary pressures, supporting the view that interest rates will continue to rise in 2018.

"A note of caution is sounded by a deterioration in optimism about the outlook in the service sector to the joint-weakest in the past 18 months. However, hopefully news of tax cuts and fiscal stimulus in 2018 will help revive business spirits and drive growth higher."