In what is being characterized as a rare address to the world's largest fighting force, President Xi Jinping on January 04 urged the Chinese military to be ready for war and 'don't fear death'.
As the beat of the war drums gets louder in East Asia and abroad, Xi's rare speech to the military kicked off the New Year with a grim warning, as China and other countries in the region could be preparing for a turbulent year ahead.
China's soldiers should "neither fear hardship nor death," Xi told thousands of troops during an inspection visit Wednesday to the People's Liberation Army's (PLA) Central Theater Command in northern Hebei province, according to the official Xinhua news agency.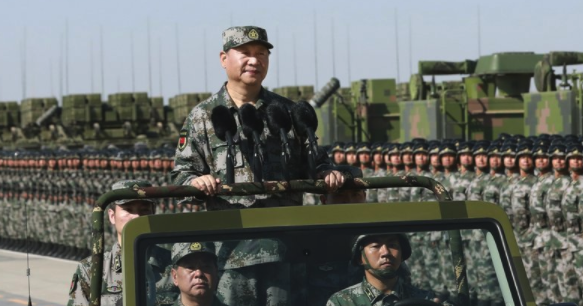 Xi advised the military to continue improving upon its equipment, tactics, technology, and combat readiness by engaging in "real combat training."
He further said, the need to "create an elite and powerful force that is always ready for the fight, capable of combat and sure to win in order to fulfill the tasks bestowed by the Party and the people in the new era."
In recent years, Xi has ushered in a period of modernization of China's military, which has worried Asia and Washington alike. Xi is head of the Communist Party's Central Military Commission, who is also the commander-in-chief of China's two million-strong military. In October, he claimed his status to be the strongest leader in China that country has seen in decades during the 19th communist party congress.
Local Chinese media outlets report that Xi's mobilization meeting with the entire armed forces is a first of its kind. Xi stated the goal of the Chinese military is to become a "world class" force by 2050. Perhaps, Xi has hinted at the time period when China expects to overtake the United States.
Analysts say there is a low probability that Xi will put his military in harm's way in the intermediate time. However, the potential for conflict is high on the South China Sea, on the Korean Peninsula, Japanese territories around the Senkaku/ Diaoyu islands, the South China Sea, the Tibet and Xinjiang regions, as well as two potential hotspots in the Himalayan region along the Indian border.
Bottomline: President Xi Jinping's rare military address should serve as a warning, that the region is marching towards war. For the address to be conducted early in the year, it's leading many to believe that the second half of 2018 could be quite turbulent. The one question we ask: Which powderkeg goes off first?