Well, so much for that 200K+ whisper number for December payrolls, and it appears that Goldman's warning that winter storms in the last month of the year would depress jobs was spot on after moments ago the BLS reported that December payrolls tumbled from an upward revised 252K in November (from 228K) to only 148K, a 3-sigma miss to expectations of 190K, and the lowest print since July.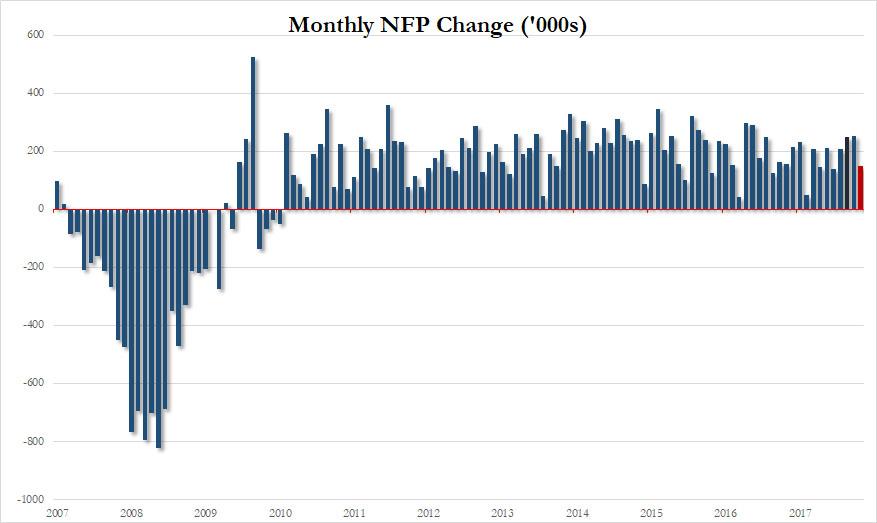 The December payrolls number was below all but one sellside estimate:

There was also a big slowdown in private payrolls, which rose 146k vs prior 239k; and below the est. 193k, from 29 economists surveyed.
Of course it wasn't just sellsiders who were wrong: NFP has now printed below ADP for 11 months.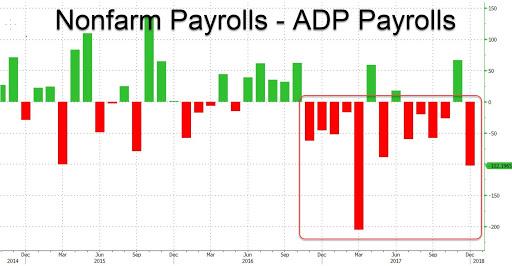 Not helping the huge December miss were the prior two-month revisions which were also negative: October was revised down from +244,000 to +211,000, while November was pushed up from +228,000 to +252,000. Net, October and November were 9,000 less than previously reported. After revisions, job gains have averaged 204,000 over the last 3 months.
Away from the establishment survey, the change in household employment was 104k vs prior 71k.
Elsewhere, the Dec. unemployment rate came in as expected, at 4.1%, same as November, the lowest in 17 years, while U6 unemployment rose a fraction to 8.1% from 8.0%.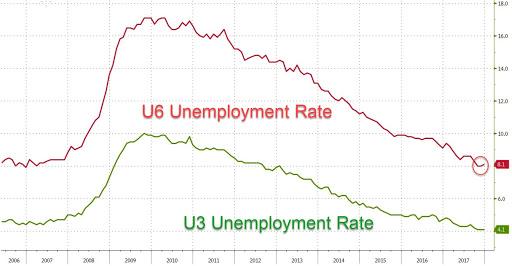 The labor force participation rate 62.7% vs prior 62.7%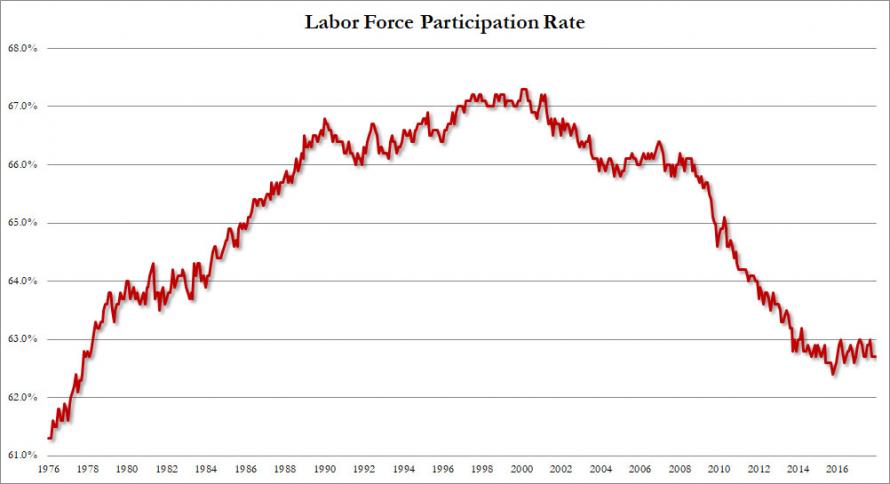 In qualitative terms, average weekly hours of 34.5 came in as expected, but what was perhaps most important is that average hourly earnings of 0.3% M/M and 2.5% Y/Y also came in precisely as expected, suggesting no major surprises to the Fed's dots timetable are imminent.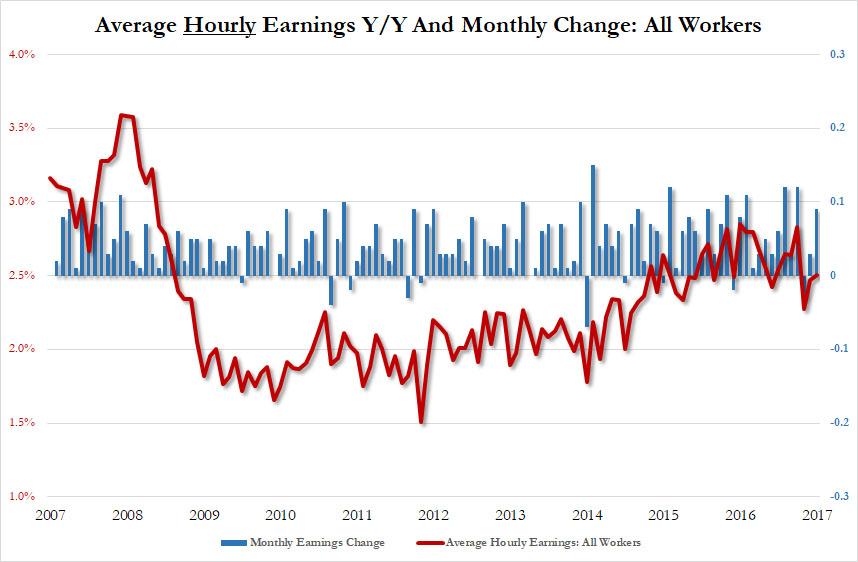 More details from the report:
Total nonfarm payroll employment rose by 148,000 in December. Job gains occurred in health care, construction, and manufacturing. In 2017, payroll employment growth totaled 2.1 million, compared with a gain of 2.2 million in 2016.
Employment in health care increased by 31,000 in December. Employment continued to trend up in ambulatory health care services (+15,000) and hospitals (+12,000). Health care added 300,000 jobs in 2017, compared with a gain of 379,000 jobs in 2016.
Construction added 30,000 jobs in December, with most of the increase among specialty trade contractors (+24,000). In 2017, construction employment increased by 210,000, compared with a gain of 155,000 in 2016.
In December, manufacturing employment rose by 25,000, largely reflecting a gain in durable goods industries (+21,000). Manufacturing added 196,000 jobs in 2017, following little net change in 2016 (-16,000).
Employment in food services and drinking places changed little in December (+25,000). Over the year, the industry added 249,000 jobs, about in line with an increase of 276,000 in 2016.
In December, employment changed little in professional and business services (+19,000). In 2017, the industry added an average of 44,000 jobs per month, in line with its average monthly gain in 2016.
Employment in retail trade was about unchanged in December (-20,000). Within the industry, employment in general merchandise stores declined by 27,000 over the month. Retail trade employment edged down in 2017 (-67,000), after increasing by 203,000 in 2016.