Meltup groundhog day continues as global equity markets begin 2018 with another day of record highs and with their best week in more than a year, extending last year's rally that has seen volatility plunge and risk appetite surge.
The new year's ramp to new record highs in stock markets around the world continued for a fourth day on Friday when U.S. equity index futures, European and Asian shares all rose, as did the dollar while oil dropped ahead of the US payrolls report. MSCI's gauge of world stocks was up 0.15%, above 524 points and at a fresh record high.
European markets opened firmer after Asian shares approached record levels. The pan-European STOXX 600 index was up 0.5%, holding at a two-month high, and the first trading week of the new year looks set to be the best for Euro zone stocks since May, as shares shrug off a stronger single currency that could dampen export earnings. Automakers and healthcare stocks outperformed.
Europe's surge followed more upside in Asia, where stock indexes in Japan, South Korea and China all rose after U.S. shares surged to fresh records Thursday. The MSCI Asia Pacific Index rose 0.5%, rising for a fourth day to cap its best week since July 2017. Equity benchmarks in the region rose except those in Singapore and Vietnam. The benchmark Topix index is poised for a two-day advance of more than 3%. Materials and healthcare sub-gauges of Asia's regional index led the gains, rising more than 0.7% each.  Australia's ASX 200 (+0.7%) continued to make fresh 10yr highs with the index finding support from financial and mining stocks. Nikkei 225 (+0.9%) had its best two day gain since November and probed 26yr highs amid the rise in banking stocks, while Chinese markets also posted gains (Shanghai Comp +0.2%, Hang Seng Index +0.3%). Emerging-market equities reached the highest since 2011.
European bonds were mixed and the euro slipped as data showed inflation in the region slowed. Euro-area inflation slowed to 1.4 percent last month from November's 1.5 percent, and the underlying rate unexpectedly failed to accelerate, instead holding at 0.9%. As Bloomberg notes, the data highlight the challenge the ECB faces in judging when to unwind its crisis-era stimulus measures, even as some Governing Council members warn of the risks of postponing the decision for too long.
"It could be something of a roller-coaster ride for headline inflation because of oil prices, but what remains crucial is core," Nick Kounis, head of financial markets research at ABN Amro in Amsterdam, said before the report. "If we're going to see flattish core inflation prints - and if we see flattish wage prints - then that would make the ECB cautious."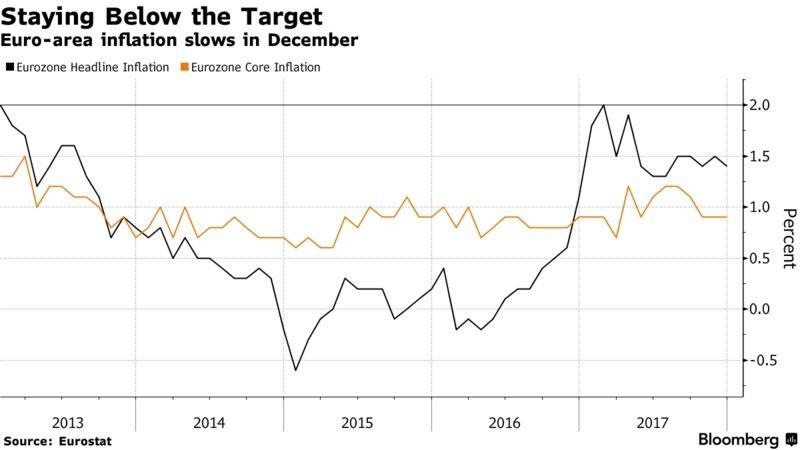 Today, traders will focus on the U.S. jobs data - and especially wage growth - after minutes released this week from the latest Fed policy meeting indicated most officials favored raising interest rates gradually. The euro stayed lower after data showed annual inflation in the currency bloc slowed in December.
Strategists at Credit Agricole, including Valentin Marinov, said while there was an "upside risk" to the U.S. nonfarm payrolls figures, it would be the average hourly earnings numbers that "should prove to be the most important metric." "We suspect the dollar will struggle to get much support from a solid headline NFP print in the absence of an acceleration in wage growth," they wrote in a client note.
The Bloomberg Dollar Spot Index extended gains after trading near three month lows, as investors look to U.S. employment data, with Street whisper numbers pointing to larger job gains compared with the economist consensus forecast of +190K. The EURUSD hovered near day lows after core euroarea inflation missed estimates. Treasury futures drift lower to push cash yields higher cross the curve; 10-year U.S.-German yield gap widens, partly retracing end-2017 compression.
Asia's emerging-market currencies advanced this week amid continuing weakness in the dollar and as optimism over global growth spurred demand for developing-nation assets. The MSCI EM Asia Index had its best week since July, while sovereign bonds fell. Asia has "promising growth momentum and resilient external positions," said Frances Cheung, head of Asia Macro strategy at Westpac Banking Corp. in Singapore. The yen dropped for a third day as investors waited for U.S. jobs data. The Australian dollar declined after November trade figures showed an unexpected deficit, while the New Zealand dollar was steady near a two-month high
Oil prices slipped from highs last seen in 2015 after soaring U.S. production undermined a 10-percent rally from lows hit in December driven by tightening supply and political tensions in Iran, and as oil neared a key resistance level.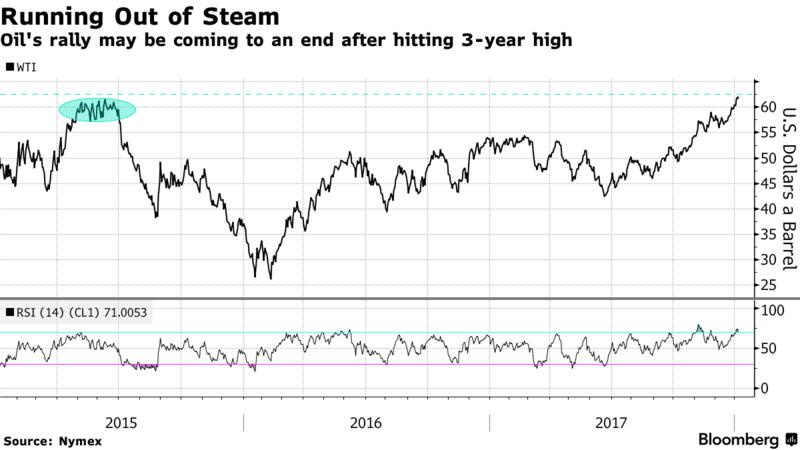 Gold prices dipped from the previous session's 3-1/2 month high, ahead of the U.S. non-farm payroll data, but remained on track for their fourth straight weekly gain.
The 10-year U.S. Treasuries yield stood at 2.460% below its seven-month peak of 2.504% touched on Dec. 21. Germany's 10-year yield was unchanged at 0.43%, Britain's 10-year yield fell one basis point to 1.227% while Japan's 10-year yield rose 1 bp to 0.063%, the highest in more than two months.
Signs of the investor appetite for risk more broadly were evident in Greece, where the euro zone member's 10-year borrowing costs hit their lowest in 12 years on Friday. The country, recently on the verge of defaulting on its debts, has benefited from expectations of a clean exit from its bailout this year and a revival in the economy.
"Greece's fundamentals have been on the mend and investors have been looking at the yield pick-up they get from investing in that debt," said DZ Bank strategist Christian Lenk. "Also, a rising tide lifts all boats - with the euro zone economy doing so well, it's a very 'risk on' environment and that is benefiting Greece."
Expected data include unemployment rate, non-farm payrolls, factory orders and durable-goods orders. Constellation Brands is among companies reporting earnings.
Market Snapshot
S&P 500 futures up 0.3% to 2,730.75
STOXX Europe 600 up 0.5% to 395.67
MSCI Asia Pacific up 0.6% to 179.04
MSCI Asia Pacific ex Japan up 0.6% to 586.16
Nikkei up 0.9% to 23,714.53
Topix up 0.9% to 1,880.34
Hang Seng Index up 0.3% to 30,814.64
Shanghai Composite up 0.2% to 3,391.75
Sensex up 0.5% to 34,141.10
Australia S&P/ASX 200 up 0.7% to 6,122.35
Kospi up 1.3% to 2,497.52
German 10Y yield fell 0.5 bps to 0.429%
Euro down 0.2% to $1.2047
Italian 10Y yield fell 5.2 bps to 1.746%
Spanish 10Y yield fell 1.4 bps to 1.529%
Brent futures down 0.9% to $67.48/bbl
Gold spot down 0.4% to $1,317.36
U.S. Dollar Index up 0.2% to 92.07
Top Overnight News
Euro-area inflation slowed to 1.4% last month from November's 1.5%, and the underlying rate unexpectedly failed to accelerate, easing pressure on the ECB to unwind stimulus
President Donald Trump fired off a tweet saying that a book alleging dysfunction, backstabbing and chaos in his administration was "full of lies" and that he had given the author, Michael Wolff, "zero access" to the White House; Wolff's publishers said they would bring forward publication of "Fire and Fury" to Friday
China capped how much bond traders at brokerages and fund companies can earn from a year's work to 1 million yuan ($154,000), people with knowledge of the matter said, as regulators step up a campaign to control risk-taking across financial markets
Asian equities closed the week out on a high, following yet another day of gains in the US, whereby the DJIA broke 25k for the first time. Strong data out of the US boosted sentiment with the ADP figure beating analysts' estimates, hinting at a firm number in today's US NFP report. ASX 200 (+0.7%) continued to make fresh 10yr highs with the index finding support from financial and mining stocks. Nikkei 225 (+0.9%) had its best two day gain since November and probed 26yr highs amid the rise in banking stocks, while Chinese markets also posted gains (Shanghai Comp +0.2%, Hang Seng Index +0.3%)
Top Asian News
Bubbly H.K. Housing Is Unsustainable, $2.6 Billion Fund Says
HNA Said to Walk Away From Late-Stage Value Partners Talks
Axiata Surges as Carrier Said to Mull $500 Million Tower IPO
China Is Said to Keep 6.5% Economic Growth Target Amid Debt Push
China Data Mismatch Could Imperil Aluminum's Stand-Out Surge
European equities (Eurostoxx 50 +0.5%) are also trading higher across the board in the wake of another upbeat Asia-Pac session which saw the Nikkei 225 print its best two-day gain since November. In terms of sector performance, auto names are performing well with Volkswagen (+2.7%), Peugeot (+2.7%) and Fiat Chrysler (+3.2%) all top of the DAX, CAC 40 and FTSE MIB respectively following a slew of broker upgrades at JP Morgan with utility names, Centrica (+1.9%) and United Utilities (+1.4%) at the top of the FSTE 100 following broker upgrades at Credit Suisse. Elsewhere, Dialog Semiconductor (-3.7%) shares are lagging their peers in the wake of reports that Apple products have been hit by chip flaws. 
Top European News
U.K. Car Sales Drop Most Since Recession on Brexit, Diesel Fears
Euro-Area Inflation Slows, Undermining Calls for ECB to Curb QE
Ryanair Pulls Further Ahead of Pack Even After Pilot Debacle
Deutsche Bank CIB Unit Sought $1.5 Billion Bonus Pool, WiWo Says
Dole Food Takeover Approach From Belgium's Greenyard Fails
President Macron Wins French Pollsters' First Ever 'Beer Test'
European fixed income has seen trading volumes remain paltry even by normal pre-US jobs data standards (MiFiD 2 and tighter Chinese bond market rules may help to explain low turnover), but there have been some decent moves, disconnects and distortions. Gilts have confounded the weaker or indifferent impulses seen ahead of the Liffe open to push ahead from the off (aside from a brief 2 tick stutter below parity), and printed at 124.88 for a 23 tick gain on what appears to be at least corrective due to their earlier closing time. Nevertheless, Bunds have caught a bid to register a fresh Eurex peak as well, at 161.74 (+15 ticks vs -9 ticks at the other extreme), after holding in at the 50% retracement support level. 161.82-86 forms the next tech resistance area, while bears will still be eyeing 161.36 ahead of Thursday's 161.26 low and the 161.18 ultimate downside target that has survived several times. US Treasuries marginally weaker pre-NFP, aside from flat 2 year notes as the curve steadies a tad following the most recent bout of flattening.
In FX markets, AUD/USD one of the big movers overnight, with the pair recoiling from 0.7870 to a 0.7835 low on the back of Aussie trade data showing a deficit vs expected surplus as exports completely stagnated. Elsewhere, broad risk appetite, as Wall Street sets more all-time records and global stocks continue to rally, has undermined the traditional safe-haven currencies, and with the JPY also losing ground amidst decent cross-related flows (ie EUR/JPY bids said to be targeting 140.00 from around 136.50 currently). NZD/CAD/GBP/EUR are all holding up relatively well vs the USD as the DXY attempts to stay within touching distance of the 92.000 handle ahead of today's US jobs report.
In commodities, both WTI and Brent crude futures are seen lower as markets take a breather from the recent rally which had lifted prices to multi-year highs with some profit-taking potentially entering the market. In terms of energy newsflow, things remain on the light side but markets remain sensitive to events in Iran and any potential backlash from the US via sanctions. In metals markets, gold prices have been seen lower overnight amid touted profit-taking, albeit prices remain in close proximity to recent highs. Elsewhere, Chinese steel futures were seen lower overnight as weather concerns continue to sway prices whilst Zinc (highest since mid-2007) remains supported in London amid supply fears.
Looking at the day ahead, the December CPI for the Eurozone (1.4% yoy expected), France (1.3% yoy expected) and Italy are due. Then the Eurozone's November PPI, Germany's retail sales and France's consumer confidence data are also due. In the US, there is the December nonfarm payrolls, ISM non-mfg composite, unemployment rate and average hourly earnings data. Elsewhere, the November trade balance, factory orders as well as the final readings for the durable and capital goods orders are also due. Onto other events, the Fed's Harker and Mester are both scheduled to speak.
US Event Calendar
8:30am: Change in Nonfarm Payrolls, est. 190,000, prior 228,000

Unemployment Rate, est. 4.1%, prior 4.1%; Underemployment Rate, prior 8.0%
Average Hourly Earnings MoM, est. 0.3%, prior 0.2%; YoY, est. 2.5%, prior 2.5%
Average Weekly Hours All Employees, est. 34.5, prior 34.5

8:30am: Trade Balance, est. $49.9b deficit, prior $48.7b deficit
10am: ISM Non-Manf. Composite, est. 57.6, prior 57.4
10am: Factory Orders, est. 1.1%, prior -0.1%; Ex Trans, prior 0.8%
10am: Durable Goods Orders, prior 1.3%; Durables Ex Transportation, prior -0.1%

Cap Goods Orders Nondef Ex Air, prior -0.1%;
DB's Jim Reid concludes the overnight wrap
Flying at the moment are risk assets after a strong day yesterday. More on this later but it's an important day for data today. Hot on the heels of a bumper US manufacturing ISM on Tuesday (59.7 vs. 58.2 expected), a beat on the services PMI (53.7 vs 52.5 expected) and ADP (250k vs 190k expected) yesterday, today sees the all-important US employment report. To be honest payrolls (DB forecast upped from 185k to 220k last night, consensus 190k but probably higher now after ADP) is a sideshow as Average Hourly Earnings will be the key part of the release. Both DB and consensus are expecting 0.3% MoM and 2.5% YoY. Earnings are key at the moment as this global recovery/expansion has everything apart from wage growth/inflation which in turn is keeping the Fed rate hikes gradual and volatility low. DB has put out a fair amount of research over the last few weeks detailing how US wage growth is picking up so it'll be interesting to see whether this can find its way into the main headline data soon!
Elsewhere in the report the unemployment rate (4.1% vs. 4.1%) should remain stable at its lowest level since 2000. Our economists expect this stability to be temporary as they expect the unemployment rate to break through 4% in H1 2018. This level could prove important since they recently found using state-level data  that wage growth picks up significantly as the unemployment rate falls below 4%. So they would argue wage growth is coming even if today's number is flat.
Given the recent strength in US data, it's interesting that the big call out of DB yesterday was to target 1.30 on EUR/USD in 2018. George Saravelos suggests that although the Fed is hiking rates, US rate differentials are widening and the dollar has become a G10 high-yielder, the dollar is not responding. He thinks current dynamics look very similar to the 2004-06 Fed cycle. Back then the dollar weakened even as the dollar became one of the highest-yielding currencies in the world. Weaker flows into the US mattered more than rising rates. Our FX team believe flows will matter more in 2018 too, and these are decidedly EUR/USD positive.
The buzz phrase yesterday was speculation about whether we were in a 'melt up' for risk assets. US bourses reached fresh highs for the third consecutive day with the S&P 500 up 0.40% and the Dow cracking through 25,000. All Euro equities were higher with Stoxx 600 up 0.89% to the highest in 8-weeks and the Nikkei jumping 3.26% near its 26 year high after trading resumed for 2018. Within the S&P, all sectors excluding real estate and utilities were in the green while the Stoxx's gains were led by financials and energy stocks. Elsewhere, credit spreads continue to grind tighter (c1bp lower), with US CDX IG now at 46.1bp and Europe Main at 43.9bp.
This morning in Asia, markets are trading higher as we type. The Kospi is up 1.08% and reversing its underperformance from yesterday, while Nikkei and Hang Seng are up 0.82% and 0.05% respectively. Elsewhere, North Korea has accepted South Korea's proposal for talks on 9 January and Japan's December Nikkei composite PMI was in line at 52.2.
Staying in Asia, our Japanese team published their macro and equity outlook for 2018. They expect a slowing Japanese economy and forecast 0.9% real GDP growth in 2018 (vs. FY17 1.9%; FY19 0.8%). They note durable goods spending, capital investment and housing investment are at the end of their cycles or are in the midst of transitioning to a decline. On rates, they believe the expected US rate hikes in 2018 should not have much impact on yen interest rates as long as the BOJ continues its yield curve control (YCC) policy – which should continue on the assumption that core CPI will not consistently exceed 1%. Further, they expect Haruhiko Kuroda to be reappointed as BOJ governor, in part due to the absence of a strong alternative candidate. Finally, they maintain their positive stance on Japanese equities, mainly driven by their expectations that aggregate Japanese earnings will remain strong, supported by slowing but robust global growth and a stable if not weaker yen. For more details, refer to the link.
Now recapping other market performance from yesterday. In government bonds, core 10y yields were mixed but little changed. Treasuries initially weakened after the strong ADP print, but pared losses to close +0.5bp to 2.453%, while Gilts rose 2bp and Bunds fell 0.6bp. Notably, peripherals outperformed with yields down 5-7bp, in part supported by Spain's first government bond sale for the year, selling €4.6bn of bonds which was towards the top end of its targeted range.
Turning to currencies, the US dollar index weakened 0.32%, while Sterling and Euro gained 0.26% and 0.44% respectively. In commodities, WTI oil rose 0.42% and consolidated near its three year high after the EIA report confirmed a fall in US crude inventories. Elsewhere, precious metals strengthened c0.6% (Gold +0.75%; Silver +0.54%) and other base metals also advanced modestly (Copper flat; Zinc +0.62%; Aluminium +0.43%).
Away from markets and onto Brexit, France's President Macron has called for a unified EU approach and "common mandate" amongst EU members in the next stage of Brexit talks. He noted that each country can have their own interests, but if we acted like the prisoner's dilemma game theory, then its "probable that collectively we'll create a situation that is unfavourable to the EU and thus to each one of us". Elsewhere, the Under Secretary of Agriculture for Trade and Foreign Agricultural Affairs Ted McKinney noted if the UK has its own rules on farming and food standards rather than keeping the existing EU rules, then "there is much greater opportunity for trade" between the two countries.
In the US, the Fed's Bullard reiterated his views that a tightening labour market is unlikely to materially lift inflation. He also noted that he "would not want the Fed to push so hard that we get to an inverted yield curve situation" and that the yield curve issue "is something that needs to be debated out sooner rather than later". On Bitcoin, he noted it is not something "that monetary policy makers have to worry very much about at this point". Elsewhere, the SEC Chairman Jay Clayton noted that "…we again caution you that, if you lose money (on cryptocurrencies), there is a substantial risk that our efforts will not result in a recovery of your investment."
Before we take a look at today's calendar, we wrap up with other data releases from yesterday. In the US, the final reading for the December composite PMI was above expectations at 54.1 (vs. 53 previous). Elsewhere, the weekly initial jobless claims were higher than expectations (250k vs. 240k) but continuing claims (1,914k vs. 1,928k expected) were lower.
In Europe, the final readings for the Eurozone's services and composite PMI were both revised 0.1ppt higher to 56.6 and 58.1 respectively – the highest since the GFC. On a country basis, Germany's services PMI was unrevised at 55.8 but the composite PMI was 0.2ppt higher at 58.9. In France, its composite PMI was revised 0.4ppt lower to 59.6. Finally, the flash composite PMI for Italy was above market (56.5 vs. 56 expected) while the UK was softer (54.9 vs. 55 expected).
In the UK, the December Nationwide House price index was above market at 2.6% yoy (vs. 2.0% expected), while London posted its first full year decline since 2009 (albeit -0.5% yoy). Elsewhere, the November mortgage approvals (65.1k vs. 64.1k expected) and net lending on dwellings both beat expectations (£3.5bln vs. £3.4bln).
Looking at the day ahead, the December CPI for the Eurozone (1.4% yoy expected), France (1.3% yoy expected) and Italy are due. Then the Eurozone's November PPI, Germany's retail sales and France's consumer confidence data are also due. In the US, there is the December nonfarm payrolls, ISM non-mfg composite, unemployment rate and average hourly earnings data. Elsewhere, the November trade balance, factory orders as well as the final readings for the durable and capital goods orders are also due. Onto other events, the Fed's Harker and Mester are both scheduled to speak.