After yesterday's meeting with the Senate Working Group on Immigration, Trump told reporters that before agreeing to any legislation enshrining DACA protections into law, Republicans would need to secure more resources for immigration officers, provisions to stop visa overstays and – crucially – legislation limiting chain migration, a topic that Trump has tweeted about regularly since the Halloween terror attack on Manhattan's West Side Highway.
And as the administration braces for the upcoming battle over US immigration policy, they're asking Congress for $18 billion to build 700 miles of new and replacement barrier along the southern border over the coming decade.
Construction on the prototypes for Trump's wall has been completed, and the Department of Homeland Security is ready for next steps: If approved, that would be a major expansion from the 654 miles of barrier now, bringing the total to nearly 1,000 miles, about half of the entire southwest border.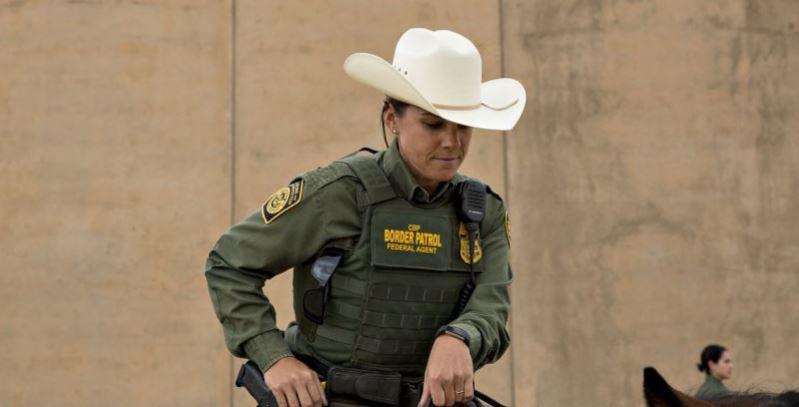 According to the Wall Street Journal, the plans are laid out in a document prepared by the Department of Homeland Security for a group of senators who asked the administration to detail its request for border security. The document was described to The Wall Street Journal by two people who had seen it. Presumably, WSJ's sources attended Thursday's working group meeting.
In total, the administration details about $33 billion in desired new border-security spending, including funding for technology, personnel and roads. The document refers to this as "critical physical border security requirements."
President Trump's proposed border wall was in many ways the essence of the 2016 Trump campaign. In many ways, it factored into his rhetoric from the beginning, almost immediately after Trump descended the golden escalator in Trump Tower to declare his intention to run way back in June 2015.
Trump routinely described his pet infrastructure project as a "big, beautiful wall" that would rise over the southern border, preventing illegal immigration and drug trafficking. Furthermore, Trump promised that the project – some estimates placed the cost at close to $70 billion – would be paid for by Mexico. Yet so far, Congress hasn't agreed to spend any money on the project, and Mexico has repeatedly said it won't fund it.
But the document cited by WSJ is perhaps the first comprehensive vision of what the wall will look like, if completed.
The document, from the Customs and Border Protection agency at the Department of Homeland Security, envisions the border-wall project unfolding over 10 years. If carried out as described, by 2027, about 970 miles of the 2,000-mile southwest border would have some sort of fencing or wall separating the U.S. from Mexico.

It comes as lawmakers and the White House negotiate an immigration package that would legalize young undocumented immigrants brought to the U.S. as children, a group known as Dreamers. The White House has demanded that border security be included in the legislation, and last month a group of GOP senators asked for details of what the White House is seeking.
Of course, the document isn't a complete representation of the administration's immigration demands – which also include changes in laws and policy. The paper also cautioned that support for the border wall is tepid, even among Republicans.
The document isn't meant to be a complete outline of the administration's requests, which also involve changes to the legal immigration system and other enforcement measures, an administration official said. Rather, it details only the border-security elements.

Congressional support for the border-wall idea is tepid, with Democrats and even many Republicans opposed on either financial or symbolic grounds. But lawmakers in both parties support other types of increased border security.
In addition to the wall-related funding requests, the White House and its partners in Congress are also seeking $5.7 billion over five years to pay for towers, surveillance equipment, unmanned aerial vehicles and other technology; $1 billion over five years for road construction and maintenance; and $8.5 billion over seven years for 5,000 new Border Patrol agents and other personnel. The administration has already requested $1.6 billion for 60 miles of a new barrier in Texas and 14 miles of replacement fencing in San Diego for the current fiscal year. Congress hasn't passed the spending bills for 2018, and wall funding is one of the hang-ups.
The administration's new document doesn't detail where the additional miles of barrier would be constructed beyond 2018. It refers to the barrier as a "wall system," though Trump and lawmakers have at times said they would accept "a fence" or a "see-through wall."
As we noted late last year, by leaving several controversial provisions – including an immigration deal – out of the continuing resolution passed just before Christmas, Republicans effectively set themselves up for a grueling legislative calendar early this year, as the battle over DACA, the re-authorization of a controversial surveillance program and the long-term fate of a popular children's health-insurance program must be resolved in the coming months.
Aside from that, Trump is pushing to pass his $10 trillion infrastructure plan which was whispered about late last year – before the mid-term elections.