By Gordon Johnson of Vertical Group
Is the US Economy as Strong as Equity Markets Suggest?
US equity markets have been on fire & some economic indicators point to more optimism yet ahead (i.e., PMI readings, durable goods orders, nominal wholesales, factory orders, & retail sales all suggest strong growth [Ex. 1-5]).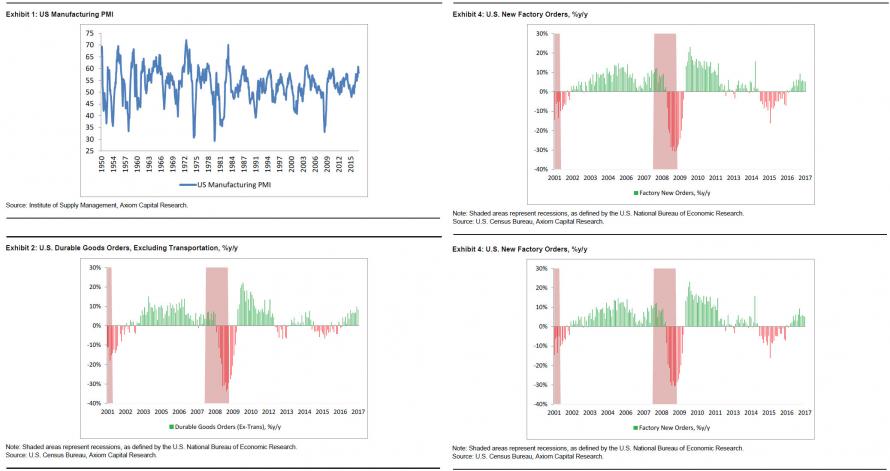 However, these are largely coincident or lagging indicators, as well as surveys influenced by mkt sentiment.  Meanwhile, when analyzing forward-looking monetary indicators, we note:
(1) US public debt rose to 105% of GDP (vs. just 31% of GDP when Reagan cut taxes), vs. 62% in 3Q07, & with fewer tax receipts + higher spending likely in the coming yrs. some pundits est. this ratio rising to ~125% by '30,
Exhibit 6: US Public Debt to GDP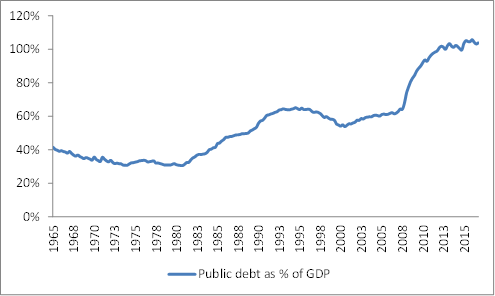 (2) as a result of (1), the relationship between GDP & debt has recently ventured into neg. territory (the correl. since 4Q09 is -68.2%, vs. +5.6% 3Q74-4Q08 & +38.2% 4Q66-2Q74)
Y/Y Growth in U.S. Real GDP versus Growth in Public Debt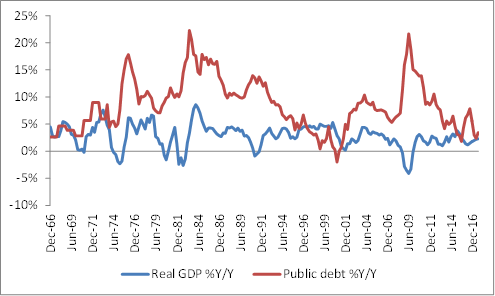 (3) the reality that sharply rising debt levels, historically, lead to an asymmetric effect from incremental monetary policy (i.e., a lot of loosening is needed to spur even a muted impact on growth, whereas the slightest monetary tightening can disproportionately depress activity), which...
(4) implies tax cuts or infrastructure spending – likely to be financed with debt – would ultimately be a drag on growth – 2009's $1 trillion dollar US debt- funded stimulus was supposed to boost inflation/growth, but instead led to lackluster GDP & a lower inflation rate.
(5) a recently dramatic flattening in the yield curve, which will likely erode banks' profitability (banks make money by borrowing short & lending long)
Slope of Key Maturities on US Treasury Yield Curve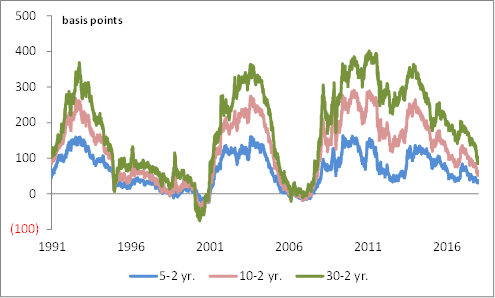 (6) C&I loans, a leading indicator of growth, are growing near the slowest rate since the financial crisis – YTD (thru 12/20), net new C&I loans were down 82% y/y
Net New US Bank Commercial & Industrial Loans & Leases YTD, SA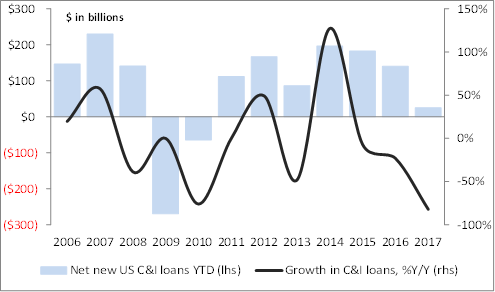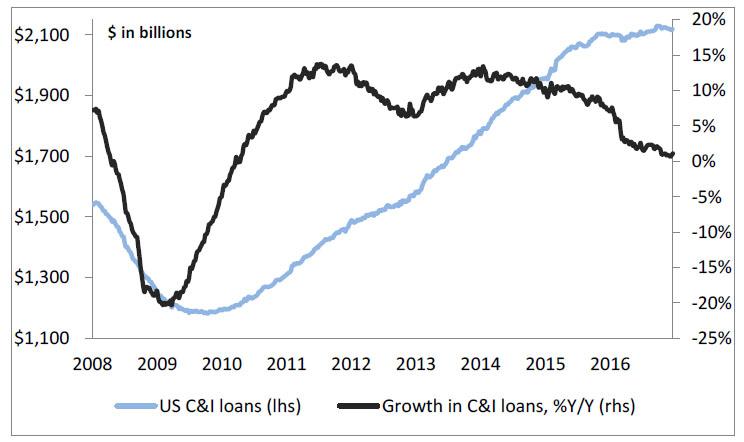 (7) M2 growth has decelerated to just below 4.5% over the past 12 months, vs. +7% in 2016  – & the velocity of money at 1.43% this year is the lowest since 1949 (a decline in velocity > M2 = lower real GDP).
Y/Y Growth in U.S. M2 Money Supply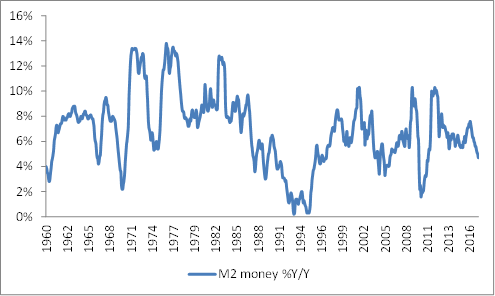 U.S. Velocity of M2 Currency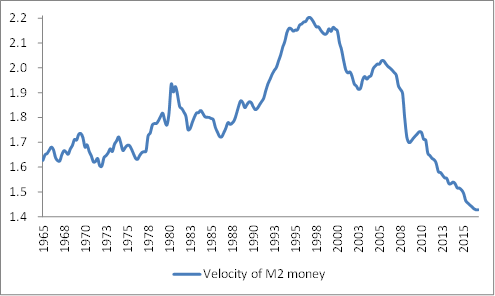 We, thus, question: Is the US economy as strong as the equity markets & financial headlines suggest, or are investors willfully ignoring leading monetary indicators?