Intel shares are sliding this morning following a statement from Microsoft that warned that fixes for security flaws present in most processors may significantly slow down certain servers and dent the performance some personal computers.
This was Microsoft's first assessment of the global problem that Intel Corp. initially downplayed.
As Bloomberg reports, Microsoft's statement indicates slowdowns could be more substantial than Intel has indicated. While Intel Chief Executive Officer Brian Krzanich on Monday said the problem may be more pervasive than first thought, he didn't discuss the degree of impact -- only that some machines would be more affected than others.
Microsoft cautioned in a blog post that servers, the computers that underpin corporate networks, used for certain tasks may show "more significant impact." Not all servers will be affected, it said. Microsoft, which didn't provide specific numbers, said it is testing a variety of systems and will update users on what it finds.
Here is the summary of what Microsoft have found so far:
With Windows 10 on newer silicon (2016-era PCs with Skylake, Kabylake or newer CPU), benchmarks show single-digit slowdowns, but we don't expect most users to notice a change because these percentages are reflected in milliseconds.
With Windows 10 on older silicon (2015-era PCs with Haswell or older CPU), some benchmarks show more significant slowdowns, and we expect that some users will notice a decrease in system performance.
With Windows 8 and Windows 7 on older silicon (2015-era PCs with Haswell or older CPU), we expect most users to notice a decrease in system performance.
Windows Server on any silicon, especially in any IO-intensive application, shows a more significant performance impact when you enable the mitigations to isolate untrusted code within a Windows Server instance. This is why you want to be careful to evaluate the risk of untrusted code for each Windows Server instance, and balance the security versus performance tradeoff for your environment.
The reaction is clear in Intel's stock...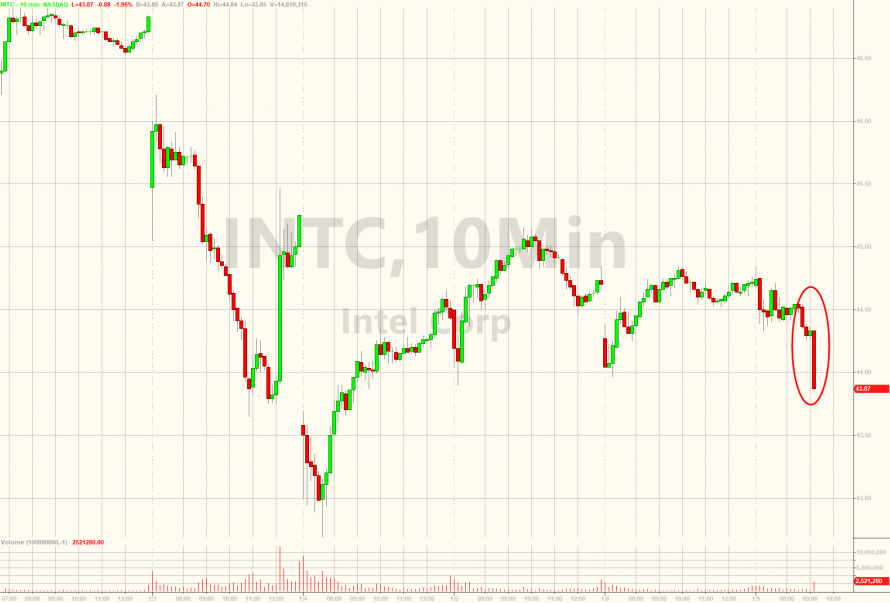 Additionally, Reuters reports that Microsoft said on Tuesday it had suspended patches to guard against Meltdown and Spectre security threats for some computers running AMD chipsets after complaints by AMD customers that the software updates froze their machines.
The issues affect older generations of its chips, AMD said in a statement.
"AMD is aware of an issue with some older generational processors following installation of a Microsoft security update that was published over the weekend," the AMD statement said.