Yesterday we showed that in this world where investors no longer sell, and where Goldman's "risk appetite" indicator just hit an all time high, world stocks as measured by the MSCI World index have never had a longer stretch without a 5% correction.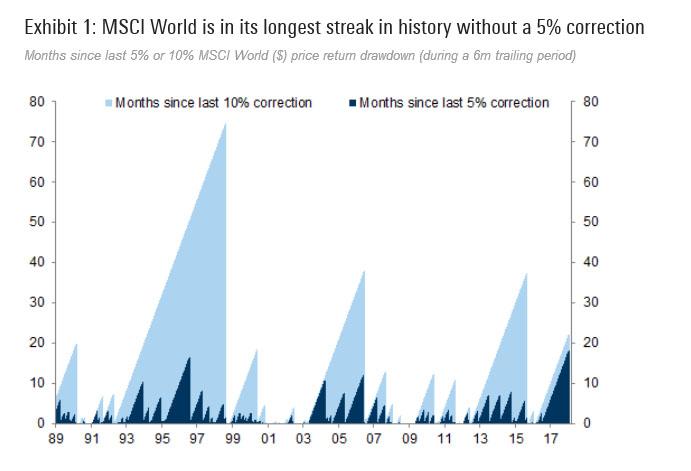 What about just in the US?
Well, as discussed here previously, while US equity indices set a remarkable number of records for tight trading ranges in 2017 (e.g. in Jan-17 the Dow recorded its tightest trading range in 110 years and in Aug-17 the S&P 12-day close-to-close trading range fell to an all-time low of 0.32%), the S&P is also on track to set yet another record in early 2018.
Since March 16, 2016, as of January 8, the S&P 500 has gone for 386 trading sessions without a 5% drawdown. If the trend persists, in just 10 more days this will be the longest stretch without such a drawdown in history.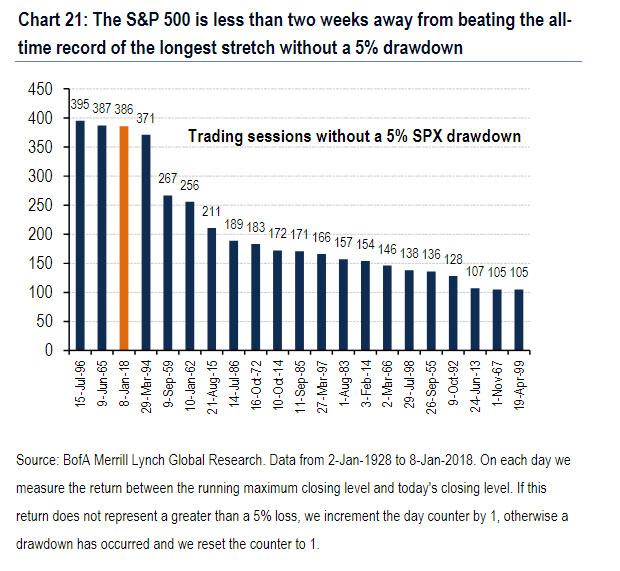 Can't wait another 10 days to watch centrally-planned history being made? What about just 3? That's how long you will will wait before we hit the longest stretch in history of subdued (<7%) realized global equity vol, unless of course something very bad happens in the next 48 hours.