The annual CES gadget show kicks off in Las Vegas this week, as over 4,000 technology companies from around the world converge to showcase their wares to over 170,000 people during a week of of drinking, gambling and hardcore nerding out.
And while some attendees surely plan to indulge in any one of Vegas's many strip clubs to blow off some steam thinking about Intel's hot new 8th generation Core processors, CES participants (with badge) can take a free Tesla ride over to Saphire and partition their hard-drives to the gyrations of "R2 Double D" and "Triple CPU," a pair of non-judgmental "fully animated electronic twins" who hope you don't mind silicon implants.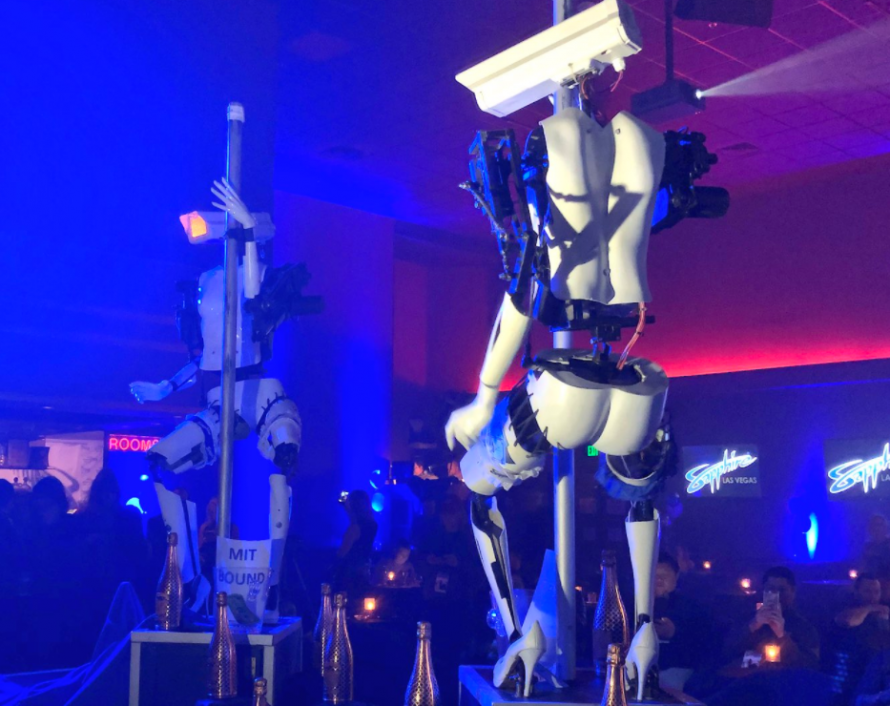 The pair was unveiled with much pump and circumstance the night before CES officially kicks off - showcasing their sexy CCTV camera heads and moves to match.
Best CES ever! Robot strippers work the poles at Sapphire Gentlemen's Club in Las Vegas pic.twitter.com/n79KhOus3O

— Wade Tyler Millward (@WadeMillward) January 9, 2018
And in case anyone is vacillating between silicon or silicone, R2-DD and Triple-CPU were pitted against human strippers during a Monday night preview party.
Oh they're pitting the human strippers against the robot strippers now in the spirit of innovation pic.twitter.com/EdgVpqWDdX

— Taylor Lorenz @ CES (@TaylorLorenz) January 9, 2018
CES, hour 10: At da club where there are robot strippers pic.twitter.com/hPMOmWUHw5

— Kurt Wagner (@KurtWagner8) January 9, 2018
UK artist Giles Walker created the robot pair in 2008, explaining to The Verge that they were created as a commentary on government surveillance, a decidedly unsexy thing. That said, they could just as easily draw attention to the growing trend of automation replacing human labor. 
On second thought, they may have a long way to go...
Them robots comin for EVERYBODY job pic.twitter.com/sHYVt88Zta

— Lamborghini Merci (@Namastaywoke) December 3, 2017