The Canadian Loonie and Mexico Peso are plunging in kneejerk response to a series of Reuters headlines, according to which government sources report that the US will shortly announce it is pulling out of Nafta.
CANADA INCREASINGLY CONVINCED PRESIDENT TRUMP WILL SHORTLY ANNOUNCE U.S. IS PULLING OUT OF NAFTA -TWO GOVERNMENT SOURCES
CANADA PLANS TO STAY AT NEGOTIATING TABLE EVEN IF TRUMP SAYS HE IS PULLING U.S. OUT OF NAFTA AS SOME TALKS WOULD CONTINUE -GOVERNMENT SOURCES
TRUMP NOTICE OF WITHDRAWAL WOULD BE SIGNIFICANT BUT U.S.-CANADA TRADE WOULD CONTINUE -GOVERNMENT SOURCES
As Reuters adds, the sources said they expected Trump would make his move at about the same time that negotiators from the United States, Canada and Mexico meet on January 23 for the sixth and penultimate round of talks to modernize the treaty.
Reuters also reports that Canada has begun preparing contingency plans for how to proceed if Trump gives a withdrawal notice, which is not binding and wouldn't necessarily kill Nafta. Officials declined to say whether the chance of a withdrawal notice is more than 50%.
Predictably, both the USDCAD and USDMXN are surging in kneejerk reaction to the news that Nafta may soon be dead.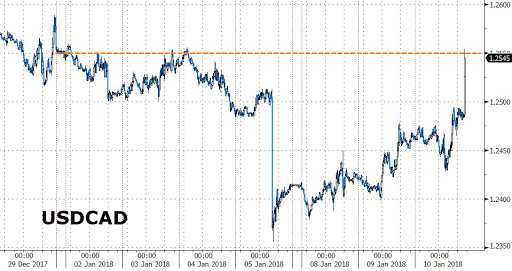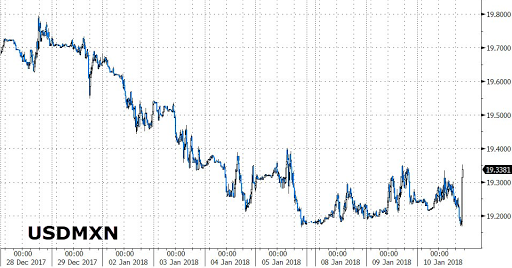 Without official confirmation, this could be simply a trial balloon, one launched the same day that China made its own vocal threat about boycotting US TSYs should the US launch trade war against Beijing. For now, however, algos are shooting first and not even bothering to ask questions.