In the wake of President Trump's twitter outburst last week, alleging that Pakistan has given the U.S. "nothing but lies and deceit" accompanied by the suspension of US financial aid, Defense Minister Khurram Dastgir Khan declared that military and intelligence cooperation with the United States are suspended, during an address at the Institute of Strategic Studies in Islamabad on Tuesday.
Khan, who was speaking at a seminar titled: "Contours of Security Environment of Pakistan,' said the U.S. is now facing defeat in Afghanistan after a 16-year war, despite spending billions of dollars. With defeat imminent, he claims the U.S. is using Pakistan as a 'scapegoat,' rather than defending and securing the Pak-Afghan border.
"Pakistan does not want to put a price on its sacrifices but wants them to be recognized," Khan added that Pakistan would not allow Afghanistan's war to be fought on Pakistani soil.
Military relations between Pakistan and the United States have stretched as far back as 1947. The Afghan-Pakistan Center of Excellence is a division of United States Central Command (USCENTCOM), with military operations sometimes jointly focused on Afghanistan and Pakistan. It's widely known that CIA drone bases and U.S. military logistical operations for Afghanistan are located in the country.
Kahn emphasized, "a wide field of intelligence cooperation and defense cooperation have been suspended," but added the supply lines for NATO troops in Afghanistan would remain open. There was little mention of the fate of CIA drone bases operating in the country.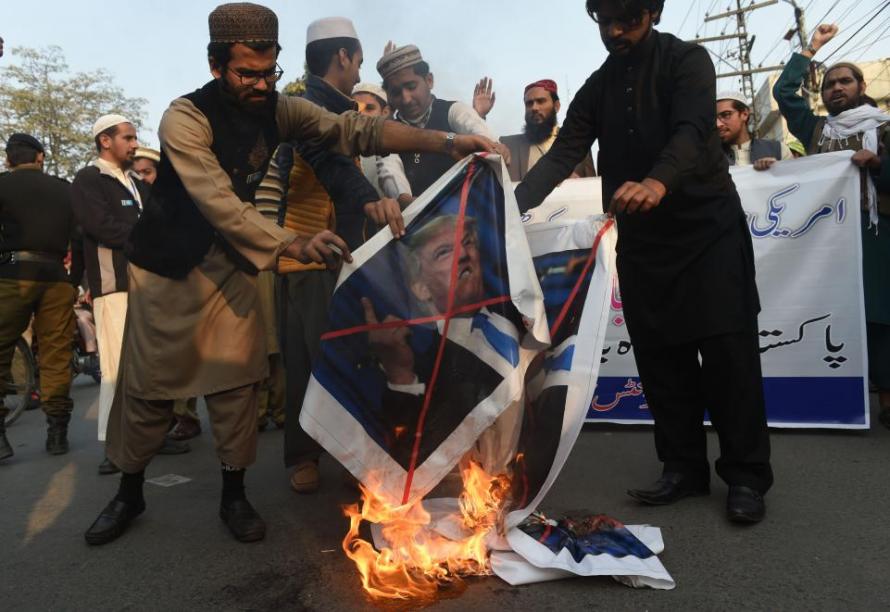 Pakistani demonstrators burn images of President Donald Trump and the U.S. flag during a protest against U.S. aid cuts in Lahore on January 5.
Khan stated, "you see the facilities that we have extended to them (Americans) are still in operation. We have not suspended them. But there is also a wide field of intelligence cooperation and defense cooperation which we have suspended."
Ironically, during the speech, Kahn criticized the U.S. for doing very little to fence the border with Afghanistan. The border stretches some 2,500 Km, where militants frequently take advantage of the open-order.
"It is convenient to blame Pakistan for cross-border terrorism whereas the US has not lifted a finger to help fence-up the border," Khan was quoted as saying.
Maybe if Trump fails to build his "border wall" in the US, he can erect one between Pakistan and Afghanistan?
* * *
The unprecedented collapse in diplomatic relations between the US and Pakistan comes less than a week after Pakistan announced it would ditch the US Dollar in bilateral trade with China, and adopt the Yuan as China has successfully replaced the US as Pakistan's sovereign "big brother."
Richard Snelsire, a U.S.Embassy spokesman said, according to VOA news, "we have not received any formal communication regarding a suspension."
Meanwhile, so far 2018 has been nothing but a setback for Washington and Islamabad relations. President Trump kicked off the new year with a Twitter war pressuring Islamabad to "do more" to combat terrorism.
The United States has foolishly given Pakistan more than 33 billion dollars in aid over the last 15 years, and they have given us nothing but lies & deceit, thinking of our leaders as fools. They give safe haven to the terrorists we hunt in Afghanistan, with little help. No more!

— Donald J. Trump (@realDonaldTrump) January 1, 2018
The official twitter account of the Pakistan Ministry of Defense fired back saying they've offered valuable resources to the U.S. over the years but have received nothing but "invective and mistrust" in return.
Pak as anti-terror ally has given free to US: land & air communication, military bases & intel cooperation that decimated Al-Qaeda over last 16yrs, but they have given us nothing but invective & mistrust. They overlook cross-border safe havens of terrorists who murder Pakistanis.

— Pak Minister Defence (@PakMnstrDefence) January 1, 2018
America's fading influence in Pakistan has gained significant momentum in just the past month. In less than two weeks, President Trump and Washington have managed to collapse relations with Islamabad, resulting in a suspension of the Pakistani military and intelligence cooperation. This could jeopardize the war in Afghanistan, considering Pakistan holds strategic assets for the fight against terrorism in the region. Nevertheless, as relations between both countries decline, Afghanistan is in real danger of becoming the new Vietnam, while Washington blames Pakistan for its 16-years of military failure and a price tab now approaching a trillion dollars.