The treasuries complex has sold off aggressively across the curve after the following flashing red Bloomberg headline:
- CHINA OFFICIALS ARE SAID TO VIEW TREASURIES AS LESS ATTRACTIVE.
- CHINA OFFICIALS SAID TO RECOMMEND SLOWING OR HALTING TSY BUYING
As Bloomberg reports, "Officials reviewing China's FX holdings have recommended slowing or halting purchases of US Treasuries, according to people familiar with the matter."
The reasoning given is that the market for US government bonds is becoming less attractive relative to other assets, while trade tensions with the US may provide a reason to slow or stop buying American debt.
As Bloomberg further notes "The people didn't specify why trade tensions would spur a cutback in Treasuries purchases, though foreign holdings of US securities have sometimes been a geopolitical football in the past."
The news has been interpreted as Beijing wanting to send a signal to the US that it is willing to use financial means to respond to any shifts in US policy on issues such as trade.
Amusingly, with the GOP selling out, at least one deficit hawk remains: China.
The investment strategies discussed in China's review don't concern daily purchases and sales, said the people. The officials recommended that China closely watch factors such as the outlook for supply of U.S. government debt, along with political developments including trade disputes between the world's two biggest economies, when deciding whether to cut some Treasury holdings, the people said.
While there is no official confirmation, this understandably has fixed income spooked. China is the single biggest foreign holder of Treasuries with $1.2 trillion in notional, so this report - if true - has massive implications.
As a consequence, US yields have more than retraced intraday losses, with the 30y trading to 2.92% and the 10y up 2bps. The rest of fixed income has followed through, with a similar spike in European yields.
The kneejerk reaction in fixed income was fast and furious, as over 35,000 10-year futures traded in the one-minute period after the news broke according to Bloomberg, sending 10Y yields as high as 2.59%, the highest since March 2017.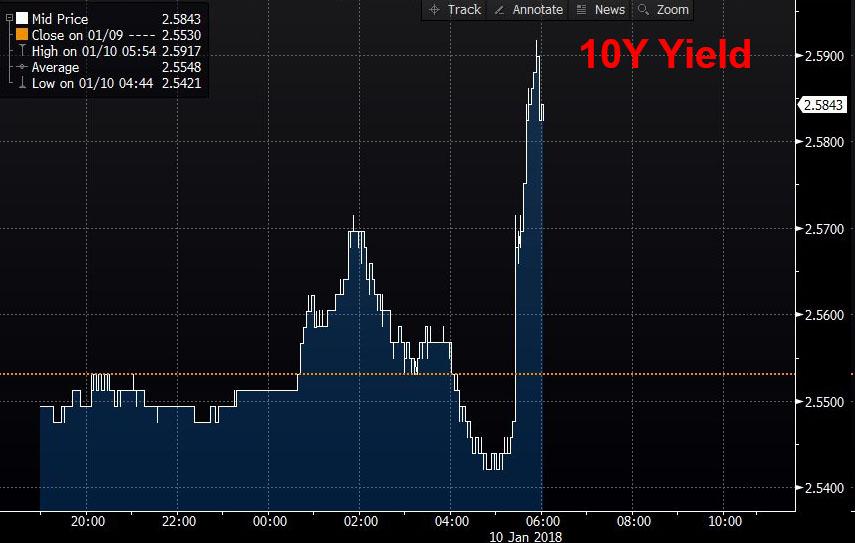 As a reminder, according to Jeff Gundlach once  the 10Y hits 2.63%, not only is the selloff set to accelerate, it is also the level where the selling in TSYs finally hits equities too.
The news has also hit U.S. stock-index futures which have tumbled on the news, following declines in Europe.
•    E-Mini futures on S&P down 0.4%
•    E-Mini futures on Dow Jones down 0.4%
•    E-Mini futures on Nasdaq 0.5% lower
•    S&P 500 up 0.1% Tuesday, rising for 6th day to a fresh record
•    VIX Index trading 1.8% higher
Meanwhile, the USD is selling off across the board following the sharp move lower in Treasuries, and FX markets are now responding. This has been perceived as a USD negative development, and as such the greenback is on sale.  The Bloomberg Dollar index, BBDXY extends its drop and falls as much as 0.5% to 1,151.90.
As Bloomberg notes, the dollar initially pared losses on knee-jerk reaction to news that officials reviewing China's foreign-exchange holdings have recommended slowing or halting purchases of U.S. Treasuries. However, it then quickly lost momentum and deepened its losses for the day even as 10-year U.S. Treasury yield rose to fresh high at 2.5917% after a report saying China may be looking to change its FX reserves strategy.
EUR/USD snaps a three-day decline, trades near 0.6% higher at 1.2011, jumping almost 70 pips while the CHF has rallied 40 pips, although as some desks note, volumes remain low; liquidity may be exacerbating extent of recent move.
USD/JPY remains offered, drops by as much as 1.2% to 111.30, the most since May 17 and at the lowest level since Nov. 28.
Of course, for the USD, the Fed's normalization process will naturally be affected, as monetary conditions will tighten and as noted above, has seen the USD falling away against all of its counterparts, with the heavily trade weighted EUR/USD rate swiftly back to 1.2000, but contained here for now. 
The only asset which has welcomed the news so far, is gold.
Some notes of caution on the news here from Citi's trading desk, which notes that it is not surprising that the knee-jerk reaction has been lower in USD. However, it brings up the following three points:
1. Sourcing on the Bloomberg article is unclear, citing only 'Officials reviewing China's foreign-exchange holdings'. Comments to this effect in the past have sometimes come from officials outside the main policymaking circles. As a theme, this is not surprising, but given unclear sourcing, this may not signal imminent shifts in policy.
2. It is hard to shift holdings. Shifts in reserves portfolios are tectonic and this partly comes down to the fact that USD selling by sovereigns reinforces broad downward pressure on the dollar, which can run counter to bigger policy aims. It is clear that the long-term trend is towards reductions of overweight USD positions among sovereigns, but in practice shifts are by several percent over several years. Indeed, the only way to begin a very rapid shift in holdings might be to abandon previous exchange rate policy entirely, but this looks unlikely.
3. Foreigners (overall) have already been paring back on purchases of Treasuries relative to other securities for some time but this has not always been well correlated with USD moves.
USD could extend its losses simply on the basis of the tailwind for losses in the broader macro-environment, but we do not view these comments by Chinese authorities as a convincing catalyst in and of themselves. Indeed, if there is any lasting signal from the comments it is that tensions around trade and financial issues may be ratcheting up and we view this as risk negative. This means that currencies such as EUR may outperform risky currencies should market focus on this issue persist.