Both WTI/RBOB are fading into this morning's data after API's massive crude draw print. DOE disappointed with a mere 4.95mm draw (vs 11.2mm draw from API) as gasoline inventories built for the 9th week in a row. However, production plunged almost 3%.
Bloomberg Intelligence Senior Energy Analyst Vince Piazza noted that U.S. oil inventories typically build this time of year, but refineries are chugging away and focusing on West Texas intermediate instead of higher-priced Brent. The North Sea grade's price remains elevated, reflecting tensions in the Middle East.
API
Crude 11.19mm (-421k exp) - biggest draw since Sept 2016
Cushing -2.156mm (-1.5mm exp)
Gasoline +4.685mm (+3.25mm exp)
Distillates +4.635mm (+2.25mm exp)
DOE
Crude -4.95mm (-3.75 exp)
Cushing -2.4mm (-1.5mm exp)
Gasoline +4.13mm (+3.25mm exp)
Distillates +4.25mm (+2.25mm exp)
8th week in a row of crude draws and gasoline builds, but the crude draw was considerably lower than API predicted...
Notably Cushing stockpiles are below their 5year average for the first time since Jan 2015...
Overall, US crude stockpiles are nearing the five-year average after three years above that level...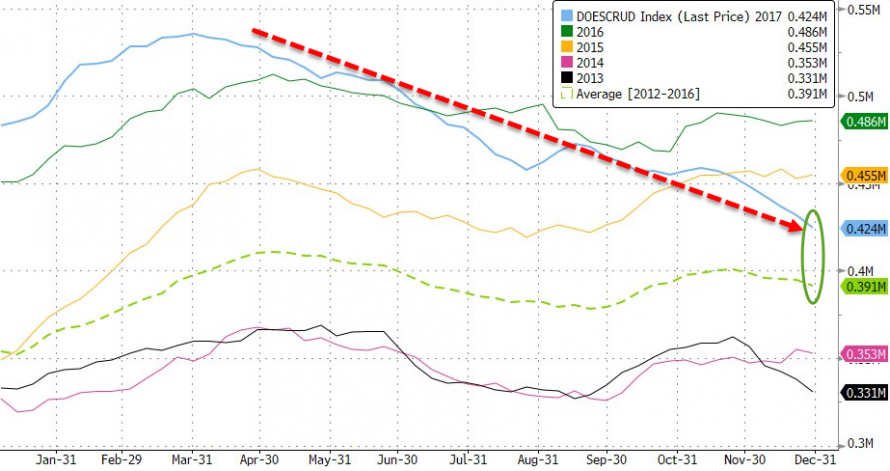 The last time oil inventories in the world's biggest economy touched these levels was September 2015.
Production rebounded in the previous week but The EIA revised down its baseline for U.S. oil production significantly, pegging last week output at 9.492m b/d (down 290,000 b/d from the previous week) - a 2.97% plunge... (presumably weather-related)
Further on the IEA weekly estimate, Bloomberg suggests that perhaps the agency is taking into account closures related to the freezing weather of the last few days, which have been reported even in Texas (and, more widespread, in North Dakota).
Although much of the news flow centered on its impact on the east coast, the temperature map below shows a much wider impact that may well have hit production in places like the Bakken.
The initial reaction was to extend losses from before the print and erased API gains...