Back in November, Bloomberg first profiled  a fascinating story involving Hovnaian, whose credit derivatives swaps were soaring as if New Jersey's largest homebuilder was about to default, even as its stocks and bonds show no signs of panic.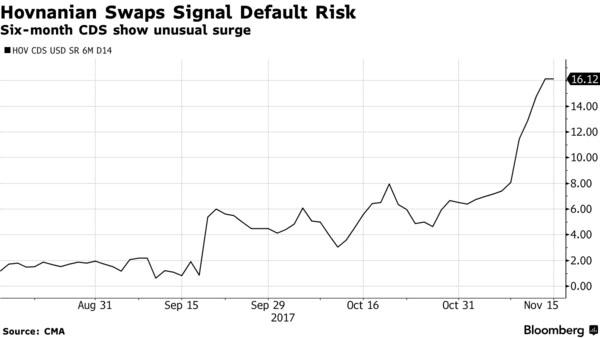 What was behind the divergence? As Bloomberg uncovered, the catalyst was a bizarre battle raging among hedge funds, with one group saying that the other has offered Hovnanian financing in return for taking steps that would trigger payouts on those derivatives. The claim came in a letter from law firm White & Case, which said it's been made aware of a proposal in which Hovnanian would pursue a refinancing deal with the main intention of triggering a credit event that would lead to a payout on the credit-default swaps.
At the time, Bloomberg identified the main actors as hedge fund Solus Alternative Asset Management, which owns both Hovnanian's bonds and sold CDS guaranteeing the company won't miss a debt payment, while its counterparty was Blackstone's GSO Capital partners hedge fund, an investor with which Hovnanian has explored a restructuring that would trigger a CDS payout. What makes the deal unique, is that in order to secure the funds from GSO, Hovnanian had agreed to skip a payment on some of its existing bonds, triggering a technical default and a big payday for the hedge fund, which unlike Solus, was long Hovnanian CDS.
This latest quirk in the CDS market demonstrates once again how any human system - when enough money is at stake - will eventually be gamed beyond its breaking point.
Furthermore, while legal, traders say the arrangement makes a mockery of a market designed to be used to hedge the risk of real defaults at companies in genuine financial distress. Furthermore, while the tactic of making refinancing conditional on triggering CDS has been used on occasion before, although the Hovnanian situation is unusual because of the size of the deal and because the company is not in financial distress, according to analysts and traders.
* * *
Fast forward to today, when the FT reports that derivatives traders are "crying foul" over the Blackstone-led refinancing deal for the US housebuilder Hovnanian, saying the controversial arrangement threatens to further undermine the shrinking market for credit default swaps.
According to the FT, GSO is able to offer attractive financing terms precisely because they stand to receive a payout on its CDS contracts. Others, including Goldman and credit hedge funds Citadel and Solus Alternative Asset Management, are on the other side of the CDS trades and stand to lose money.
While Goldman and Solus had offered Hovnanian an alternative refinancing deal, GSO and Hovnanian say their deal represents the best financing that was available to the company for replacing debt coming due in 2019. "The company appropriately utilized the most attractive financing techniques available," said a GSO spokesperson.
"We fear that the Hovnanian situation could embolden investors to pursue manufactured credit events with other corporate issuers, which would undermine the true intention and spirit of the CDS market," said Adam Savarese, co-head of leveraged finance trading at Goldman Sachs.
What makes the situation poetically ironic, is none it is Goldman - well known for creating numerous such deals before the peak of the financial crisis involving CDOs - that is now on the receiving end and stands to lose millions if the company proceeds with the GSO transaction.
To be sure, Goldman isn't alone in selling HOV CDS: "You can do your credit work but you may not know what is going on behind the scenes where someone could be trying to manufacturer a credit event," said another fund that had sold Hovnanian CDS.
What happens nest?
Hovnanian's investors face a deadline of this Friday to give a green light to the plan, although it also rests on the approval of a market committee of banks and credit investors, which will have to certify an event of default to trigger the CDS payout.
Should Hovnanian go with the GSO deal, it stands to further undermine the credibility of the nearly defunct CDS market.
CDS fell out of favour after the credit crisis and trading has further shrivelled as market players complain about a lack of transparency and liquidity. The value of outstanding "single-name" CDS, designed to hedge the risk of default on individual companies, has fallen from $33tn in November 2008 to $5tn in the middle of 2017, according to data from the Bank for International Settlements.

Quoted by the FT, Peter Tchir at Academy Securities said the controversy would have an impact on the market. "CDS was never designed for something like this," he said. "I think this is going to create more and more pressure to create a better synthetic hedging vehicle than CDS."
He is right, but we already knew that when ISDA - and the ECB - decided to make a mockery of selling or buying CDS at the sovereign level as part of the Greek debt crisis. All that Hovnanian is doing is bringing the CDS "mockery" to the corporate level.
* * *
Meanwhile, ahead of tomorrow's nailbiter of a decision, Bloomberg reported that on Monday, Solus sued Hovnanian GSO accusing them of manipulating the market on insurance tied to Hovnanian's debt.
According to Solus, GSO was close to suffering "massive" losses after betting that Hovnanian would default on its debt. The only way for GSO to avoid the losses was if the homebuilder defaulted on existing debt and issued a certain type of new debt, Solus claimed. Because that was unlikely to occur, GSO bribed Hovnanian to do so, Solus said in the complaint.
As one would expect, Solus claimed that the illegal scheme could cost it and other sellers of Hovnanian credit default swaps hundreds of millions of dollars.
And just to underscore the above point, Solus also stated that "the integrity of the CDS market - which is predicated on the expectation that companies seek to avoid payment default, not to accept illicit payments to default intentionally - will be irreparably damaged," Solus said.
The suit in New York state court seeks a court ruling blocking GSO and Hovnanian from entering into any transaction that includes a commitment by Hovnanian to voluntarily default on debts it could otherwise pay. Hovnanian responded that the company acted "properly at all times and that any attempt to block this transaction will not be successful."
So will yet another formerly efficient market be irreparably harmed tomorrow? The answer should be revealed tomorrow.