Just days after the BOJ surprised traders with a "stealthy taper" which catalyzed a sharp move higher in global bond yields, moments ago the ECB unveiled a surprise of its own, when it released the minutes for its December meeting. While expectations were very low going into the announcement, a quick skim of the text sent both Bund yields and the Euro sharply higher, with the EURUSD up as much as 1.201, a 70 pip move. What spooked markets is the following excerpt from the Minutes:
The view was widely shared among members that the Governing Council's communication would need to evolve gradually, without a change in sequencing, if the economy continued to expand and inflation converged further towards the Governing Council's aim. The language pertaining to various dimensions of the monetary policy stance and forward guidance could be revisited early in the coming year.
As many trading desks note, the admission that the ECB sees a chance for a gradual - more hawkish - shift in its guidance from early 2018, and that this is 'widely shared' by members of the Governing Council members is a hawkish surprise for markets.
Some other notable highlights from the minutes:
"The merits of a steady hand in communication were widely acknowledged" and caution was still warranted
"Signals that could trigger an unwarranted tightening of financial conditions needed to be avoided"
"A remark was made that a gap appeared to be emerging between favorable economic conditions and a policy stance that remained in a crisis configuration"
"Members widely agreed that the Governing Council needed to remain patient and persistent with its monetary policy"
"Some comfort" could be drawn from wage dynamics, but recent downward surprises on consumer-price growth "implied a continued gap between headline and underlying inflation for some time to come, which was seen as a matter of concern"
Amid the recent hawkish commentary by ECB officials, the publication sees renewed demand for the common currency, which has since surged by 70 pips.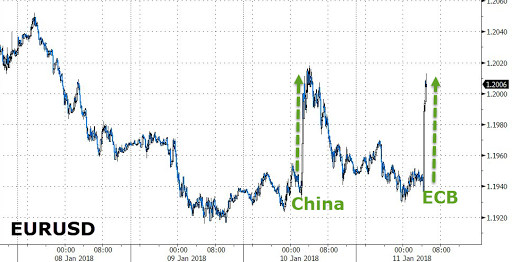 Elsewhere, responding to the hawkish minutes, Bund futures sharply drop to session lows and volumes jump.
The minutes also hit European stocks, with the Stoxx 600 down 0.2%, giving up a brief foray into positive territory.