Well, if China isn't buying US Treasurys, someone else certainly is.
After yesterday's stellar 10Y reopening auction, today's just concluded sale of $12 billion in 29-year, 10-month paper was an absolute record breaker in terms of foreign demand for the ultra long end.
The Auction stopped at a yield of 2.867%, stopping through the When Issued 2.888% by a whopping 2.1bps, one of the biggest stop throughs on record. The Bid to Cover, likewise, soared from 2.479 in the December auction, to a nosbleeding 2.741, the highest since December 2014. The bid/cover over the past year averaged 2.31, with a slightly larger average of 2.35 over the past six months and 2.35 for the four prior second reopening auctions.
Commenting on the result, Stone McCarthy said that the auction was "exceptional" and "stopped through the 1:00 p.m. bid side by the largest amount and with the largest bid/cover since December 2014."
But it was the internals that were absolutely tremendous, as the as Indirect bidders took down a record 71.5% of the auction today, up 10% from December's 61.9%, while Direct bidders took down 7.3% of the auction, slightly below last month's 9.0%. Predictably, Dealers were left with a record low 21.2%.
The spectacular result was enough to send the yield on the 30Y tumbling, and in kneejerk reaction to the auction results, it is now not only at the lows of the day, but well under the level from which it blew out on Wednesday morning ahead of the China slowdown "fake news."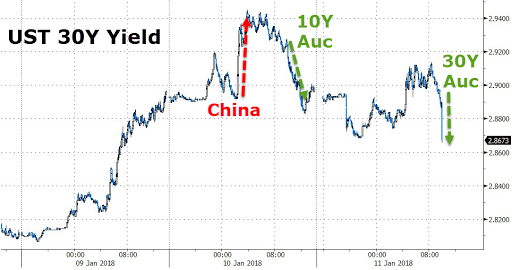 Between yesterday's 10Y auction, and today's spectacular 30 Year, the results mean that all those predictions of a bear market in bonds are - once again - greatly exaggerated.