The Qatari and Saudi/United Arab Emirates economic and diplomatic war which began early last summer appears to have taken to the skies above the Persian Gulf, where early Monday the UAE accused Qatari fighter jets of intercepting two UAE civilian airplanes. The UAE's official news agency WAM reported that the country's General Civil Aviation Authority (GCAA) has issued a statement, saying "it had received a complaint from one of the UAE's national carriers that one of its aircraft on a flight to Manama on a normal route had been intercepted by Qatari fighters."
The UAE's aviation authority condemned the flight intercept, which WAM also suggests included another flight that was intercepted while landing, describing both incidents as "a flagrant threat to the safety of civil aviation and a clear violation of international law." The statement further warned that, "The United Arab Emirates rejects this threat to the safety of air traffic and will take all the necessary legal measures to ensure the safety and security of civil aviation."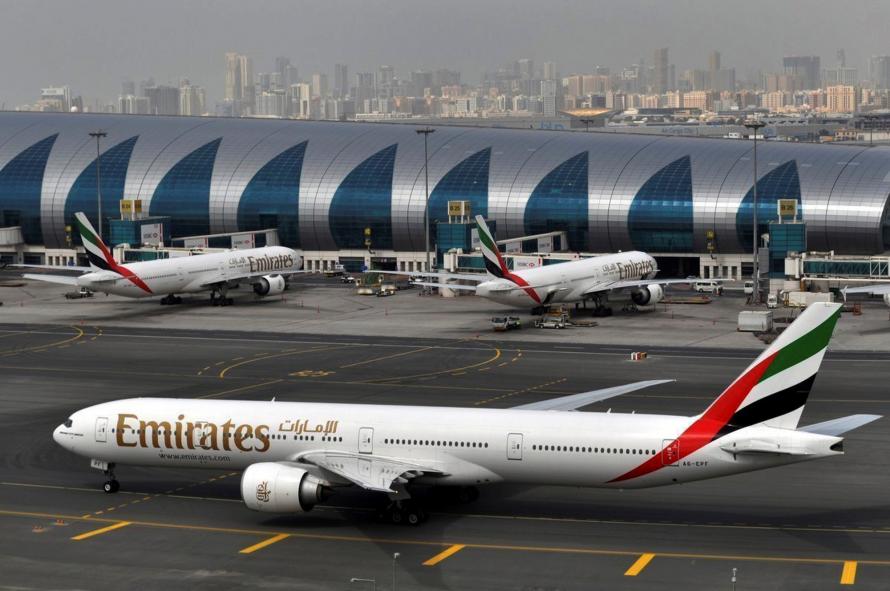 Among the UAE's 5 commercial carriers, it is not known which flights were intercepted according to the allegations.
A follow-up report issued by WAM further claims "Qatari fighter jets buzz second UAE civil aircraft" while on a routine flight to Manama, Bahrain.
Though it's not yet known which particular airline carrier was allegedly intercepted, the initial flight was set to land at one of the Middle East's busiest hubs - Bahrain International Airport - which lies just outside of the Bahraini capital of Manama. The UAE has a total of five commercial carriers, including the well-known international Dubai-based Emirates and Air Arabia, which is widely considered as the largest low cost airline in the Middle East.
The news sent Qatar stocks tumbling, and the country's benchmark stocks index reversed gains following the news,  dropping 2.5% at the close in Doha, its biggest one day fall since the Qatar blockade broke out. Dubai stocks also extended losses.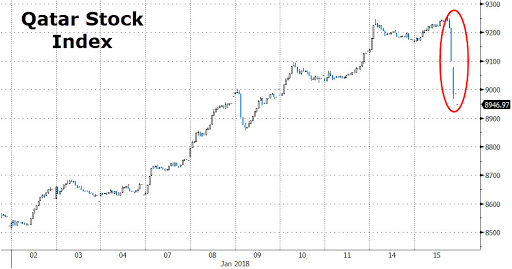 The UAE allegations of a Qatari intercept of commercial aircraft come amid a full economic and diplomatic blockade on Qatar by the Saudi-led alliance of GCC countries: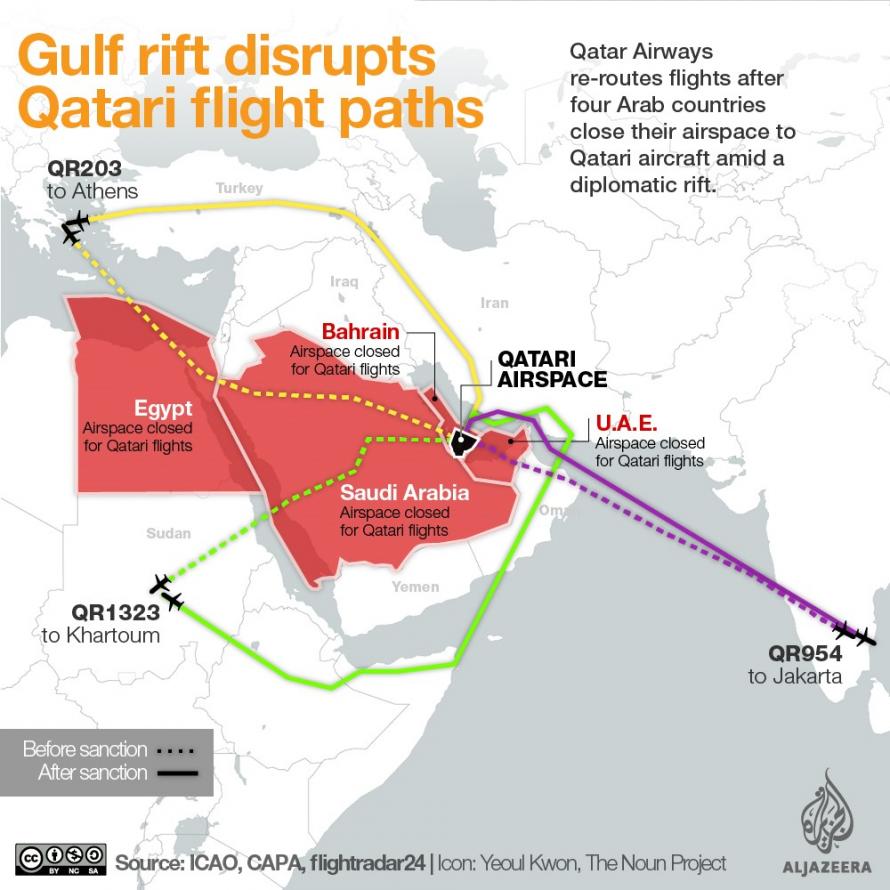 Source: ICAO, CAPA, Flightradar24 via Al Jazeera
Qatar was quick to deny the UAE's claims both through official statements and its major international broadcaster Al Jazeera. Qatar's spokesperson for the Ministry of Foreign Affairs, Lulwa al-Khater, issued a statement immediately following initial reports which reads, "The State of Qatar announces that the claims of Qatari fighter-planes intercepting a UAE civil aircraft is completely false. A detailed statement will follow."
The State of #Qatar announces that the claims of Qatari fighter-planes intercepting a UAE civil aircraft is completely false. A detailed statement will follow.

— لولوة راشد الخاطر (@Lolwah_Alkhater) January 15, 2018
Following multiple statements out of the UAE, an Al Jazeera report quoted multiple Qatari officials who denied all allegations, while notably citing US military officials stationed in Qatar as having no knowledge of the incident. According to Al Jazeera:
US Air Force Central Command, which is based at the sprawling al-Udeid Air Base in Qatar, also did not immediately have any report about an alleged incident involving a commercial aircraft in the region, said Lt. Col. Damien Pickart, an Air Force spokesman.

However, Pickart cautioned that US forces do not routinely monitor the flights and operations of the Qatari air force.
In early June multiple gulf countries began openly accusing tiny oil rich Qatar of supporting terrorism and facilitating pro-Iran factions in the region, after which a complete economic blockade was placed on Qatar by Saudi Arabia, Bahrain, Egypt and the United Arab Emirates. Saudi Arabia especially has been the leading Gulf Cooperation Council (GCC) nation targeting Qatar, though in recent months tensions and rhetoric have been relatively calmed after tensions ratcheted throughout the summer. 
However, this weekend there was a dramatic escalation when Sheikh Abdullah Bin Ali Al-Thani, a descendant of Qatar's founder, accused the U.A.E. of holding him against his will.
On Sunday Al-Thani released on Sunday a video statement saying he was "a prisoner" in the UAE capital, Abu Dhabi. He also cryptically blamed "Sheikh Mohammed" as bearing responsibility should anything happen to him - an apparent reference to Abu Dhabi's Crown Prince Mohammed bin Zayed.
#عاجل بالفيديو | الشيخ عبدالله بن علي آل ثاني يقول إنه محتجز في #أبو_ظبي بعد استضافة الشيخ محمد بن زايد له ويقول إن دولة #قطر بريئة من أي مكروه قد يحدث له pic.twitter.com/6Gc7XOZT75

— الجزيرة مباشر (@ajmubasher) January 14, 2018
"I am currently in Abu Dhabi. I was a guest of Sheikh Mohammed. I am no longer a guest; I am a prisoner," the Qatari royal said in the widely circulated social media video. "They told me not to leave. I am afraid that anything could happen to me, and the people of Qatar would be blamed. So I just wanted to inform you that if anything happens to me, the people of Qatar are innocent," he added.
Al-Thani's possible reference to Abu Dhabi's Crown Prince Mohammed came when he said: "I am a guest of Sheikh Mohammed and if anything happens to me after this, he is fully responsible." 
He is a son of Qatar's emir from the 1960s, Sheikh Ali bin Abdullah Al Thani, and after decades of relative obscurity within Qatari politics he suddenly rose to prominence and visibility when the diplomatic crisis within the GCC broke out on June 5th. 
The timing of the renewed gulf escalation is hardly a coincidence: a day after the Al Thani video was made tensions have once again exploded out into the open, this time involving allegations of dangerous commercial jet intercepts by military aircraft. One wonders if the oil-rich Gulf states preparing for "plan B" how to keep the price of oil higher even after the Vienna production cut deal ends.