As first discussed last night, the selling in bitcoin and across cryptocurrencies - which began as Asia opened, and appeared to be catalyzed by headlines from South Korea's finance ministry that a cryptocurrency exchange shutdown is still an option...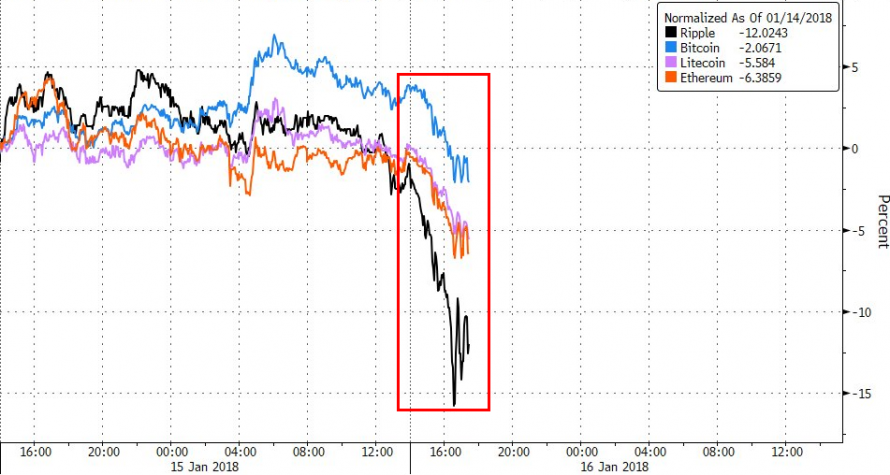 ... accelerated overnight with bitcoin plunging as much as 20% as the prospect of regulatory crackdowns appeared to spread across Asia. Having traded just above $11,000 this morning, the lowest level since late December, and down more than 40% from its all-time high of $20,000 set just a month ago, bitcoin fell 12.3% to $12,130 as at 7:30am ET.
As bitcoin halted a two-day rally, rival cryptocurrencies also plunged, and the losses in bitcoin are largely in line with those seen across the cryptocurrency space. As of writing, Ripple (XRP), stellar lumens (STR) and cardano (ADA) are down at least 25 percent on the day each. Ethereum's ether (ETH) token has shed 18 percent in value in the last 24 hours.
As discussed last night, traders continue to focus largely on South Korea, one of the busiest markets around the globe for cryptocurrencies, where finance minister Kim Dong-yeon said overnight that shutting down cryptocurrency exchanges is still an option, but in what appeared a backtracking from last week's vow to crack down on bitcoin by the Justice Ministry, Kim said that measures first need "serious" discussion among ministries, holding out hope for traders that a crackdown won't go that far. Kim said there's irrational speculation and that rational regulation was needed.
"The finance minister made it clear they're definitely considering banning crypto trading - and it's probably the third-largest market," said Neil Wilson, senior market analyst in London for online trading platform ETX Capital. "The news is hitting prices and broader sentiment, and it follows China's move to shutter mines."
Meanwhile, according to Bloomberg, China - which first began targeting the industry last year - is escalating its clampdown on cryptocurrency trading, particularly online platforms and mobile apps that offer exchange-like services, although with China no longer a notable player in the crypto space, it is unclear what if any impact further halts of China's already halted exchanges will have, besides just making cryptos that much more attractive of course.
As Reuters adds, a report today says that a PBoC official has said that centralized trading of virtual currencies should be banned, as well as individuals and businesses that provide related services. This is according to an internal memo that refers to PBoC Vice Governor Pan Gongsheng who reportedly said the government would continue to apply pressure to the virtual currency trade and prevent the build up of risks in that market.
"We've heard reports that South Korea, China and Japan have considered a shared approach, a path, to regulation," ETX's Wilson said, also citing a challenge to digital coins from a bill in the U.S Senate. "It looks like the light touch that has allowed the crypto-boom to explode may be coming to an end," he wrote in a note to investors.
Also on Monday night, Steven Maijoor, chairman of the European Securities and Markets Authority, said investors "should be prepared to lose all their money" in bitcoin, in a Bloomberg TV interview in Hong Kong. "It has an extremely volatile value, which undermines its use as a currency," he said. "It's also not broadly accepted."
What he really meant is that unlike stocks, traders should not expect a central bank bailout on their crypto investment when things turn rough. Which, of course, is the biggest part of the attraction.
So to summarize the speculated catalysts behind the selloff from CoinDesk:
Firstly, comments on social media indicate there is unease in the investor community over talk of a cryptocurrency trading ban in South Korea and further possible crackdowns on trading and mining in China.
And secondly, BTC futures contracts are trading at a discount to bitcoin's global average calculated by CoinMarketCap. The January expiry futures contract on the CBOE is trading at $11,510 and CME's is changing hands at $11,530. Meanwhile, BTC spot is trading at $11,816. The discount (futures price lower than spot price) indicates that the market participants are bearish on the underlying asset (BTC).

For the technicians, the chart analysis indicates scope for a drop to below $10,000 levels if the bulls can't muster a response today.
The above chart (prices as per Coinbase) shows:
The rising trendline (blue line) has been breached.
A downside break of the triangle pattern, indicating the sell-off from the record high of $19,891.99 9 (Dec. 17 high) has resumed.
The relative strength index (RSI) has turned bearish (below 50.00), indicating scope for further losses.
The 50-day moving average (MA) has shed bullish bias (flattened).
The 5-day and 10-day MAs carry a strong bearish bias (downward sloping).
* * *
Finally, the selling wasn't confined to tokens: U.S. stocks with exposure to cryptocurrencies also plunged in pre-market trading:
Riot Blockchain, a diagnostic machinery maker that rebranded as a blockchain company in October, falls 8.1% pre- market
Overstock.com, which has a blockchain subsidiary called Medici Ventures, falls 7.5%
Kodak, which said this month it's working with WENN Digital to offer a blockchain-based service for paying photographers, drops 8.7%
Metropolitan Bank, the issuing bank for a bitcoin debit card called Shift Card, is down 4.5%. On Jan. 14, Fortune reported that the bank halted all cryptocurrency-related international wires, citing an unidentified Metropolitan customer
Seven Stars Cloud Group, which operated as an on-demand video service in China before buying a 51% stake in a blockchain company in June, drops 3.4%
Square, which has a bitcoin service on its Square Cash app, falls 2.6%
Other cryptocurrency-exposed stocks to watch, according to Bloomberg, include: OTIV, SRAX, XNET, CRCW, RCGR, AMD, NVDA, MARA, MGTI.