Update 2015ET: Cryptos staged a considerable rebound after the BitConnect headlines hit, but remain notably lower on the day...
*  *  *
Update 1840ET: As we detailed here, news of BitConnect's closure, which were specific to what many had deemed a "shady business" hit on Tuesday afternoon and were widely anticipated by many in the business, and hit around the time the wave of cryptocurrency selling accelerated, briefly dragging bitcoin below $10,000.
It is unclear how much of the broader selloff was catalyzed by the news of BitConnect's woes , but judging by the sharp rebound in bitcoin and its digital currency peers in the past hour, the market appears to be re-normalizing slowly, realizing that the crackdown against BitConnect is not a broader attack on the cryptocurrency space but merely removal of some of the better known "bad actors."
*  *  *
Update 1730ET: Bitcoin briefly tumbled below $10,000.

Everything is getting crushed...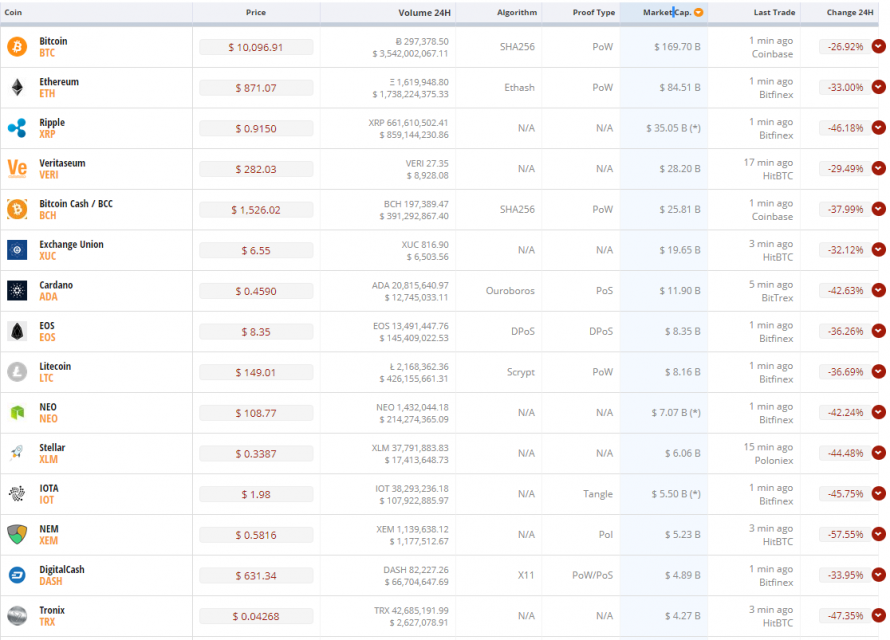 *  *  *
Update 1630ET: After the US equity market closed, cryptocurrencies took another aggressive leg lower...
Leaving Ripple with a $1 handle - down 72% from its highs...
Ethereum back below $1000...
And Bitcoin below $11k once again...
Bitcoin has decoupled to the downside, from gold...
Jeff Gundlach has chimed in...
Bitcoin, poster child of risk asset levitation since September, now flat-out tanking. "Now leaving Goldilocks-land. Please Drive Safely".

— Jeffrey Gundlach (@TruthGundlach) January 16, 2018
*  *  *
Overnight reports from South Korea started it; European regulator comments extended it this morning; and Shanghai "scrutiny" headlines just sparked another slam as cryptocurrencies are getting hammered today...
We detailed the anxiety over a more widespread crackdown on crypto-trading overnight, and since the US came back from its MLK-Day vacation, things have got worse.
It started with a repeat of South Korean finance ministry shutdown headlines.
Then Steven Maijoor, chairman of the European Securities and Markets Authority, said investors "should be prepared to lose all their money" in bitcoin, in a Bloomberg TV interview in Hong Kong. "It has an extremely volatile value, which undermines its use as a currency," he said. "It's also not broadly accepted."
That was followed by warnings from Germany's Central Bank - Joachim Wuermeling, a member of the board of Germany's Bundesbank, has suggested that any attempt to regulate cryptocurrencies would require international cooperation. Speaking at an event in Frankfurt on Jan. 15, the director told listeners: "Effective regulation of virtual currencies would therefore only be achievable through the greatest possible international cooperation, because the regulatory power of nation states is obviously limited."
Then China headlines hit: Shanghai Stock Exchange has taken actions including suspending shares, requiring company clarification and asking for risk disclosure against some stocks amid speculation of blockchain concept, Shanghai Securities News reports, citing the bourse.
Shanghai-listed Easysight Supply Chain Management said in filings that co. will halt trading pending checks related to blockchain concept and warned investors again that blockchain business wouldn't have significant impact on current earnings.
The reaction is not pretty as Ripple leads the collapse...
This leaves Ripple down 40% in 2018 and Bitcoin down almost 20% YTD...
There was one glimpse of silver-lining as CoinTelegraph reports that Mark Cuban, billionaire tech investor and owner of the NBA team The Dallas Mavericks tweeted on Tuesday, Jan. 16 that starting next season, it will be possible to buy tickets to the team's games with Bitcoin.
Next season.

— Mark Cuban (@mcuban) January 16, 2018