When markets open for trading today, the S&P will rise above 2,800 and the Dow Jones will not only make a new record high (those have become a bit of a boring daily occurrence lately) it will do so in historic fashion with just 12 days needed to move from 25,000 to 26,000, the fastest 1,000 point move in history, nearly twice as fast as the previous record when it took just 23 days for the DJIA to move from 24,000 to 25,000. And yes, get ready for the imminent (self-)congratulatory tweet from Donald Trump...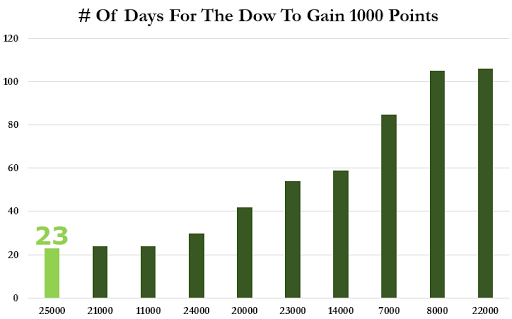 And as the DJIA makes history, and breaks every possible record, Asia and Europe's bourses similarly kept world shares on their record-breaking run on Tuesday, though a steadier dollar halted the sizzling start to the year for the euro, yen and yuan and sent metals markets sprawling.
MSCI's all-country world index notched its third consecutive all-time high as Japan's heavyweight Nikkei rose to its best level since 1991 during a lively Asian session. In Europe, the STOXX 600 index crawled 0.3% higher as technology and insurance stocks offset a 0.5% drop in miners caused by the buckling metals prices.
After ending its record streak of upward days at 15 yesterday, the Hang Seng nonetheless closed at a post-2007 record high, soaring 1.8% to a new record high of 31,904.
S&P futures move through 2800 and European equity markets are lifted by technology sector. Core fixed income markets also rally, UST and bund curves flatten and ASW widens due to limited long-end supply outlook. Metals continue overnight selloff after bearish Barclays note on iron ore.
Overnight, the dollar rebounded following its widest two-day drop in ten months and the yen snapped a five-day rally after Japan's Finance Minister Aso said sudden moves are a concern. The euro was headed for its first drop in five days amid profit-taking, and a report that German coalition talks are still facing hurdles and speculation that the ECB will not change its forward guidance any time soon. Speculation over a Chinese intervention to slow the yuan's gains also prompted short-covering of the dollar. In addition to equities, Euro-area bonds and Treasuries also advanced.
Looking at the macro picture, Bloomberg notes that it's a peculiar European session, "with asset classes moving independently from each other." Of note, the USD is finally stronger against G-10 overall as the DXY index attempts to bounce from close to important 90.00 level. The EUR spikes lower in early trade after reports of potential German coalition jitters, however regional impact is later downplayed. A later dovish report that ECB is unlikely to drop its bond-buying pledge next week pushes EUR/USD toward 1.22. GBP softer after core CPI is lower than expected, USD/ZAR runs downside stops through yesterday's low to hit lowest since June 2015 amid little news.
"The yen's appreciation against the dollar has stopped and this brightened sentiment, along with expectations for robust company quarterly results," said Sumitomo Mitsui Asset Management's Masahiro Ichikawa about Tokyo's gains.
Japanese Finance Minister Taro Aso said on Tuesday that he did not see problems with the dollar weakening to around 110.80 yen, but that big swings in currencies would be problematic.
Also notable: Bitcoin led a slump in cryptocurrencies, tumbling as much as 20 percent. Emerging-market stocks jumped, consolidating at the highest level in almost a decade.
Copper slumped 1.8 percent, while nickel plunged almost 4 percent. For both it was their biggest drop since early December, after which they went on to surge 10 and 20 percent respectively. Analysts put the wobble partly down to supply issues after stockpiles of iron ore at China's ports leapt to the highest since at least 2004, but also the dollar - used to price commodities - pulling out of a four-day dive.
"Everything this year (in commodity markets) has been largely about the dollar," said Crédit Agricole FX Strategist Manuel Oliveri. "It has been selling off regardless of rate expectations, regardless of the growth outlook," he added, saying he expected it to start to stabilize.
The steadier dollar also brought an end to the euro's four-day hot-streak. The single currency was also being buffeted by reports that parts of Germany's main opposition party are resistant to reforming a 'Grand Coalition' with Angela Merkel's conservatives.
The euro slipped back to $1.2235 but was still up 2 percent since the start of the year, helped by talk of a quicker end to European Central Bank stimulus. The yen was 0.15 percent lower at 110.6 per dollar.
Euro zone government bond yields switched direction too, with German Bunds coming off recent highs and low-rated Italian and Portuguese debt outperforming as investors returned to some of 2017's most profitable trades
Market Snapshot
S&P 500 futures up 0.4% to 2,800.50
STOXX Europe 600 up 0.3% to 398.98
MSCI Asia Pacific up 0.4% to 182.83
MSCI Asia Pacific ex Japan up 0.4% to 594.38
Nikkei up 1% to 23,951.81
Topix up 0.6% to 1,894.25
Hang Seng Index up 1.8% to 31,904.75
Shanghai Composite up 0.8% to 3,436.59
Sensex down 0.2% to 34,781.66
Australia S&P/ASX 200 down 0.5% to 6,048.64
Kospi up 0.7% to 2,521.74
German 10Y yield fell 1.4 bps to 0.573%
Euro down 0.3% to $1.2224
Italian 10Y yield rose 1.9 bps to 1.734%
Spanish 10Y yield fell 2.5 bps to 1.506%
Brent Futures down 0.6% to $69.85/bbl
Gold spot down 0.4% to $1,334.59
U.S. Dollar Index down 0.3% to 90.68
Top News
Republican leaders are weighing a stopgap spending bill until Feb. 16, as they don't believe they have the time to complete a fiscal year spending deal by Friday, according to a person familiar with the talks
Crypto: PBOC official says China's centralized virtual currency trade needs to end, according to people familiar: Reuters
The European Central Bank is unlikely to drop a pledge to keep buying bonds at next week's meeting as rate setters need more time to assess the outlook for the economy and the euro, Reuters reports, citing unidentified people
The EU has stepped up the demands it will make of the U.K. for the transitional period that follows Brexit, calling for more rights for EU citizens, according to revised draft guidelines seen by Bloomberg
Russia's government is said to be discussing a proposal to turn on the fiscal taps in the biggest domestic spending spree since Putin last ran for re-election in 2012
Bitcoin slumped as much as 20 percent, giving more impetus to a January selloff in cryptocurrencies, after South Korea's finance minister repeated that the country may ban trading in one of the world's most active markets
The Fire & Police Pension Association of Colorado alleged in a New York court filing that Canada's six biggest banks and three foreign lenders of conspiring to manipulate the Canadian Dealer Offered Rate to boost "illegitimate profits" on derivatives trades for several years until 2014
Government Shutdown: GOP leaders don't believe they have time to complete a fiscal year spending deal by Friday, considering a short-term extension until Feb. 16, according to people familiar
ECB is unlikely to change forward guidance at Jan. meeting; March meeting a more likely option due to updated forecasts, according to people familiar: Reuters
German Coalition: Berlin regional SPD reject coalition deal with Merkel bloc; Berlin SPD hold 23 out of 600 delegates at SPD congress for Jan. 21: Spiegel
UK Dec. CPI y/y: 3.0% vs 3.0% est; Core CPI 2.5% vs 2.6% est; ONS notes decline largely driven by a technical reweighting of airfares in the inflation basket
Japan Finance Minister Aso: current USD/JPY rate isn't a major issue, referring to a level of 110.80

Asia equity markets were overwhelmingly positive as region digested corporate updates and picked up the pace from the holiday-quietened lead due to the US market closure for Martin Luther King Jr Day. Nikkei 225 (+0.9%) and ASX 200 (-0.5%) traded mixed as Japan coat-tailed on a rebound in USD/JPY, while sentiment in Australia was dampened by weakness across commodity names including Rio Tinto which was pressured despite a beat on Q4 iron ore shipments, as the Co. also maintained full year guidance against expectations for an upgrade. Elsewhere. Hang Seng (+1.1%) outperformed and is on course for a record close, while Shanghai Comp. (+0.2%) was also in the green amid several positive profit alerts and after a firm liquidity operation by the PBoC, which resulted to a net daily injection of CNY 270bln. Finally, 10yr JGBs were flat with prices range-bound throughout the day amid a lack of catalysts and after mixed results from a 5yr JGB auction. PBoC injected CNY 160bln via 7-day reverse repos, CNY 150bln via 14-day reverse repos and CNY 10bln via 63-day reverse repos. PBoC set CNY mid-point at 6.4372 (Prev. 6.4574)
Top Asian News
Thousands of Palm Oil Farmers March Against EU Restrictions
Race for Lithium Sees Quarter Billion Investment From Toyota

Most of the major bourses traded in positive territory with the FTSE 100 benefitting from a decline in the GBP after the inflation data. Continental and Michelin topped their respective bourses after reports that the former has hired JPMorgan to look at a break up of the business. There was more to cheer for the UK high street as Greggs and JD Sports both reported strong sales over the Christmas period. In European fixed income, following the UK inflation data, the 10 year gilt inched closer to 124.00 at 123.98 and Short Sterling futures climb another tick or so to stand 0.5-3 ticks above yesterday's settlement levels. Bunds also revisiting their Eurex session peaks (160.70), but just shy on Monday's intraday high despite upside hedging for latest sovereign and corp supply via swaps, while USTs have edged a few ticks higher with the curve still flatter ahead of the return of US participants after the long holiday weekend. Only Empire State manufacturing scheduled, but another White House funding bridge to be crossed this week after IP data on Wednesday.
Top European News
ECB Could End QE After September, Hansson Tells Boersen- Zeitung
Bundesbank Says China's Yuan to Be Included in Currency Reserves
Rep. of Macedonia Plans to Cut Budget Deficit to 2%/GDP by 2020
EU's Tusk Says the U.K. Can Have 'Change of Heart' on Brexit
Dubai Oil Refiner Said to Have Held Talks on Retail Unit IPO
Brexit to Drive Dublin Office Real Estate in 2018, CBRE Says
Israel's Discount Investment May Propose Eurocom Creditor Deal

In FX, there has been broad, albeit modest recovery gains for the USD which have helped the Index rebound above 90.500, but it seems to be a fragile move awaiting confirmation and the return of US traders following Monday's MLK market holiday. In the meantime, some short covering/long liquidation or position paring and profit taking, with the EUR seeing a bit of negativity on reports the Berlin branch of the SPD vote against a grand coalition – EUR/USD now around 1.2250 vs 1.2217 low and near 1.2300 peak yesterday. 1.2302 remains the nearest upside chart objective (another December 2014 high) before strong tech resistance at 1.2350, while support comes in around 1.2188-70. Cable retreated after (and before) the UK inflation data although the moves were relatively as the headline was in line with forecasts.
In commodities, WTI and Brent crude futures are trading mixed with a number of big banks commenting on prices this morning. Goldman Sachs said they see increasing upside risks to their calls for the two major benchmarks, although this isn't too surprising considering both trade above Goldman's average forecast this year. Morgan Stanley, Soc Gen and Bank of America have all lifted their forecasts. Precious metals have slipped back as the USD has regained some ground, with palladium pulling back from the record high hit on Monday. Base metals have seen similar price action with copper down just shy of 1% on the LME.
Brexit update (via RanSquawk):   EU is said to toughen conditions for a post Brexit agreement, as draft documents showed revised directives for EU chief negotiator Barnier with stricter conditions for a transition deal. (FT) BOE's external member Tenreyro said that at December meeting, she saw 'ample time' before the BOE would need to raise rates and expects a couple more hikes over next three years if economy performs as expected. (Newswires) UK PM May is planning a speech to outline Brexit policy next month, while reports also stated that the EU withdrawal bill is expected to move to the House of Lords this week and pass. (Newswires) ECB's Lane said he sees an abrupt Brexit to be a genuine shock that would risk the stability of the European financial system. (FT)
Norwegian officials tell Brussels they may seek radical rethink of their terms if UK has access to single market for key sectors. (The Guardian)
Looking at the day ahead, final December CPI reports are due in Germany and Italy. In the UK, there is the December CPI, PPI and RPI along with the November house price index, while in the US the January empire manufacturing print is due. Away from the data, Canada's Foreign Affairs Minister Chrystia Freeland and US Secretary of State Rex  Tillerson are due to meet to discuss stability on the Korean Peninsula. Citigroup are due to report Q4 earnings.
US Event Calendar
8:30am: Empire Manufacturing, est. 19, prior 18

DB's Jim Reid concludes the overnight wrap
I hope you all got over Blue Monday - supposedly the most depressing day of the year. This is calculated on a model that includes the weather, debt levels, the amount of time post Xmas, time since failing New Year's resolutions, low motivational levels and the feeling of needing to take charge of your life. Feel familiar? I spent this uplifting day in Paris and during a communication with a taxi driver I realised the most odd thing that a lot of us do. I was trying to tell my taxi driver where I wanted to go in what can only be described as hideously bad French. However as I was talking I heard myself trying to pronounce everything in an absurdly strong French accent. It made me stop and think as to why when speaking certain foreign languages we feel the need to try to do an impression of a person from that country? If you think about it, if you went to Birmingham, New York or Sydney you wouldn't tell a taxi driver where you were going in a strong regional accent so why should you in France? Indeed imagine you were in the Caribbean and spoke in a strong West Indian accent when ordering something or an Indian accent in Mumbai. You may get locked up and rightly so. So if anyone can tell me why we try to speak in accents in certain languages and not others then I'd be interested to know. Or maybe it's only me in France. Yikes!!
In reality it was a good day to be out of the office given the US holiday and fairly dull markets. However the highlight was the continued weakness in the dollar, with the US dollar index down for the fourth consecutive day (-0.58%) and extending on its three year low. Conversely, Sterling rose 0.47% and the Euro was up 0.51% to 1.227. As a reminder, our FX team believes that flows out of USD will matter more in 2018 than rate differentials and they have a target of 1.30 (EURUSD) on the currency.
Staying in FX, China's RMBUSD rose to a two year high (+0.49%) after the central bank strengthened the Yuan fixing by 0.55% (the biggest increase in fixing in three months). Notably, the Bundesank has decided to add the Yuan to its currency reserve, albeit starting with a small amount.
Over in government bonds, 10y Bunds and French OATs yields rose c1bp, partly weighed down by the hawkish tone from the ECB's Hansson. He noted that if growth and inflation continue to evolve broadly in line with the ECB's projections, it would "certainly be conceivable and appropriate to end the (QE) purchases after September". Further, in terms of how to end QE, he added that "the last step to zero is not a big deal anymore" and "I think we can go to zero in one step without any problems". On the higher Euro, he noted it "is not a threat to the inflation outlook" up to now and one "should not overdramatize it". Finally, on policy guidance, he added "there are certainly good reasons to reduce the importance of the net purchases in our communication soon". Elsewhere, 10y Gilts yields fell for the first time in five days (-1.6bp) while peripherals rose 1-3bp.
In the UK, the BOE's Tenreyro has echoed other MPC member's view that if the central bank's forecasts are accurate, then the UK economy will potentially have two more rate hikes over the next three years. Notably, she noted that "a different outturn for productivity growth would affect that rate path" and that based on her analysis, it leads her to think that "in the medium term, the risks to productivity may be skewed to the upside". Looking ahead, she noted that as of December, she saw "ample" time to assess current policy before potentially hiking rates again.
This morning in Asia, equities are trading higher. The Hang Seng has rebounded (+1.22%) with all sectors in the green, while the Nikkei (+0.98%), Kospi (+0.77%) and China's CSI300 (+0.71%) are all higher. Elsewhere, China's RMBUSD is up 0.05% as we type. The Japanese Finance minister Aso noted the Yen's current exchange rate is not a major issue but sudden movements are a big problem for the currency.
Now recapping other markets performance from yesterday. European equities were broadly lower with the Stoxx 600 down 0.17%, partly weighed down by the stronger Euro and weakness in healthcare stocks. Across the region, key bourses were all modestly lower (FTSE -0.12%; CAC -0.13%; DAX -0.34%) while Italy's FTSE MIB bucked the trend to be up 0.49%.
In commodities, Brent crude oil rose 0.47% to above $70/bbl and is up c40% from its recent lows in August. Yesterday's strength was partly supported by Iraqi oil minister al-Luaibi comments over the weekend, where he noted that OPEC production curbs should remain until the end of 2018. Gold has edged higher (+0.18%) to a four month high and is up c8% since mid-December. Elsewhere, other base metals were mixed with softness in aluminium prices (Copper +0.16%; Zinc flat; Aluminium -0.79%).
Away from the markets and onto Germany's efforts to form the next coalition government. The SPD's caucus whip Mr Schneider said he is "firmly convinced" that this Sunday's party convention will support the coalition talks with Ms Merkel's bloc. Elsewhere, according to a Forsa poll conducted last Friday, 56% of SPD voters and 70% of CDU/CSU voters would back a renewed grand coalition between Ms Merkel's bloc and the SPD.
Turning to Brexit, the FT has reported that EU member states have drawn up revised directives that will toughened its conditions on the UK's post Brexit transition deal. Based on a draft seen by the FT, the conditions include: i) restricting the UK's ability to apply a new immigration system to EU national arriving in the transition period, which implies that individuals arriving in the UK after Brexit but before 2021 are eligible to stay indefinitely, ii) British ministers will not be able to enter into agreements with non-EU countries to replace the benefits of those lost trade deals unless authorised to do so by the EU and iii) no change to fishing rights in UK waters.
Finally, the latest ECB holdings were released yesterday. Net CSPP purchases last week were €1.4bn and Net PSPP purchases €7.1bn. This left the CSPP/PSPP ratio at 19.4% last week (vs. 11.5% before QE was trimmed in April  2017), which is in line with our expectations of "around 20%" post the latest taper. That said, this is the first week of relevant data after the QE was halved and the data can be lumpy, so we believe it's too early to make material conclusions until additional readings. However one of the reasons we thought Q1 would be strong for credit was that the CSPP technicals will improve initially. After Q1 macro issues will start to offset this though and the overall end of QE will come into view.
Before we take a look at today's calendar, we wrap up with other data releases from yesterday. In Europe, the Eurozone's November trade surplus was higher than expected at €22.5bln (vs. €22.3bln) with exports up 7.7% yoy and imports up 7.3% yoy. In the UK, the January Rightmove index reported that asking prices for homes rose 1.1% yoy, slightly higher than the prior month's reading of 1%.
In Japan, the BOJ's regional economic report noted that six of nine regions had been expanding or expanding moderately, with the remainder continuing to recover moderately. Elsewhere, three of the nine regions revised up their economic assessment from that made in October.
Looking at the day ahead, final December CPI reports are due in Germany and Italy. In the UK, there is the December CPI, PPI and RPI along with the November house price index, while in the US the January empire manufacturing print is due. Away from the data, Canada's Foreign Affairs Minister Chrystia Freeland and US Secretary of State Rex  Tillerson are due to meet to discuss stability on the Korean Peninsula. Citigroup are due to report Q4 earnings.