China bond yields rose ahead of the macro data avalanche tonight (following a leaked upside surprise print for GDP). GDP, Industrial Production, and Fixed Asset Investment all beat expectations but Retail Sales missed dramatically - growing at its slowest since Feb 2004.
As a reminder, these numbers are landing amid some renewed concern over the integrity of Chinese data, with a nationwide audit of city and county governments last year finding a slew inflated fiscal revenues.
The last couple of months have seen upside surprises for Chinese data...
Before the data release, an official at the National Development and Reform Commission, China's top economic planner, said GDP rose 6.9% in 2017, according to financial information website Hexun.com.
And the data deluge tonight printed as follows...
China GDP YoY BEAT: +6.8% vs +6.7% exp (+6.8% prior)
China Industrial Production YoY BEAT: +6.2% vs +6.1% exp (+6.1% prior)
China Retail Sales YoY MISS: +9.4% vs +10.2%% exp (+10.2% prior) - lowest since Feb 04
China Fixed Assets Investment YoY BEAT +7.2% vs +7.1% exp (+7.2% prior)
Visually...the trend is clear...
Offshore Yuan has trod water for the last 3 days, albeit with some volatility within that range...
Chinese stocks have been divergent in the last few days but overnight saw a panic bid rip through CHINEXT (China's small caps and tech index) as crypto-carnage sent many stocks limit down but The National Team appeared to have other ideas...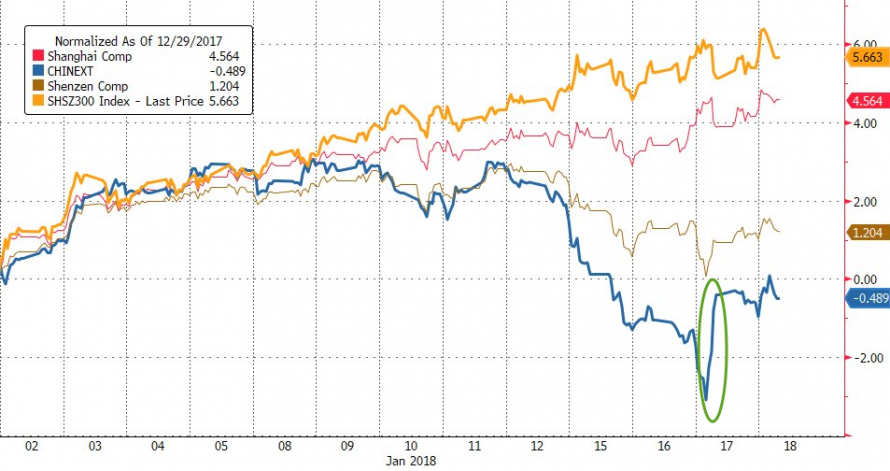 Stocks in Hong Kong, which have been strong all day, are taking a bit of a leg up after the dat, led by banks.
Notably, PBOC pumps in net 90b yuan through reverse-repurchase operations, taking total injections since Jan. 11 to 720b yuan.. which might help explain the rebound.
Finally, now that we have all the data in from 2017, Bloomberg's Chris Anstey reminds us that the consensus forecast of economists surveyed by Bloomberg is for a 2018 growth rate of 6.4%. To get there, it means we'll need to see a step down in the monthly data for China to decelerate somewhat. Assuming that exports and consumption continue to expand rapidly, that puts the onus on the slowdown potentially on production and investment.