Just like all other banks before it, Goldman took a charge as a result of Tax Reform, amounting to $4.4 billion or less than the $5 billion expected, which hit net income, resulting in a net loss of $1.93 billion or a GAAP EPS loss of $5.51. Excluding the tax-related charge, Goldman's EPS was $5.68 in Q4, above consensus estimate of $4.91.
However, while Q4 earnings at the banks were largely a wash due to tax reform, it was the top line that was troubling: here Goldman reported $7.834 billion in Q4 revenue, which while modestly better than the $7.61 billion expected, was the lowest quarterly print since the first quarter of 2016.
And while the bank's Investment Banking division was a surprising outlier to the upside, generating $2.14BN in Q4 revenue, far above the $1.64BN expected, and saved the bank's quarter, the rest of the income statement was a disaster, with Goldman's FICC, i.e. bond, FX and commodity revenue, printing just $1.00 billion, well below the $1.28BN est., and a shocking 50% plunge from the $2.00Bn reported a year earlier. And as a result of the plunge in bond revenues, total institutional client services tumbled 34% Y/Y.
Putting this number in context, the last time Goldman printed a $1 billion quarterly figure for the business, the world was in the throes of the financial crisis.
Equity trading was as bad, with $1.37BN in revenue missing estimates of $1.51BN, and down 14.1% from a year ago.
Total Q4 trading revenue of $2.37BN was below the $2.76BN expected, and the worst since the financial crisis.
Finally, Goldman's prop lending group, Investing and Lending, helped modestly, reporting $1.658BN in revenue, an increase of 12% Y/Y, but a drop of 12% from last quarter.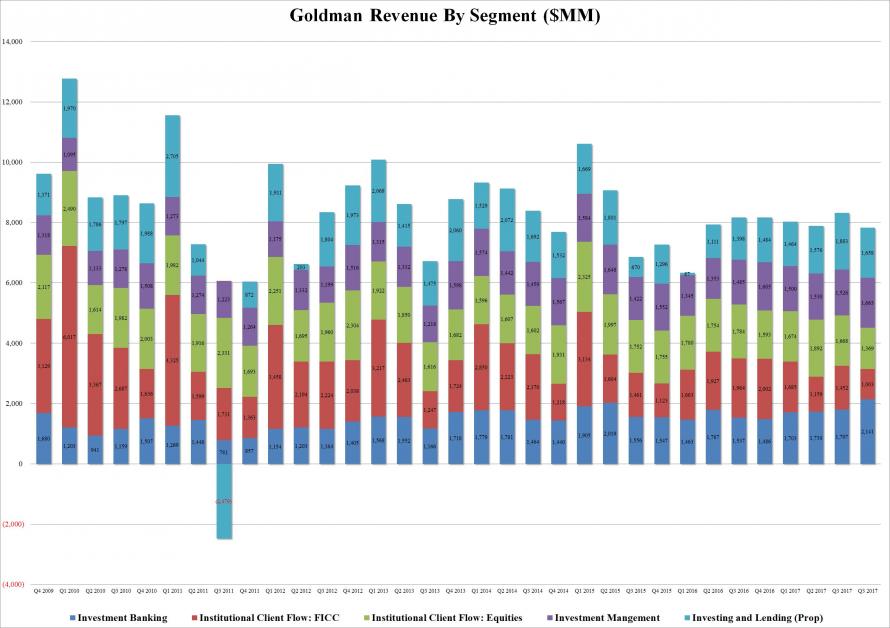 In the context of other banks, Goldman's FICC drop of 50% was by far the worst.

Commenting on the results, "Last year, we delivered higher revenue and stronger pre-tax margins despite a  challenging environment for our market-making businesses," said Lloyd C. Blankfein, Chairman and Chief Executive Officer. "With the global economy poised to accelerate, new U.S. tax legislation providing tailwinds and a leading franchise across our businesses, we are well positioned to serve our clients and make significant progress on the growth plan we outlined in September.
Perhaps not surprising, as a result of the poor top-line results, Goldman's compensation benefit accrual for Q4 was only $2.157BN, the lowest in two years even as Goldman added another 800 full time employees, bringing the total to 36,600. This means that the average Goldman employee comp for the trailing 12 months dropped from $339K to $324K, the lowest in one year.