Stormy Daniels - the former porn star who claims to have had an affair with President Trump back in 2006, shortly after his marriage to First Lady Melania Trump - is refusing to go away. On Wednesday, In Touch, the glossy supermarket tabloid, published excerpts from an interview that Daniels - real name Stephanie Clifford - gave to the magazine back in 2011.
In the excerpts, Daniels discusses her, uh, liaison with Trump in intimate detail. The affair took place in a Lake Tahoe Nevada hotel suite. In Touch corroborated the story with Daniels's good friend, Randy Spears. Her ex-husband, Mike Moz, also confirmed the story.
Daniels also reportedly took and passed a polygraph test administered by In Touch at the time of the interview.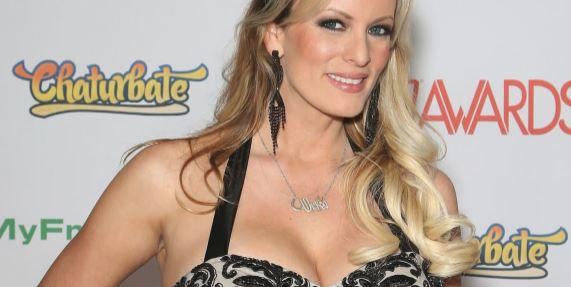 The most salacious details included in the story was Daniels's description Trump's bedroom demeanor.
Stormy told In Touch, "[The sex] was textbook generic," while discussing the fling they had less than four months after Donald's wife, Melania, gave birth to their son, Barron. "I actually don't even know why I did it, but I do remember while we were having sex, I was like, 'Please, don't try to pay me.'"
Trump met Daniels at the American Century celebrity golf tournament in July 2006. Trump asked her to dinner, to which she readily agreed...
When she met with Trump, she was greeted by a bodyguard named Keith - presumably former Oval Office Director of Operations and Trump Organization Security Chief Keith Schilller...
It all started at the American Century celebrity golf tournament in July 2006. "[Trump] was introduced to everybody. He kept looking at me and then we ended up riding to another hole on the same golf cart together," Stormy recalled, adding that the business mogul later came to the gift lounge her adult-film company, Wicked Pictures, sponsored and asked for her number, which she gave him, before they posed for a photo together.

"Then he asked me if I wanted to have dinner that night. And I was like, 'Yeah, of course!'" she told In Touch. Stormy, dressed up to go out on the town, arrived at Trump's hotel room, where she says she was greeted by a bodyguard named Keith, who let her inside. Stormy claims Trump was sprawled on the couch watching TV, wearing pajama pants. "We ended up having dinner in the room," she revealed to In Touch.
After the deed, Daniels said the two hung out for a bit. Then Trump promised to call her - though it's unclear whether he ever did.
At one point, Stormy told In Touch, she excused herself to go to the bathroom.

"When I came out, he was sitting on the bed and he was like, 'Come here.' And I was like, 'Ugh, here we go.' And we started kissing." After having sex, Stormy said, "We hung out for a little while and he just kept saying, 'I'm gonna call you, I'm gonna call you. I have to see you again. You're amazing. We have to get you on The Apprentice.'"
Trump has vigorously denied having an affair with Daniels, and the White House has contested a Wall Street Journal story claiming Trump lawyer Michael Cohen paid Daniels $130,000 to stop  her from sharing her story with Slate and Good Morning America in October 2016, shortly after the Access Hollywood tape leaked.
Of course, this is just an excerpt. Daniels was pretty active in sharing her story about five years ago, it seems, back when Trump was the star host of NBC's "Celebrity Apprentice." In Touch  will publish a 5,000 word interview with Daniels later in the week...