A hand grenade was tossed at a police station in Malmo, Sweden, around 9pm on Wednesday, resulting in a "huge explosion" according to local media reports. 
Police spokeswoman Anna Goransson told Swedish publication Aftronbladet: The place is locked off and the bombing group is on its way," adding "Fortunately, no people have been injured, but cars, I cannot say how many, have been damaged."
Authorities have yet to confirm what caused the explosion, but local media are reporting that a hand grenade was used.
Police have not confirmed any arrests so far, but Aftonbladet's photographer said two people have been taken into custody. The detonation took place just as the two suspects approached the station, according to reports.
Police have been placed on high alert and are patrolling various locations across the city.
Local media and authorities have sketched possible connections with a recent spate of attacks on police stations in Sweden. On December 29, a police car was destroyed outside a police station in Malmo. In October, a powerful explosion outside the police station in Helsingborg also caused significant material damage. Following Wednesday night's attack, the Police Association tweeted that "attacks against police must end."
Regional police chief Carina Persson called the attack "completely unacceptable," after visiting the scene of the explosion. "We must continue to work intensively in the fight against the serious crime," she said, vowing to punish the perpetrators.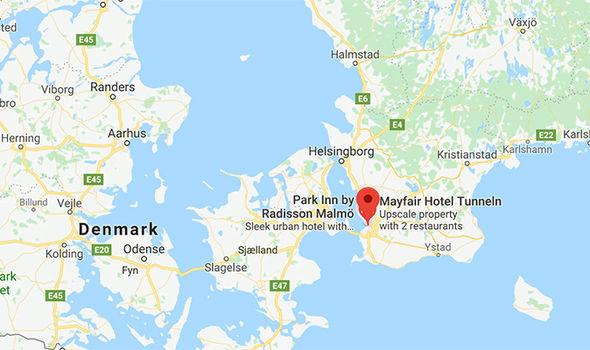 Grenade attacks in Sweden have been on the rise since 2012, though the rate in 2017 was considerably lower than in previous years, at 10 attacks vs. 34 the previous year.
In 2016, an 8 year old boy sleeping in the living room of relatives in Gothenburg, Sweden was killed by a grenade thrown into the room. "At least five children and several adults were in the flat when the grenade was hurled inside," according to the BBC, who added that the boy died in his mother's arms.
In February, 2017 a man was injured outside of a residence after a grenade was thrown: 
Explosion, suspected grenade attack in Malmo. One injured: https://t.co/kmoumRdDhJ

Tim Pool (@Timcast) February 27, 2017
Aside from grenade attacks, Sweden has an overall crime problem...
In a February, 2017 article that the Huffington Post deleted entitled "Trump is absolutely right about Sweden" Norwegian journalist, author, and world traveler Reni Zografos outlines the country's sweeping problems with immigrants and crime - along with the failure by foreign media to cover the problems. 
Its well known to Scandinavians and other Europeans that liberal immigration comes with drugs, rapes, gang wars, robbery and violence. In addition to that we see the respective nations' cultures fading away, for good and for bad. But the immigration problem is not only a Swedish predicament.

The fact is that the press here in Europe hasnt been doing their job properly. There is this fear on the part of journalists to not report the basic truth - which is that Europe has enormous problems that comes from liberal immigration politics, and as we now see not just in Sweden, but also here in Norway. -Reni Zografos
Meanwhile, following a gang related murder of a 21-year-old man in Malmo last weekend, Sweden's PM, Stefan Lofven, says deploying the military to clamp down on gang violence is an option, reports Omni news (translated): 
"It's not my first action to put in a military, but I'm prepared to do what it takes to ensure that the seriously organized crime is eliminated," he told TT.

The statement comes after SD leader Jimmie Ekesson, during the party leadership debate, declared "declared war" against organized crime and said he wants the military to be put in order to bend it.

On a direct question from TT to Lvfven after the debate if he excludes military intervention, he answers:
- We look at what opportunities exist, I do not see it as the first solution, but we will look at how we get rid of gang crime.
According to data released by Swedish police in December, there were 306 shootings in Sweden last year, resulting in 41 deaths.  Swedish officials, meanwhile, are blaming Islamic Terrorism on "white power." in December of 2016, Sweden's freshly minted "Anti-Terror" coordinator, Anna Carlstedt, blamed Islamic Terrorism on "White Power" her first day in office.
#Swedens anti-terror coordinator claims Islamic extremism is caused by 'White Power' movements, once again proving this cartoon to be true. pic.twitter.com/ZsmbvXiTz2

Johnny 50 (@Johnny5024) December 21, 2016
While we're don't know if Sweden's most recent grenade attack was done by migrants, the rise in grenade attacks appear to be directly correlated with the rise in refugees flooding Europe, 72% of whom are "men of fighting age."