Yemeni Houthi rebels claim to have struck targets inside Saudi Arabia after launching two ballistic missiles on Tuesday, according to Houthi military media. Some pro-Houthi sources also reported the destruction of a Saudi military base in Najran, which lies in southwest Saudi Arabia near the border with Yemen.
Meanwhile, Saudi Arabia disputes that the missiles hit their targets, with Saudi state TV Ekhbariya reporting that Saudi missile defense has intercepted one near Jizan Regional Airport, a busy transport hub in southern Saudi Arabia, though it is unclear what happened to the reported second missile.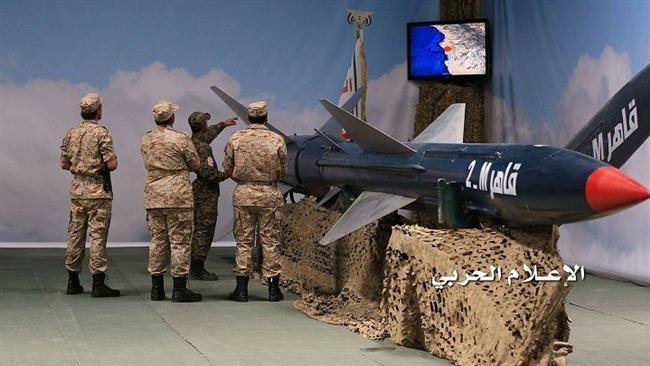 An image from a video released by Yemeni military media shows the Qaher M-2 ballistic missile.
According to Middle East based Al Masdar News:
First, a short-range ballistic missile was launched at the Jizan Regional Airport, an important transport hub in southern Saudi Arabia. Following this, Yemeni Missile Forces have fired a Qaher M-2 missile, a modern and domestically produced Yemeni surface-to-surface missile based on the Soviet S-75 Dvina design, on a military command center in the Najran province of Saudi Arabia.

According to the Yemeni Armed Forces, both targets hit their intended targets with high precision and to full effect. Saudi state media however, denies that the Jizan airport was hit, and claims the missile was intercepted.
Though at this time it is unclear which version of events are true, Saudi authorities have in the past been caught lying about missile intercept effectiveness, especially the November 4th ballistic missile attack on Riyadh's international airport. A New York Times investigation published in early December suggested that Saudi Arabia's state of the art US-supplied defense system failed to intercept the ballistic missile fired by Yemen's Houthi rebels. The report contradicted the official claims of the Saudi and American governments, which both announced immediately after the incident that the US-supplied Patriot missile defense system had successfully intercepted the Houthi fired Scud.  
The analysis, which utilized open-source material in the form of available video and social media photos of the aftermath of the attack, was conducted by a team of missile experts, and shook confidence in the US system. Thus current claims of a successful Houthi missile strike inside Saudi Arabia are indeed plausible. 
Saudi Foreign Minister Adel al-Jubeir has consistently blamed Iran for such attacks, referring to the Shia dominated Islamic Republic as the biggest source of danger in the region due to its destabilizing role in Lebanon, Yemen and Syria. Both Saudi and American officials have claimed Iran as the source of the sophisticated missile systems launched from Yemen. 
"Iran supplied the Houthis with missiles that have targeted Saudi Arabia," the Saudi FM told reporters, according to Al Arabiya. "The nuclear deal with Iran needs improvement to prevent Tehran from enriching uranium."