Just seemed appropriate somehow...
The biggest story of the day is the resurgent rally in crypto-currencies with Ripple up 80% off yesterday's lows...
Bitcoin traded above $12,000 (up 32% off yesterday's lows), Ethereum back above $1000...
The Dow closed lower - late-day slam hit as Democrats made headlines proclaiming they had the votes to cause a govt shutdown... Trannies managed to scramble back into the green to close...
VIX continues to rise...closing at 12 today as The Dow was desperately held above 26k..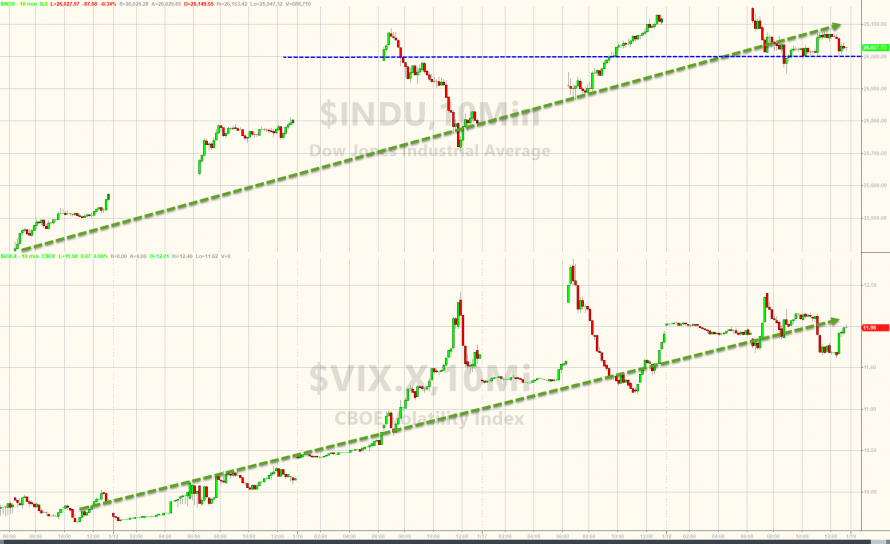 Banks were mixed with MS topping GS in market cap for the first time since 2007...
Treasury yields rose on the day, bear steepening (30Y +4bps)...the belly of the curve is worst this week so far though...
10Y broke above 2.62% intraday (pushed up at the end by Dem headlines)..
Just shy of the Dec 15th 2016 intraday highs of 2.6394%... (10Y is up 30bps since The Fed hiked rates in December)...
The Dollar Index continued the same patter for the 7th day in a row - being dumped after AsiaPac markets closed...
WTI Crude was lower (on a big draw) and RBOB was higher (on a big build?)...
Gold and silver were both down (despite a weaker dollar)...