Following last weekend's erroneous ballistic missile alert – an accident that sent crowds of people fleeing restaurants and stores in a frenzied panic – millions of Hawaiians took to Pornhub.com to ease their tension.
In the minutes after the fraudulent missile alert was sent at 8:07 am, traffic plunged some 77% below its level from a typical Saturday.
"Based on real-time, per-minute page-views, and compared to levels on the previous two Saturdays, our statisticians found a precipitous drop in traffic at 8:07am immediately after the warning was sent out. By 8:23 am, traffic was a massive -77% below that of a typical Saturday," Pornhub said.
Hawaii on alert! https://t.co/JzqpXe5ejz pic.twitter.com/4AeOpDDaZ6

— Pornhub ARIA (@Pornhub) January 17, 2018
As the Daily Mail pointed out, the website experienced its lowest traffic from Hawaii at 8:23 am. The number of viewers started surging back at around 8:45 am, when citizens were informed that it had been a false alarm.
In the minutes after the alert was canceled, traffic from Hawaii soared. By 8:50 am, traffic had climbed nearly 50% above normal levels, as RT pointed out.
"Traffic began to return to normal and Hawaiians collectively breathed a sigh of relief," Pornhub said. "Those seeking further relief headed back to Pornhub where page views surged +48% above typical levels at 9:01am."
Some on Reddit quickly took the opportunity to make a joke of porn habits on doomsday.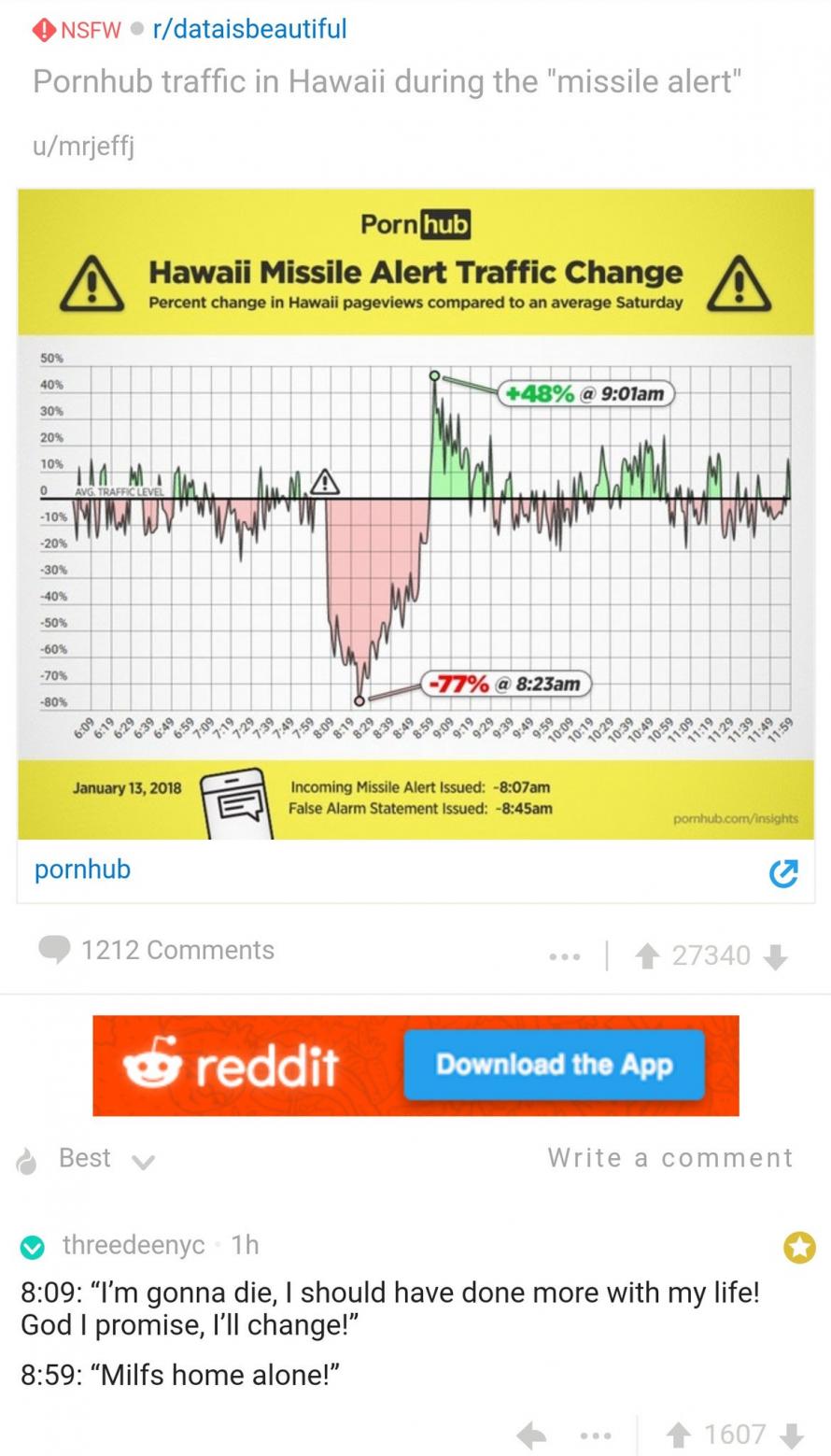 Finally, here is some worthless trivia: "Asian" became the most popular search term from Hawaii in 2017, while "hentai" peaked at the 'top gaining searches' category, Pornhub's data revealed. Thirty-two-year-old Japanese-American porn star, Asa Akira, topped the search list.