Last quarter, IBM - once again - almost fooled the market  when it "beat" but only thanks to using the lowest (until then) effective non-GAAP tax rate in its history (excluding one charge-filled quarter in which the rate N/M). Fast forward to the last quarter of 2017 when IBM did it, or at least tried it, yet again: in the three months ended Dec. 31, IBM reported Non-GAAP EPS of $5.18, barely above the expected $5.17, a clear and brazen exercise in goalseeking.
How did IBM "beat" again? By applying the same tired shtick it has used every quarter for years now: an ever lower  effective (non-GAAP) tax rate, which in Q4 dropped to an all time low of 6.1%, down from the already laughable 11% in Sept 30, 2017. This is after the company announced it would incur a one-time charge of $5.5 billion due to tax reform (including that, IBM's effective tax rate was 123.6%). Of course, had IBM used even last quarter's 11% tax rate, it would have missed.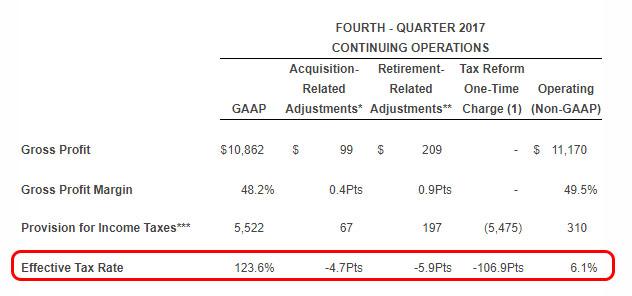 At this rate IBM will soon need a negative non-GAAP tax rate to make its negative non-GAAP earnings turn positive, or some other double negative. That, or IBM is hoping that Trump tax reform passe another 4-6 times.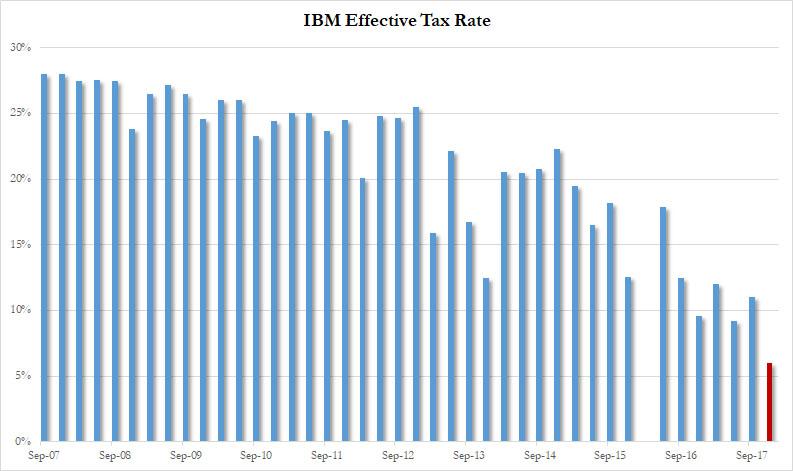 Amusingly, readers will recall that last quarter IBM boldly said that it "continues to expect a full-year effective operating (non-GAAP) tax rate of 15 percent, plus or minus 3 points, excluding discrete items."
Well, as we jokingly predicted last quarter, it was minus: IBM's full year non-GAAP effective tax rate was 12%.
Yet while IBM is an undisputed wizard when it comes to fudging its bottom line, there was finally some good news on the top line, where after 22 consecutive quarters, IBM finally posted an increase in Y/Y revenue, the first time it did so in 22 consecutive quarters.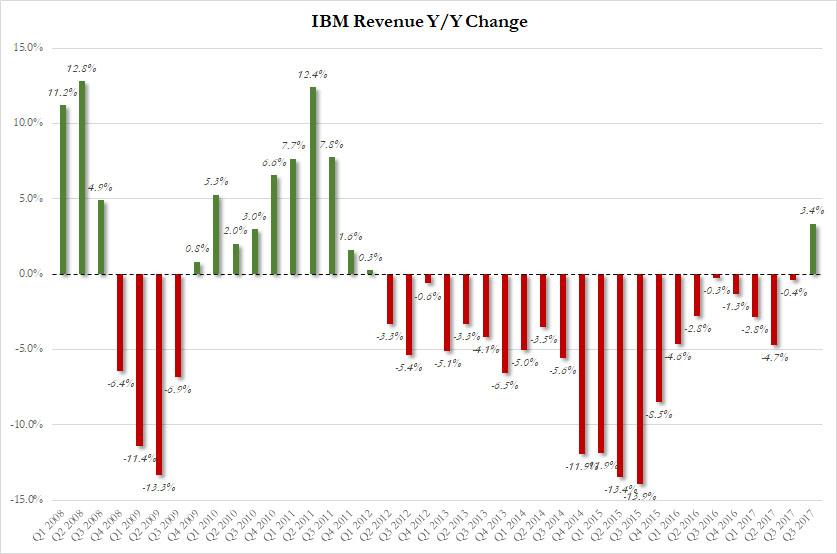 And while IBM beat on the top line, it still missed its Q4 adjusted gross margin of 49.5%, which came in well below the estimate of 50.8%
Away from the top and bottom line, IBM reported that in Q4 it generated free cash flow $6.8 billion. And, as has been the case every quarter, IBM returned $1.4 billion in dividends and $0.7 billion of gross share repurchases to shareholders. At the end of December 2017, IBM had $3.8 billion remaining in the current share repurchase authorization having expanded it in the last quarter. We expect the company will soon authorize another $5-10 billion or so in new buybacks.
As usual, Ginni Rometty had some pep talk for shareholders...
"Our strategic imperatives revenue again grew at a double-digit rate and now represents 46 percent of our total revenue, and we are pleased with our overall revenue growth in the quarter," said Ginni Rometty, IBM chairman, president and chief executive officer. "During 2017, we strengthened our position as the leading enterprise cloud provider and established IBM as the blockchain leader for business. Looking ahead, we are uniquely positioned to help clients use data and AI to build smarter businesses."
... although judging by the stock price after hours, the shareholders were not impressed.
Finally, IBM ended the fourth quarter of 2017 with $12.6 billion of cash on hand. Total debt rose by $1.2BN to $46.8 billion, up from $45.6BN at the end of Q3 and up from $42.2BN one year ago.
As noted above, neither the stock, nor shareholders are happy with the company's results, as it now appears that everyone can see past IBM's feeble attempts at tax accounting 101 gimmickry.