According to the Associated Press, this morning Syria said it would shoot down any Turkish jets carrying out attacks inside Syria. This comes as preparations continue for an imminent large-scale Turkish attack of Kurdish militia groups currently holding Afrin near the Turkish border.
Multiple regional outlets have confirmed a build-up of forces that could constitute the largest external intervening force thus far in the entirety of the Syrian war, including special forces troops, Army units, Turkish-backed Syrian rebels and Turkey's air force.
In response to Turkey's President Recep Tayyip Erdoğan vowing military action to "destroy all terror nests" in Syria - a reference to the US-backed YPG (which makes up the core of the SDF) which holds vast territory along Turkey's border spanning into northeast Syria - the Syrian Deputy Foreign Minister Fayssal Mekdad told reporters Thursday that Syrian defense systems have regained full operational power and stand ready to destroy Turkish air targets in Syrian airspace should Afrin be attacked. Mekdad also stated that Damascus would consider any Turkish attack on Afrin an act of aggression.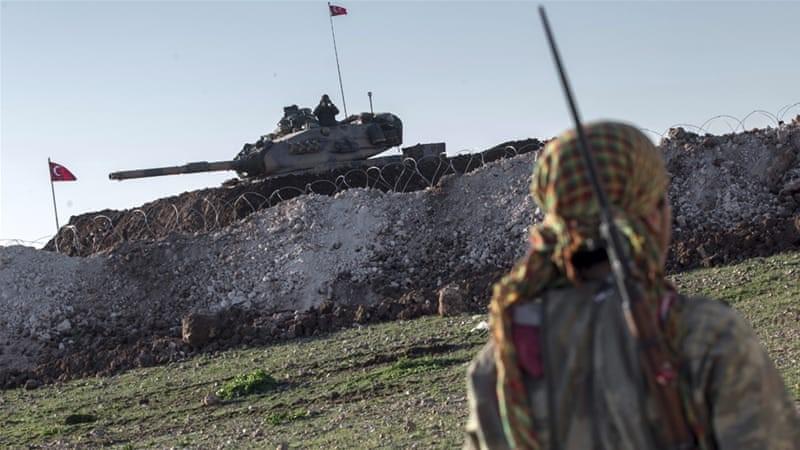 Image source: Mursel Coban/Depo Photos via AP
Sporadic fighting and shelling has already occurred according to reports from the region. Though Turkish shelling of Kurdish positions along the border is nothing new in the conflict, should Turkey mobilize its air force in support of ground forces this would mark a dramatic escalation, especially given that both Russia and the US operate over Northern Syria, with Russia controlling the airspace over Afrin Canton and Idlib.
Whether the operation against Syrian Kurds moves forward or not into a full scale Turkish assault by land and air depends in large part on Russia, which has administered 'deconfliction' zones in the Afrin area, and has sponsored trilateral talks with Turkey and Iran which seeks cooperation among the three powers to wind down the war in Syria. Russia is also widely reported to have long had military advisors on the ground in Afrin, which have in the past helped coordinate the fight against ISIS. 
THREAD: This follows an extended conversation with v credible source in Damascus immediately following the speech of Sec. Tillerson on Syria. While vow to stay in Syria 'for the foreseeable future" seems to have received lots of attention, this source wasn't too surprised by it=>

— EHSANI2 (@EHSANI22) January 18, 2018
Though it's uncertain how Russia will interpret new Turkish statements and claims that it has Russian "coordination" in its impending Afrin campaign, Reuters reports:
Turkey said on Thursday Russia "should not oppose its operation in Syria's Afrin" and will coordinate with Moscow on the situation of Russian observers there. Foreign Minister Mevlut Cavusoglu also told broadcaster CNN Turk that Turkey will coordinate with Russia and Iran on an air operation in Afrin.
Thus far there's been no confirmation of this coming out of the Russian Defense Ministry, and the statement has the tone of an ultimatum rather than an agreed upon fact. 
Turkey's Deputy Prime Minister Bekir Bozdag says if the country's demands are not met, Ankara will not hesitate to take steps in Afrin and other regions across its border with Syria https://t.co/y1OOzCEAf2 pic.twitter.com/lib2I6q2bI

— TRT World (@trtworld) January 17, 2018
Turkey's saber rattling and ground mobilization - a massive mustering of forces which has now been confirmed through video and reports on the ground - is largely in response to recent US efforts to ramp up support for the Kurdish dominated Syrian Democratic Forces (SDF), which includes a new initiative to establish and train a new approximately 30,000 member strong "Syrian Border Security Force" - in the words of Pentagon officials.
And with Secretary of State Rex Tillerson outlining a plan Wednesday for US forces staying in Syria indefinitely for the stated purposes of countering Iran, pressuring Assad, and to conduct "stabilization initiatives in liberated areas" - this has Ankara concerned that the United States is effectively backing a de facto Syrian Kurdish state or autonomous zone. 
Last weekend Erdogan slammed US plans for its SDF partners, saying during a speech in Ankara, "A country we call an ally is insisting on forming a terror army on our borders." He further vowed of the new US initiative to bolster a Kurdish dominated border security force, "Our mission is to strangle it before it's even born." 
Meanwhile, the The Borsa Istanbul Stock Exchange's 100 Index fell as much as 0.4%, down 0.3% to 116,283.97 points as of 3:07pm on Thursday.