Hours after the government shutdown that the White House blamed on "obstructionist losers" who are holding government funding "hostage...over an unrelated immigration debate," The Trump campaign posted an explosive new advertisement to the campaign website and YouTube channel on Saturday, featuring 37-year-old illegal immigrant Luis Bracamontes who killed two police deputies in 2014 after having been deported and returned to the U.S. multiple times.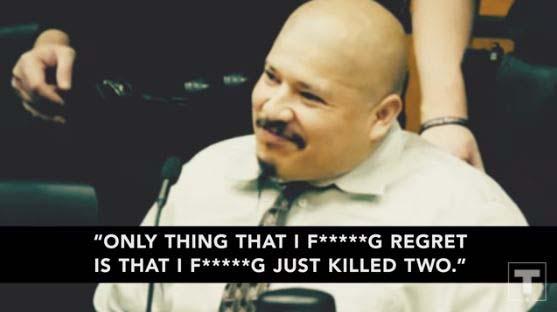 Bracamontes showed no remorse in court proceedings which began in California last week - stating that his only regret was that he didn't kill more police officers. His wife also faces charges in the killings.
Along with the ad, the White House also issued a press release entitled:
DEMOCRATS "COMPLICIT" IN ALL MURDERS BY ILLEGAL IMMIGRANTS
Both the video and press release can be viewed below (emphasis added): 
New York, NY – Hours after Senate Minority Leader Charles Schumer led Democrats to shut down the federal government, holding lawful citizens hostage over their demands for amnesty for illegal immigrants, Donald J. Trump for President, Inc. released a campaign ad calling out Democrats "who stand in our way" of progress and who are "complicit in every murder committed by illegal immigrants."

The ad, titled "Complicit," profiles an illegal immigrant on trial for the murder of two Sacramento police officers who stated his "only regret" is that he "just killed two" and that he wished he "killed more." It contrasts Democrats, who stand by those who commit acts of "pure evil," versus President Trump, who was elected to build a wall to stop illegal immigration and keep American families safe.

The Trump Campaign released the ad on the one-year anniversary of Donald Trump's Inauguration as the 45th President of the United States. The powerful new ad reflects the stakes in the illegal immigration debate, and the reasons why the President will not allow the Schumer Shutdown to force his hand and grant amnesty for illegal immigrants.

"Donald Trump was elected President to build the wall and keep American families safe from evil, illegal immigrants who commit violent crimes against lawful U.S. citizens," said Michael S. Glassner, Executive Director of Donald J. Trump for President, Inc. "Yet, one year after President Trump's Inauguration, Chuck Schumer and the Democrats continue to put the interests of illegal immigrants over those of Americans. Our new campaign ad draws attention to the stark contrast between 'complicit' Democrats and the President for his full commitment to build a wall and fix our border to protect Americans from drugs, murder and other atrocities," he concluded.