Last week, the World Economic Forum released its boilerplate list of what it believes are the top risks for 2018. As we reported, the most prominent theme this year was the shift in perceived risk factors: conflict and war, natural disasters, extreme weather and cyberattacks have supplanted social polarization and the rise of populism as the biggest global risk for 2018.
Furthermore, the survey of nearly 1,000 experts from government, business, academia and non-governmental organizations showed 93% expect a worsening of political or economic confrontations between major powers in 2018, including 40% who believe those risks have increased significantly.
A historical summary of the main risks facing the world according to the WEF.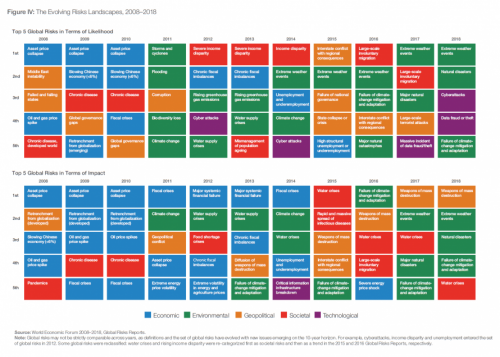 And while it's one thing to layout generic risk factors in a paper report - many of which are regurgitated and sterilized for popular use - it's something different to actually discuss the big risks with the participants.  That's what Bloomberg has done, and after chatting with some of the world's most influential, most popular and of course -richest - people at this year's Davos boondoggle, notes that there is an overarching sense that the prevailing global complacency will end in tears:
If things seem too good to be true in the global economy, they probably are. That's according to some of the investors, Nobel laureates and academics attending the World Economic Forum's annual meeting in Davos, Switzerland, which kicks off on Monday.

"Historically the stock market tends to affect the mood in Davos,'' said BlackRock Inc. Vice Chairman Philipp Hildebrand, who will be among the 3,000 visitors to the Alpine ski resort. "So if things stay as they are, I expect the mood will be good.''

The question is, can things stay as they are? Not all of those in Davos are sure they can.
One person to state the obvious is the man whose name graces the famous Shiller PE multiple, which today is somewhere north of 34:  "We are complacent at this moment," said Robert Shiller, the Nobel laureate from Yale University whose research covers the rise and fall of asset prices.
He went as far as to say there are potential parallels between today and 1929, just days before the Great Depression led to the biggest crash in markets in modern history.
Any correction would be "probably not as bad as 1929, but it could be disruptive," Shiller said in an interview.
To be sure, as Bloomberg points out, while the meeting's forecasting track record is patchy, delegates occasionally get the big calls right. Back in 2007, global growth seemed solid and stocks were soaring, yet former U.S. Treasury Secretary Lawrence Summers said that "it's worth remembering that markets were very upbeat in the early summer of 1914." Nouriel Roubini of New York University predicted a "hard landing." Both were eventually proven correct.
So, in a nutshell, here are the potential threats to the current outlook, according to those who will grace Davos this year.
China
The world's second-largest economy surprised on the upside through 2017, but is beginning to show renewed signs of cooling. A plan to reduce risk in the financial system has slowed credit growth, but the country's debt pile, equivalent to about 264 percent of gross domestic product in 2017, remains a concern.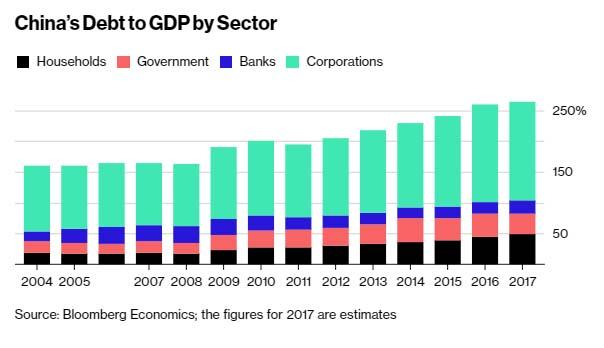 How the Chinese authorities rein in borrowing without tipping the economy over will be one of the year's biggest challenges. "I think of China as probably being the epicenter if we got hit by a global recession," said Rogoff.
* * *
Global Debt
Of course, it's not just China. As we showed in early January, according to the IIF, global debt rose to a record $233 trillion in the third quarter of 2017, more than $16 trillion higher from the end of 2016. Private non-financial sector debt hit all-time highs in Canada, France, Hong Kong, South Korea, Switzerland and Turkey.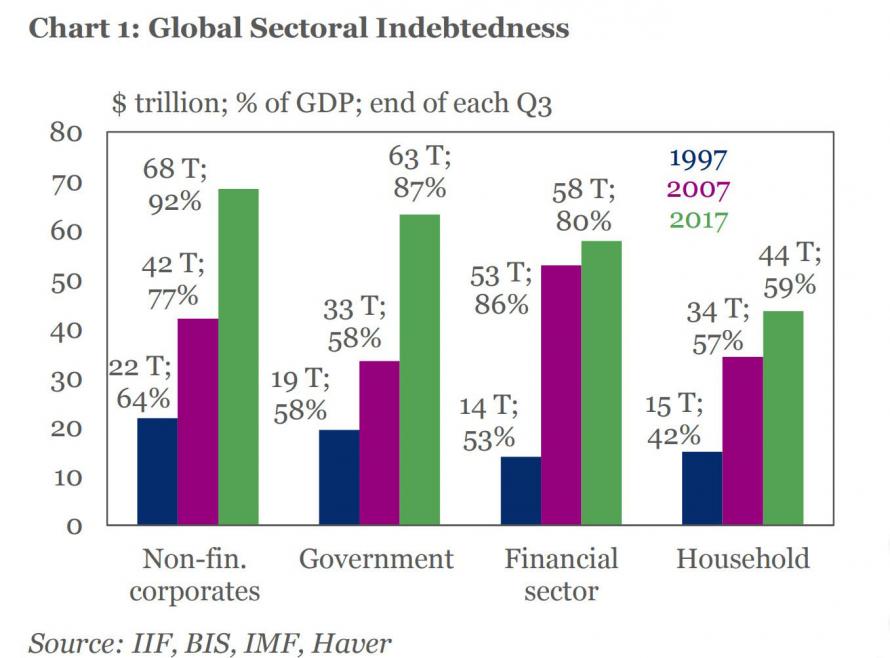 And here lies the rub: as interest rates begin to increase, borrowers might start to feel pain. "We've seen the world leverage up," said Tim Adams, the institute's president who will be in Davos. "It's been an incredibly low rate environment which I suspect is going to change."
Which brings us to arguably the biggest threat...
* * *
Interest Rates
Recall over the weekend, One River CIO Eric Peters warned that "Investors Have Made One Gigantic Inflation Bet" With "Devastating" Consequences. In effect, everyone is short inflation which - with central bankers permission - is perpetuating the current Goldilocks environment. However, the trigger for the end to that environment could be an inflationary surge that forces central banks to dump their piecemeal approach to reversing the emergency stimulus of the past decade.
With economies expanding so quickly, commodities prices are picking up and manufacturing gauges are pointing to supply constraints. The U.S. also just slashed taxes, and some big employers, like Walmart Inc., are beginning to lift wages.
"We could start to see inflation rising more than most people think in financial markets which means the Fed and other central banks will have to raise rates sooner and faster," said Nariman Behravesh, chief economist at IHS Markit. "That could rattle things up."
Echoing this risk, Rogoff said the "biggest vulnerability" in markets would be a sudden reversal in the trend toward lower inflation-adjusted borrowing costs.
It's not just markets, however, which has Davos participants spooked.
* * *
Protectionism
While fears about protectionism proved to be a dud in 2017, 2018 could be different: as Bloomberg notes, President Trump has threatened to tear up the North American Trade Agreement and a pact with South Korea. There's also a U.S. investigation into allegations that China steals American know-how, and Trump warns he might slap tariffs on Chinese goods, especially steel.
"Once there is a major breakdown in trade there is a race to the bottom," said Dominic Barton, managing director of McKinsey & Co. "It's important the fragile system we now have continues. We shouldn't underestimate the potential for disruption."
Margareta Drzeniek Hanouz, a member of the WEF's Executive Committee, also warned "there is still a danger that the multilateral trading systems could break down as we know it because there are a lot of risks on the horizon."
* * *
Politics
Protectionism a little too tame for your liking? What about all out global conflict? After all, a reminder of where we stand now: North Korea is saber rattling amid Kim Jong Un's quest for a nuclear-tipped missile. Uncertainty lingers across much of the Middle East as tensions grow between the U.S. and Iran. Syria remains a tinderbox. In Europe, there is still no new government in Germany and Britain's outlook is obscured by Brexit.
"If you could isolate the economics from the politics you would be optimistic about what is happening, but unfortunately you can never isolate the economics from the politics," said Nobel laureate Christopher Pissarides, who teaches at the London School of Economics.
This goes back to what last week's survey revealed, namely that a whopping 79% of respondents see a heightened risk of state-on-state military conflict. In addition to the threat of a conflict on the Korean peninsula, the report pointed to the risk of new military confrontations in the Middle East.  It cited a rise in "charismatic strongman politics" across the world and said political, economic and environmental risks were being exacerbated by a decline in support for rules-based multilateralism.
And finally...
Trump
Now that the US government has reopened if only for the time being, Trump is free to make his debut in Davos this year, days after comments that took aim at African nations and the U.K. He still plans to ban travelers from predominantly Muslim countries, build a wall along the Mexico border and has taken an aggressive approach to North Korea.
"The most significant political risk is the United States," said Nobel laureate Joseph Stiglitz of Colombia University. "Uncertainty is bad for the global economy."
* * *
Finally, for all those who were not invited again this year, here is a visual of everything that Davos represents:
Only in #Davos you get a sign with "private car pick-up" direction alongside the "A day in the life of a refugee" exhibition. #Davos2018 #tonedeaf @tictoc #tictocnews pic.twitter.com/yFWsN3oLq9

— Javier Blas (@JavierBlas2) January 22, 2018