---
Dollar Dumps Below Key Level - Worst Start To A Year Since 2003
For the first time since December 2014, the Dollar Index has tumbled below 90.00 tonight as the greenback-bloodbath continues in early Asian FX trading...amid US trade policy concerns.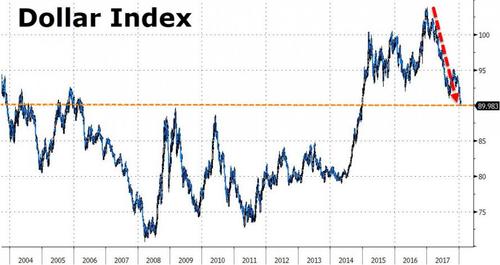 2017 was an ugly year for the dollar, but 2018 is starting off worse with the Dollar Index down 2.43% so far - the worst start since 2003.
In fact it has been a one-way street since The Fed hiked rates in December.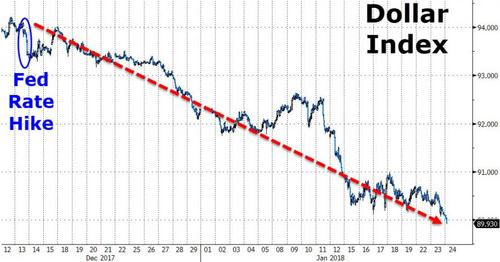 Also of note tonight, the dollar weakness has sent USDJPY back below 110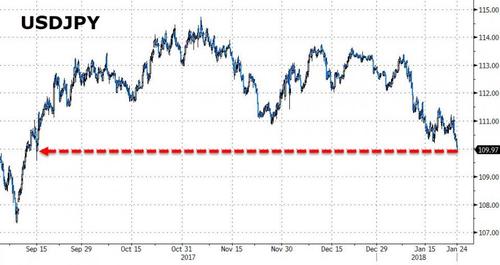 As Bloomberg reports, the dollar dropped to a three-year low, weighed by concerns over U.S.'s trade policies and a report that President Donald Trump may be questioned in the Russian investigation.
The Dollar Index is poised for its third day of losses as investors await China's reaction to Trump's trade tariffs on solar panels and washing machines.
Special counsel Robert Mueller wants to question Trump about his decision to fire former FBI Director James Comey as well as the removal of Michael Flynn.
"While at this stage Trump's protectionist rhetoric is being applied sparingly and not drawing a reaction from China, there is the threat of Trump ramping up protectionism," said David Forrester, a strategist at Credit Agricole SA's corporate and investment-banking unit in Hong Kong. That will weigh on the dollar, he said.
The question is - will the lagged correlation continue?