Despite Mnuchin's and Trump's best efforts, dollar-owners ended the day like this...
Before we start on the markets shenanigans, two quick things:
First - South Korea's economy reported a contraction last night, its first since the financial crisis - as exports crashed...
And Second - US economic data has been notably disappointing this year (the worst start to a year since 2015)...
Not pretty:
Retail Sales Miss
Empire Fed Miss
Housing Starts Miss
Philly Fed Miss
UMich Confidence Miss
Richmond Fed Miss
Markit US PMI Miss
Existing Home Sales Miss
New Home Sales Miss
But then again, it's a global-synchronized-recovery, right? Just ask stocks... (NOTE the weakness late in the day as the dollar spiked...)
Dow's gains were dominated by Boeing (+56pts), 3M (+27pts), and Goldman (+18bpts)
We wonder whether Trump will want to jawbone the dollar again as it sinks his precious stock market?
On the week though the divergence between Dow's surge and Trannies' slump is dramatic...
Trannies hit by the biggest 2-day drop in Airline stocks since Brexit (-9.6%!)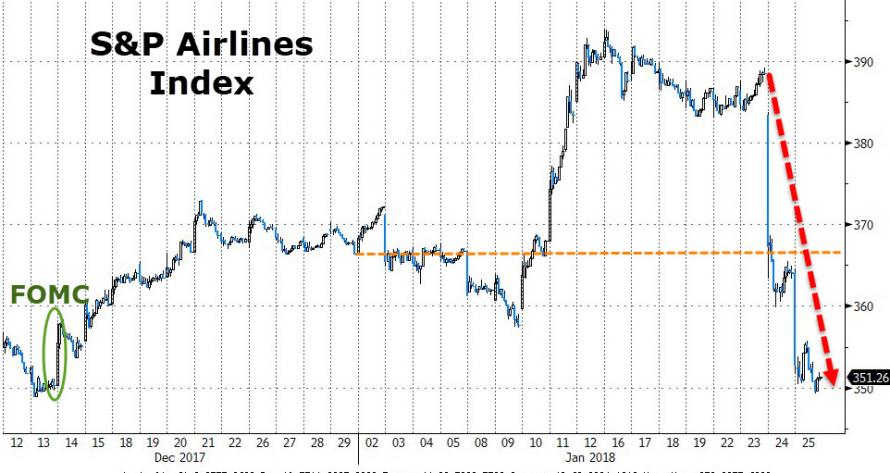 This is the biggest two-day divergence between DOW/TRAN since September 2011.
VIX and the S&P 500 are both up again this week - the third week in a row - if this continues tomorrow, it will be the first time since Feb 2013 (the only other times in the last 30 years was May 2007, Jan 2004, Aug 1993, and Apr 1991)
As BofA recently noted, such an occurrence is highly unusual as vol and spot returns have a strong inverse relationship. The recent move is even more notable when comparing it to other low vol periods. When limiting exclusively to days when the VIX was below 16 at the beginning of the 10 day window, 18-Jan's 3.1% 10d SPX spot return stands out as exceedingly high relative to its 3pt uptick in vol. In fact, when the VIX was below 16 and increased at least 3pts over the prior 10 days, the S&P had a 10d return that was positive only eleven other times since 2001, and only one day had a better 10d return than what we saw on 18-Jan-17 (4.6% on 9-Jan-1992).
Perhaps unsurprisingly, FX Vol has spiked (to 4-month highs) and rate volatility is also on the rise...
FANG Stocks rolled over in the afternoon as Soros slammed Facebook and Google.. and AAPL kept falling...
It's not just vol that is diverging from stocks, HY bonds have completely decoupled...
While stocks were soaring, early weakness in bonds gave way to aggressive buying of duration as the long-end dramatically outperformed (helped by a very strong 7Y auction)...
10Y yield are back below the Gundlach line of doom...
All of which sparked a dramatic flattening of the 2s30s curve... Today's 4.5bps drop is the biggest flattening day so far in 2018...
Today's 2s30s curve close is the flattest since Oct 2007
Steve Mnuchin did his best to try and walk-back some of his comments from yesterday... but really didn't and the dollar continued its freefall...until President Trump rescued it... But sadly the dollar did not hold onto those gains...
The Dollar Index dropped below 89 intraday.
Notably, options market traders expect this to continue, driven mostly by JPY strength...
As Bloomberg notes, traders are charging more for protection against the dollar weakening versus Japan's currency over the next month than they are for similar hedging on the pound or euro. The bias in favor of the yen widened since earlier this week when Japan's central bank signaled it no longer sees inflation expectations weakening.
Commodities were all lower on the day as Trump sparked the dollar spike... silver and gold bounced back as the dollar faded...
Finally, despite George Soros disparaging remarks, cryptocurrencies manage to rebound to close green...