Update: A massive ($110 million) transfer from Coincheck's Ripple wallet has sparked speculation that the exchange may have been hacked...though this apparently hasn't impacted prices yet...
110 mil usd in #Ripple (XRP) were sent from the Japanese cryptocurrency exchange Coincheck to an unknown address. Hacking suspected. https://t.co/hmGhlSmJEH

— Costin Raiu (@craiu) January 26, 2018
* * *
All major cryptocurrencies tumbled on Friday morning after Tokyo-based Coincheck - one of Japan's biggest crypto exchanges - abruptly halted withdrawals, triggering a panic as investors feared the exchange may have experienced a Mt. Gox-style hack.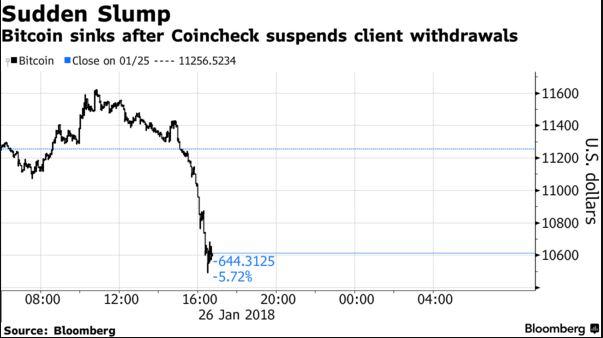 "Coincheck is a very well-known exchange in Japan," said Hiroyuki Komiya, Chief Executive Officer of Tokyo-based Blockchain Technology Consulting. "We've seen several outages at various crypto exchanges recently, so the extent and seriousness of Coincheck's halt isn't yet clear. We're all very eagerly awaiting to hear more detail on what's happening."
It has been almost four years since Mark Karpeles, Gox's CEO, announced that his company was filing for bankruptcy after losing bitcoins worth hundreds of millions of dollars. The news ended a sharp rally that had briefly sent bitcoin above $1,200 - back then that was an all-time high - before ushering in a two-year bear market that would persist until early 2016.
The exchange said in a series of tweets that it had suspended all withdrawals, halted trading in all tokens except Bitcoin and stopped deposits into NEM coins. Employees at the exchange appeared to avoid Bloomberg's repeated calls and emails for comment.
"Investors and traders are very sensitive to any news involving the big exchanges," said Peter Sin, a trader and co-head of the digital currency sub-committee at ACCESS, a Singapore-based cryptocurrency and blockchain industry association. "This will accelerate price declines."
NEM, the 10th-largest cryptocurrency by market value, fell 15% in the 24 hours through 5:52 a.m. New York time, according to Coinmarketcap.com. Bitcoin dropped 6.5% and Ripple retreated 11%.
Cryptocurrency exchanges, many of which operate with little to no regulation, have suffered a spate of outages and hacks amid the trading boom that propelled Bitcoin and its peers to record highs last year. As we pointed out, a recent survey found that 10% of all ICO tokens have been lost or stolen by hackers.
Still, the risk of a Mt.Gox repeat in Japan is small. In Japan is one of the world's biggest and best regulated markets for cryptocurrencies, policy makers have introduced a licensing system to increase oversight of local venues, seeking to avoid another Mt. Gox-like collapse that nearly killed the crypto market back in 2014.
Additionally, Coincheck was yet to receive a license, according to the website of Japan's financial regulator.
According to Bloomberg, Coincheck was founded in 2012 and had 71 employees as of July with headquarters in Tokyo's Shibuya district, an area popular with startups that was also home to Mt. Gox, according to Coincheck's website. Last year, the exchange began running commercials on national television featuring popular local comedian Tetsuro Degawa.