It's been more than eight months since Swedish prosecutors decided to discontinue their long-running rape probe into Julian Assange, dismissing a warrant for his arrest.
But the celebratory mood quickly dissipated, as Assange realized he would need to remain holed up in the Ecuador's London embassy because of a UK arrest warrant that had yet to be dismissed.
But with the original charges having been dismissed, Assange's lawyers are petitioning a UK judge to dismiss a warrant for their client's arrest - something that would allow Assange to walk free, according to Bloomberg.
In a setback to Assange, Judge Emma Arbuthnot said no medical arguments would be considered in the case. Reports surfaced late last year that the Wikileaks publisher's health has deteriorated dramatically.
When they dismissed the original case, Swedish prosecutors said Assange's attempts to evade questioning made prosecution impossible.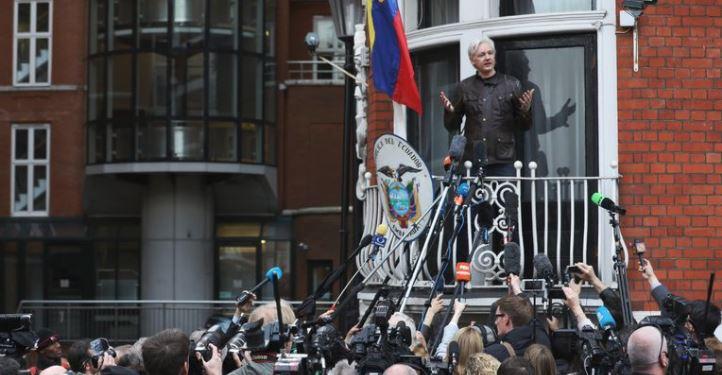 One UK prosecutor said Assange's case to dismiss the warrant is "absurd".
Aaron Watkins, a lawyer for the U.K. Crown Prosecution Service ridiculed Assange's position as "absurd."
His argument would give a criminal "effective immunity from being dealt with" because of "having managed to evade proceedings sufficiently long that they fell away."
There have been media reports that the Australian's health has severely deteriorated. Ecuador granted Assange citizenship earlier this month after failed attempts at diplomacy with British officials. Furthermore, Ecuador's push for mediation has failed amid reports that the country's government is planning to expel Assange from the embassy.
Two years ago, a UN panel ruled that Assange was being unlawfully and arbitrarily detained by the UK authorities, and should be released.
Westminster Magistrates' Court issued a warrant for the arrest of Julian Assange after he failed to surrender to the court in 2012, the police said in an emailed statement.
Ecuadorian President Lenin Moreno described Assange's stay in the embassy as "untenable," stoking speculation that - one way, or another - Assange's days in the embassy are limited.
London police say they are obligated to enforce the warrant unless it's dismissed by a judge.
"The Metropolitan Police Service is obliged to execute that warrant should he leave the embassy."
As RT pointed out, Assange, 46, would "hypothetically" be free to leave the embassy following a successful appeal - though there's still the question of him being charged in the US under the espionage act.