After that week, we suspect more than a few FX traders feel the same way...
Let's get a little context before we start - this is the most overbought (by a bloody mile) that US equities have ever been...
And...98% of global equity markets trading above 50 & 200 day moving averages.
This is the best start to a year for the Dow and the S&P 500 since 1987...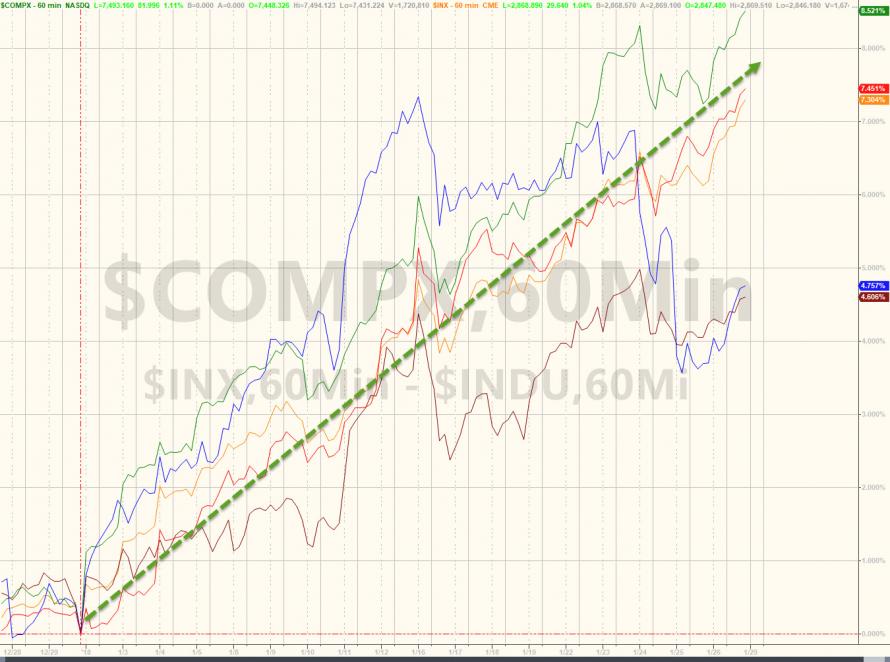 While Nasdaq is 2018's big winner, this is only its best start to a year since 2004. S&P, Dow, & Nasdaq have only seen 4 down days in 2018
On a side note, China's H-share index broke its record daily streak this week, but...with its seventh week of gains, the Chinese index reaches its longest run of gains since October 2010.
Today was pure panic-buying euphoria...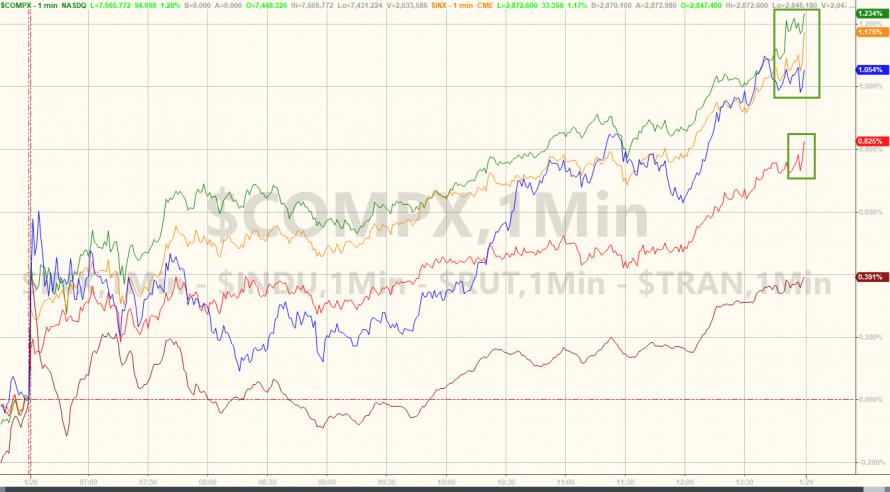 On the week, Trannies suffered as Airlines crashed (Transports worst week in over 3 months)...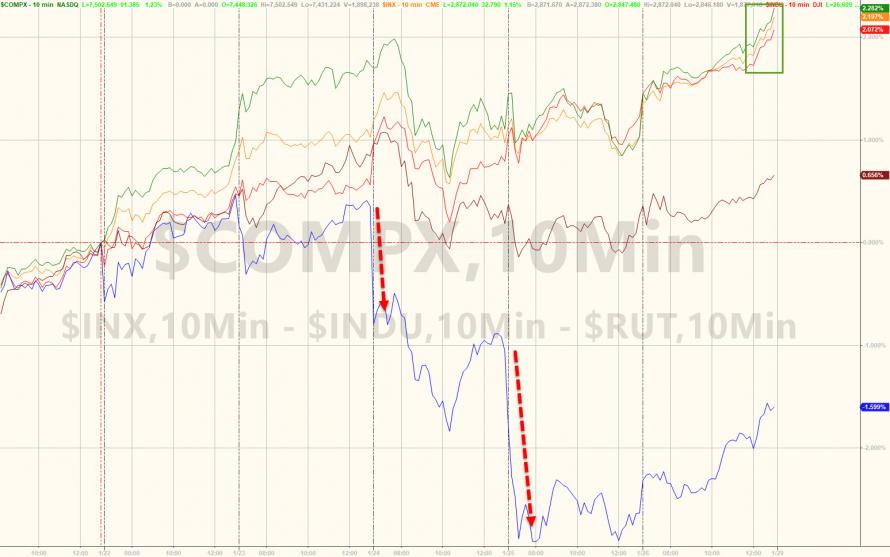 This is the 4th weekly gain in a row for the S&P 500, Dow, and Nasdaq (and 9th of the last 10 for Dow and S&P)
Having surpassed Goldman's 2018-Year-End Target of 2850, at 2863, the S&P becomes the 2nd largest US equity bull market of all-time, and BofA's Q1 target.
For a brief few panic-buying minutes there, NASDAQ actually went vertical on massive volume as the machines ran it up to 7500!!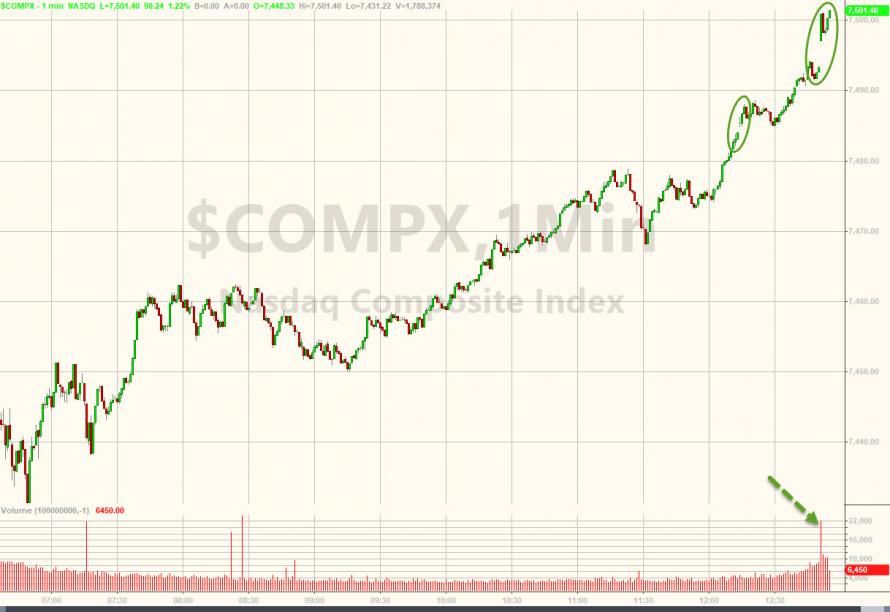 A VIX Close above 11.27 for the week would be the 3rd week in a row of gains for both VIX and the S&P 500 (something that hasn't happened since Feb 2013 and has only happened 5 times in history before - always followed by equity weakness)...
Everyone's buying calls...
As the usually extremely high correlation between upside and downside implied volatility has collapsed...
A stunning week for Tech with AAPL plunging and FANGs surging... (NOTE this is the biggest weekly divergence between the two since FANGs started trading - bigger than April 2016)
In FX Fantasy-land... Trump's Rescue Bid failed and the dollar pressed down towards cycle lows... (NOTE the dollar is down 7 weeks in a row - the longest streak since Aug 2010) The Mnuchin Massacre managed the worst week for the dollar in 8 months
One could be forgiven for thinking this is a Trump-driven dump...
This is the worst start to a year for the dollar since 1987...
And the ultimate correlation has broken...
Treasuries were very mixed on the week. Despite the bloodbath in the dollar, the Long Bond rallied (-2.25bps on the week) as 2Y yields spiked almost 6bps...
10Y Yields bumped up against 2.67% three times and rallied lower in yield each time...
And the yield curve continued to crater... today is the first time that the 2s30s spread has closed below 80bps since Oct 16th 2007...
Away from the Dollar Index, today saw more chaos in USDJPY as Kuroda spoke then The BoJ reportedly clarified his comments... but it seems FX traders weren't buying the denial... Of course asymmetrically echoed the sudden spike in USDJPY (ignoring its demise)...
A weak dollar helped send all major commodities higher on the week...
Gold continues to lead The Dow since The Fed hiked rates in December...
Another not-very-pretty week for cryptos amid South Korean crackdowns and Japanese exchange hacks...Ethereum managed to hold on to a 1% gain while the rest fell led by a 21% plunge in Ripple...
Bitcoin stabilized around $11,000...
Finally, we leave you with this... for no good reason...
Marine One wheels up from #Davos. View from the helo trailing Marine One. pic.twitter.com/PLKb6Bxhps

— Shannon Pettypiece (@spettypi) January 26, 2018
Bonus Chart: From Tom McClellan - Bitcoin as a leading indicator for The Dow...?