First it was Bank of America, then Goldman, now the world's most profitable hedge fund is warning that a severe market shock is imminent.
Renaissance Technologies, the hedge fund that two years ago we dubbed the "Puppetmaster Behind The US Presidential Election" due to its concurrent bets on both Hillary Clinton and Donald Trump to win the presidency (Jim Simons was a prominent Hillary Clinton backer while Robert Mercer has been a notorious supporter of Donald Trump), has warned that there is "significant" risk of a correction in prices and is preparing for "possible market turbulence."
In a letter to clients this month obtained by Bloomberg, Ed Hubner - RenTec's head of risk control - cautions that while accelerating global growth, corporate tax reform and a business-friendly administration in the U.S. have contributed to market gains, "it's not clear these factors justify current valuations, especially in light of sovereign debt levels."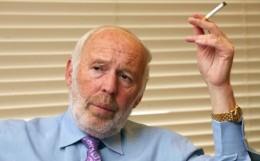 RenTec founder and chain smoker Jim Simons
Echoing a familiar warning discussed in recent weeks, in his letter Hubner notes that while the current S&P 500 PE ratio of 18.6 (compared with about 11 in 2011) may be justified if volatility remains low and 30-year bonds hold below 3%, "with higher rates and more volatility a distinct possibility, there is a significant risk that asset prices will correct."
In addition, the downward technical pressure on the Cboe Volatility Index, orVIX, due to the growth of strategies that bet against market volatility, and lower correlations within the S&P 500, shouldn't be confused with unshakable economic calm, Hubner said.
Hubner also noted that "while the fear of missing out may not be a concern for equity investors, increasing euphoria mixed with a bit of complacency certainly is" and that "Historically low levels of volatility may well have given investors a false sense of security in the nearly two years since the last market correction."
RenTec's Institutional Equities Fund, known as RIEF, returned 15% last year, according to the letter, underperforming the S&P 500 Index which rose 19%.
While we haven't seen the memo, it does not appear to break any news ground, and appears aimed at relatively unsophisticated investors with a warning that "while equity prices have moved upward for many years, and technical and quantitative analysts say "trend is your friend," at some point trends reverse."
Well, yes... however, as Bank of America pointed out in December, every time the market has threatened to crash, the Fed always stepped in.
The question is will it do so this time. RenTec no longer appears so sure as it concludes that "while we cannot know when that will happen with the current markets, we are doing our best to prepare for what may be turbulence ahead."