Amazon appears to have done it again, and following a blockbuster third quarter in which the company smashed expectations, Amazon once again reported both revenues and EPS which handily beat expectations, rejecting the sharp selloff in the stock that was observed in the last hour of trading.
In Q4, Amazon reported EPS of $3.75, a huge beat of consensus estimate of $1.83, but that number included a tax benefit of $789 million for the Trump tax cuts. The company reported net sales of $60.45 billion, also above the $59.84 billion consensus estimate, largely due to the contribution of AWS.  The number was just shy of high end of the company's own range, which topped out at $60.5.
Still, as a reminder, AMZN EPS expectations as recently as June were just shy of $3.00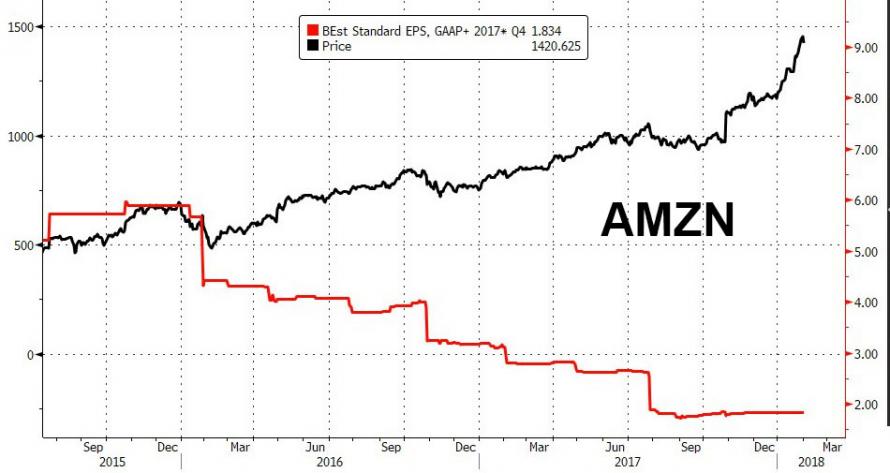 Amazon's Q4 operating income of $2.127BN was nearly double last year's 1.255BN, and well above the the high end of the company's Q3 range, which topped out at $1.65 billion.
The closely followed AWS segment reported net sales of $5.113 billion, a Y/Y growth of 44% (slightly more than the 42% increase last quarter, bet below last year's 47% growth rate). AMZN reported AWS operating income of $1.354 billion, an increase of 46% Y/Y. AWS margin in Q4 was 26.5%, virtually unchanged with the 26.2% reported last quarter.
Putting AWS in context, whereas AMZN's total operating income was $2.13 billion in Q4, AWS was $1.354 billion, or 64% of total. In other words, the rest of the company made $773 million. While the division has been facing tougher competition from both Microsoft and Google, prompting some concerns about whether the growth can continue on pace, especially amid price wars, so far it has yet to materialize despite a slowdown in modest slowdown AWS growth.
Looking forward, AMZN sees the following solid revenue and operating income:
Net sales are expected to be between $47.75 billion and $50.75 billion, or to grow between 34% and 42% compared with first quarter 2017. The guidance midpoint is 1.1% above the analyst estimate of $48.70 billion.
Operating income is expected to be between $300 million and $1.0 billion, compared with $1.0 billion in first quarter 2017.
Jeff Bezos was as usual, quite optimistic, and had one particularly interesting comment: "Our 2017 projections for Alexa were very optimistic, and we far exceeded them. We don't see positive surprises of this magnitude very often — expect us to double down." Full statement:
"Our 2017 projections for Alexa were very optimistic, and we far exceeded them. We don't see positive surprises of this magnitude very often — expect us to double down. We've reached an important point where other companies and developers are accelerating adoption of Alexa. There are now over 30,000 skills from outside developers, customers can control more than 4,000 smart home devices from 1,200 unique brands with Alexa, and we're seeing strong response to our new far-field voice kit for manufacturers. Much more to come and a huge thank you to our customers and partners."
What is notable here is that while Amazon rarely gives any numbers for its devices segment, CEO Jeff Bezos pointed out that the company has sold "tens of millions" of Echo devices and Kindle readers last year.
Despite the company's generous spending ways, analysts have said that high margin streams of revenue like those from its advertising, subscription and credit card businesses are expected to continue to grow and help offset higher spending.
For all the concerns about AMZN's cash burn, the company reported LTM Free Cash Flow in Q3 of just under $8.4 billion, a rebound from the $8.0 billion last quarter.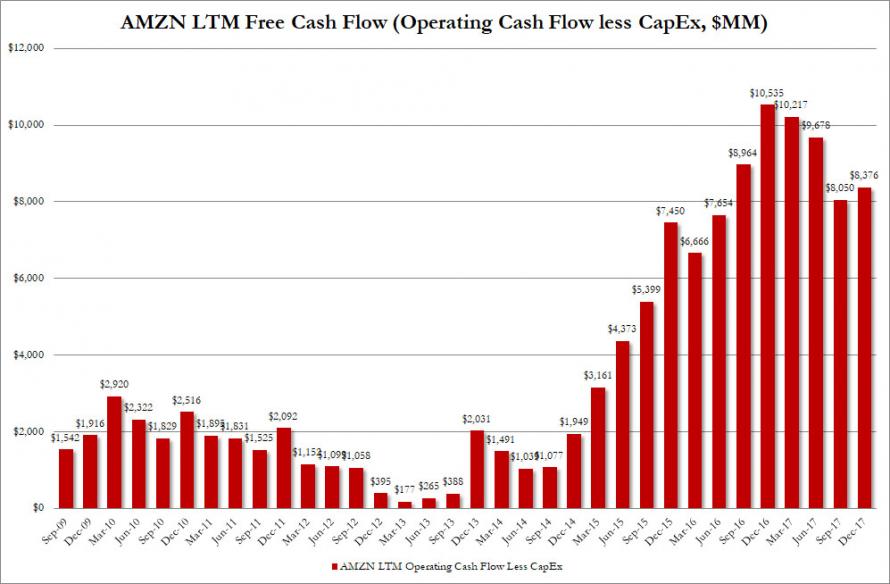 Some more good news: after sliding to just 0.8%, the lowest in 3 years, Amazon's operating margin for the quarter rebounded strongly to 3.5% in Q4.
After a significant rise in the company's LTM operating margin in the past two years, it appeared to have plateaued once again, although in Q4 it posted a modest rebound, from 2.0% to 2.3%.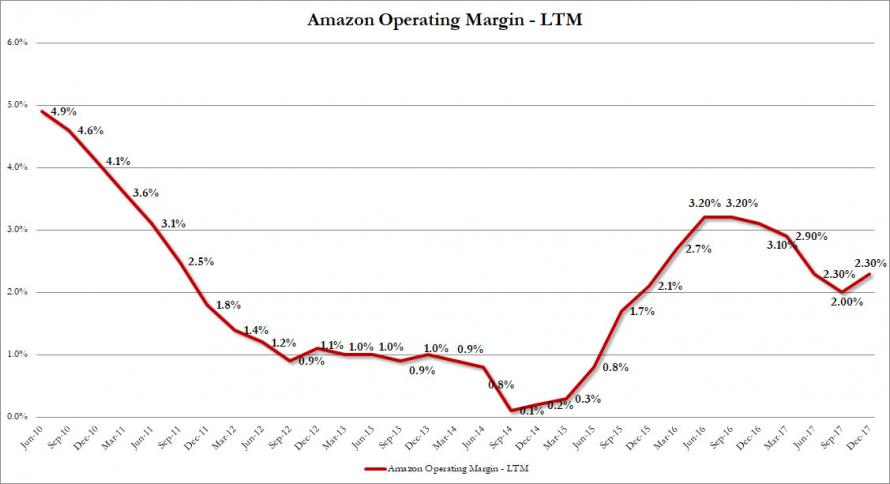 Also notable, now that Whole Foods is part of Amazon, the company employed a total of 566,000 (most part-time) workers (a record) as of Sept 30, and up 66% Y/Y, as global net sales growth rose to 36% in Q4.
And so despite the odd selloff in the regular session, which dragged the stock down by 4% on no news, the stock has rebounded, wiping away the last hour loss, if still below where AMZN was trading recently.